On Sept. 8, 1994, Patricia Morris, a resident of Owings Mills, Maryland, made a decision that would change the lives of a family in Bessemer, Alabama. But not for almost two decades.
On that date, Morris submitted a tissue sample with a cheek swab and joined the national Be the Match bone marrow registry. She decided to join the registry after learning of a Baltimore family with a 16-year-old child who needed a bone marrow transplant but didn't have a match.
Last year, Morris received a phone call from Birmingham letting her know that after 19 years on the registry, she was a perfect match for a patient. Tuesday, Morris met that patient, 12-year-old Caitlin Reynolds, who received stem cells from Morris that have held Caitlin's rare, aggressive leukemia at bay.
Bone Marrow Transplant from Alabama NewsCenter on Vimeo.
The emotional meeting highlighted the effort by Be the Match and the Alabama Center for Childhood Cancer and Blood Disorders at Children's of Alabama to add names to the registry of people who are willing to donate bone marrow.
With Caitlin and her parents, Truman and Wendy Reynolds, sitting nervously on a stage in the performance area at Children's, Morris rounded the corner and walked into their lives. Tears flowed as donor and family hugged.
"I couldn't wait to meet Caitlin," Morris said. "I'm overwhelmed. It's a pleasure to meet her and her family.
"This here surpasses anything I've ever done in my life. It's something I was meant to do," she said.
Wendy Reynolds said she is "very grateful" to Morris for joining the bone marrow registry. "I'm so glad she's here. I'm so glad she made the decision 19 years ago."
That decision is something Be the Match and Children's hope more people will make to improve the chances of patients like Caitlin to live healthy lives. The 2015 Committed to a Cure Bone Marrow Registry Drive began at Children's Monday afternoon and continues today from 7 a.m. to 5 p.m. Free parking is available in the Children's Fifth Avenue parking deck.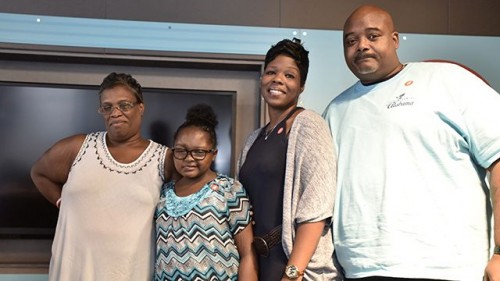 The registry is seeking potential donors between the ages of 18 and 44 who are in good health. Those who take part in the drive are encouraged to wear their favorite team's colors to show their commitment to the cure.
Caitlin's story is "amazing, a very touching story," said Dr. Fred Goldman, and one that makes it easier to come to work every day in a job that so often involves tragedy. Goldman is the director of the Lowder Pediatric Blood and Marrow Transplantation Program and professor of Pediatrics at the University of Alabama at Birmingham.
Dr. Joe Chewning, who has cared for Caitlin for the past year, described her as filled with "grace, determination and fight" in her battle to overcome her disease. "She humbles me," said Chewning, an assistant professor of Pediatrics who performs bone marrow transplants.
Bone marrow transplants can save the lives of people who have deadly cancers and blood disorders, including leukemia, lymphoma and sickle cell disease. Every year, about 25 to 30 patients at Children's need bone marrow transplants.
Sadly, though, a perfect match cannot be found for every child who requires a transplant. Especially tough to match are patients from a diverse racial and ethnic heritage because the number of potential donors on the registry likely to be a strong match is especially low.
Joining the registry is quick, easy and painless. Prospective donors complete a health questionnaire and have their cheek swabbed to collect DNA for tissue typing, just like Morris did two decades ago.
"After 19 years of being on the list, they found me," she said.
A year after Morris donated stem cells, she took her first-ever flight to Birmingham because she wanted to meet the patient who had received her donation.
"I made the trek for Caitlin," she said. "It was well worth it."
For more information about the tissue registry, go to Be the Match.
.