Above: Breaking ground at Oxford Pharmaceuticals in JeffMet Lakeshore are, from left, Oxford Pharmaceuticals President John Schultz, Jefferson County Commissioner David Carrington, Oxford Pharmaceuticals Chairman John Hoffmire, Alabama Gov. Robert Bentley, Birmingham Mayor William Bell, UAB President Ray Watts and Dwight Sandlin, chairman of the Jefferson County Economic and Industrial Development Authority. (Michael Tomberlin/Alabama NewsCenter)
Oxford Pharmaceuticals breaks ground in Birmingham from Alabama NewsCenter on Vimeo.
Oxford Pharmaceuticals is closer to producing generic drugs in the U.S. with its $29.4 million Birmingham plant.
Company officials joined elected and economic development officials today for a ceremonial groundbreaking, though it was clear by the construction going on behind them that general contractor Robins & Morton Inc. has already actually broken ground.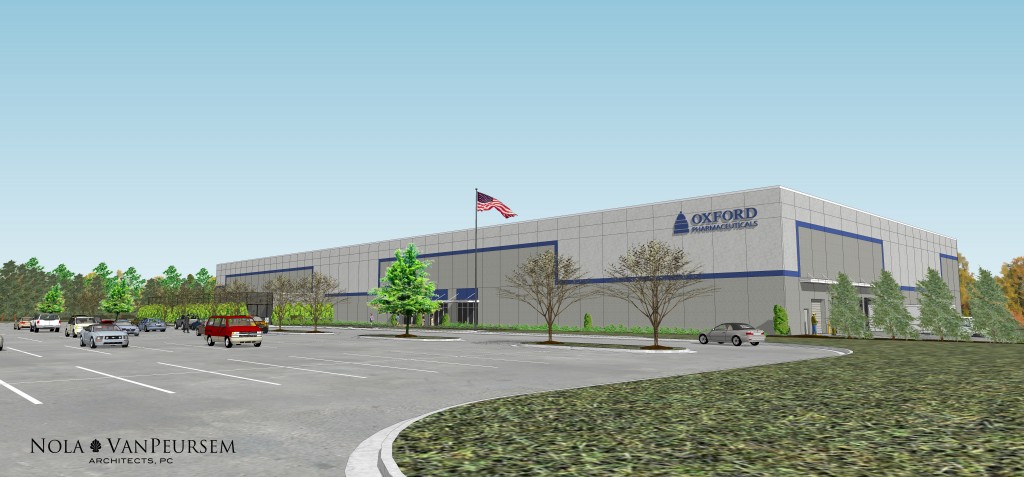 The 120,000-square-foot facility is being built on 23.4 acres in the Jefferson Metropolitan Park-Lakeshore and is expected to be operating in the third quarter of 2016.
Oxford Pharmaceuticals, a new company formed in Oxford, England, will produce, package and research generic drugs at the plant, initially creating 61 jobs, but growing to 200 within 10 years. The company has said it has room for further expansion, if necessary.
John Schultz, president and general manager of Oxford Pharmaceuticals in Birmingham, said Birmingham has resources like Innovation Depot and the University of Alabama at Birmingham that gave it a competitive advantage.
"We were looking at Nashville, we were looking at Huntsville. We spent some time investigating Charlotte," Schultz said. "With the help of Innovation Depot and the training support that we will get from the state in AIDT and the partnership with UAB, they are all great incentives to come to Birmingham that some of the other places didn't have."
Schultz said Innovation Depot is providing the company with temporary space while the facility is being built.
Once complete, Oxford Pharmaceuticals will need to fill jobs in manufacturing, testing, quality control, chemistry labs, research and development labs, manufacturing, packaging, regulatory groups and distribution, Schultz said.
"We will have a wide variety of employment levels in the plant," he said. "It's a well-educated, diverse workforce here in Birmingham and we're looking forward to tapping into it."
The quality and diversity of those jobs is what makes Oxford Pharmaceuticals a great addition to the Birmingham economy, according to Brian Hilson, CEO of the Birmingham Business Alliance.
"In the final analysis, it's job creation and the opportunity for families to sustain themselves that outweighs everything else," Hilson said. "Well, not everyone wants to do the same thing. We're fortunate to have a diversified economy, a diversified set of large and small employers that do many, many different things and require many different skill sets. This is one that we haven't had that much of before, but nevertheless it's a natural for Birmingham."
Hilson said Oxford Pharmaceuticals is the 75th foreign company to invest in the Birmingham area and gives the region a foothold in an important industry.
"If you look at economic growth in Birmingham, Alabama, and you look at the best opportunities that we have to grow, one of the things that comes to mind is a company just like this: a pharmaceutical manufacturer that has selected the city of Birmingham, Jefferson County, state of Alabama for a manufacturing plant," he said. "I like to think we can do more of these in the future."