Above: Ribbons and a shadow from a wreath of flowers cover a portion of the monument to the four girls who lost their lives in the bombing of Sixteenth Street Baptist Church 52 years ago today. (Michael Tomberlin/Alabama NewsCenter)

Sixteenth Street Baptist Church marks 52nd anniversary of bombing from Alabama NewsCenter on Vimeo.
The church whose name is synonymous with one of the most tragic milestones in the civil rights movement marked the 52nd anniversary of its bombing with a service of hope and celebration of progress.
The Sixteenth Street Baptist Church still mourns the deaths of the four young girls killed in a bombing 52 years ago by ringing a bell in their honor and to honor two black boys killed in separate incidents in Birmingham, also on Sept. 15, 1963.
Addie Mae Collins, Denise McNair, Carole Robertson, Cynthia Wesley, Virgil Ware and Johnny Robinson were all remembered Tuesday in a ceremony that included prayer, song, moments of silence and an address from Andrea Taylor, the new CEO of the Birmingham Civil Rights Institute.
Birmingham Mayor William Bell said there will always be a need to mark the church bombing anniversary.
"Each day a new child is born, each day someone comes into this world that is not aware of what happened 52 years ago," he said in an interview. "We must continue to tell the story of the struggle that occurred back in those years in which four young girls' lives were lost as well as two young men on the same Sunday so that they will never forget and they will understand how and why they have the opportunities that they have today because of the sacrifice."
Speaking  to those gathered for the ceremony, Taylor compared the historic perspective one gets from visiting Sixteenth Street Baptist Church to that of Hiroshima, Japan, where the first atomic bomb was dropped, or Goree Island for its place in the global slave trade.
Taylor said one can't help but wonder what the four girls may have accomplished had they lived.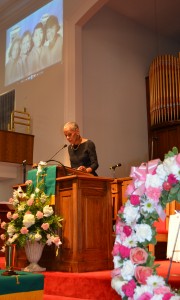 "If they were alive today, they would be Baby Boomers, part of the post-World War II generation who has witnessed unimaginable political, social, economic and technological changes," she said. "Most likely they would be parents, grandparents or even, perhaps, great grandparents. They would be active church members. They would be artists. They would be entrepreneurs. They would be librarians. They would be scientists. They would be teachers. They would be valued members of their communities. Instead, their lives ended in a tragedy that transformed a nation."
Taylor said her office overlooks Sixteenth Street Baptist Church and reminds her of the four little girls and prompts her to pray every morning. She said a painting on the wall behind her desk, titled "Flowers of the Fall 1963" also serves as a constant reminder.
The Rev. Arthur Price Jr., pastor of Sixteenth Street Baptist Church, in his prayer marked the forgiveness taught in the church 52 years ago and how that has led to progress.
"God, today we pause to reflect and remember what happened 52 years ago here, at this church, and in this city of Birmingham," he said. "Fifty-two years ago a Sunday school lesson was taught about your love that forgives, your agape love. While they were learning that lesson, a terrorist decided to ignite 19 sticks of dynamite and four girls lost their lives."
But Price said all can be thankful the story didn't end there.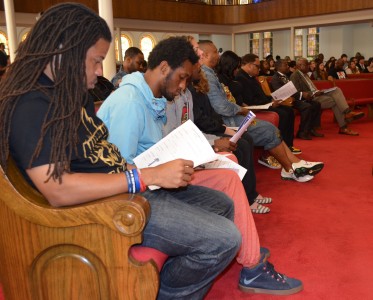 "God, we remember how you turned bitter days into better days," he said.
Taylor said the deaths of the girls 52 years ago were not in vain and paved the way for justice and equality for people of all races today.
"However, we must avoid the risk of complacency and continue to enlighten each generation about civil and human rights by exploring our common past and working together in the present to build a better future."
Bell agreed.
"Human rights and the issue about civil rights is an unending story," he said. "We must continue to work to make sure we don't slip backwards, make sure that we build bridges of understanding between people. This gives us an opportunity to echo those sentiments each and every year."
Bell said Birmingham has a unique place as it relates to civil rights and human rights with much to teach the rest of the world.
"This was a community where all people came together and said, 'We must change our society. We must change the environment.' And we did," Bell said. "Now it's time to showcase that and give hope to other regions of the world."