Above: A scene from "Big Fish" being presented by Red Mountain Theatre Company. (Edmonds Images/contributed)
"Big Fish" author glad to see play in Birmingham from Alabama NewsCenter on Vimeo.
As Red Mountain Theatre Company (RMTC) brings tall tales and Southern heritage to the stage this fall with "Big Fish," it also brings with it an appreciation for the city the story was based on and a homecoming for the book's author, Daniel Wallace.
"Big Fish" opened at RMTC earlier this month as hundreds, including Wallace, filed in on a rainy night for opening night. The book, published in 1998, has been made into a film, Broadway production and now an off-Broadway musical.
"Big Fish" is a story of stories – larger-than-life tales told to William Bloom by his father, Edward, which William grapples with in understanding his father and their relationship. In addition to fantastical storytelling and imagination, "Big Fish" also speaks to the depth and complexities of our own family relationships.
The inspiration for the book began early. Growing up, Wallace remembers always being interested in mythology.
"Look around and mythology is everywhere in Birmingham, from Vulcan to the vestas in Vestavia," said Wallace.
His love of his mythology and his relationship with his father are what brought him to write "Big Fish."
"You can't write without being inspired by the people in your life," Wallace said when discussing the characters in the book and his own relationships.
"Stories are how we make sense of our lives. That's how we understand each other," Wallace said.
Wallace published five novels before "Big Fish" and credits "Big Fish" with the beginning of an amazing journey. He never anticipated the success of the book or the projects that would follow. Screenwriter John August adapted the book into a movie, directed by Tim Burton, which was released in 2003 and received critical praise and box-office success.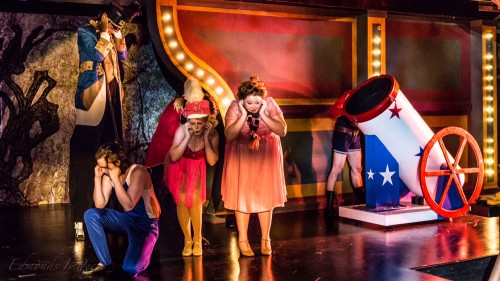 "I was shocked at turning the book into a movie because of the book's structure," Wallace said. "I wasn't sure how the movie would portray the stories. Everyone who reads the book adapts it in their own way. It just turned into a great adventure."
The adventure continued when August developed the screenplay into a Broadway musical in 2005. Wallace remembers his surprise on learning of the musical.
"For it to come all the way to Broadway, it almost doesn't seem real," Wallace said as he watched the production among 500 people on opening night.
"John August is so much a part of the life of this book, I don't take credit for the movie or the musical. I'm so pleased people saw something to create," Wallace said.
For Wallace, seeing the musical in Birmingham was especially meaningful. The Birmingham native attended Shades Valley Elementary School and Altamont, and drew inspiration from the areas around Homewood, downtown Birmingham, Mountain Brook as well as Cullman for scenes in the book.
"Everywhere in the book, I could point to the places in town where I imagined it happening. For me it could not be more awesome," said Wallace.
Keith Cromwell, executive director of RMTC, saw "Big Fish" on Broadway and again in the off-Broadway production in Boston. Blown away, he decided RMTC was a perfect fit for the production.
"Red Mountain Theatre Company is so focused on the renaissance of Birmingham and all the great and wonderful things that are happening downtown and we want to be about telling Birmingham stories. We couldn't be more thrilled to bring it to the stage," said Jennifer Jaquess, managing director of RMTC.
Wallace's opening night viewing of RMTC'S "Big Fish" was his first time to see the musical off-Broadway.
"Seeing it in Birmingham to me is so valuable both artistically and emotionally because it takes place right here," he said.
After the production, Wallace sat down with cast members and the audience to discuss the book and the production.
"This felt much more true to my experience, the Southernness much more evident and I felt it more strongly here," Wallace said about the impact of seeing the musical in Birmingham.
After the success of "Big Fish," Wallace continued to write and serve on the faculty of University of North Carolina at Chapel Hill. He has recently written and illustrated a children's book, "The Cat's Pajamas," and is finishing another novel he has been working on for the past three years.
When thinking back on his success as a writer, Wallace comes back to Birmingham. "Most important were the teachers I had at Altamont. I wouldn't be a writer without the teachers and education I received at Altamont," Wallace said.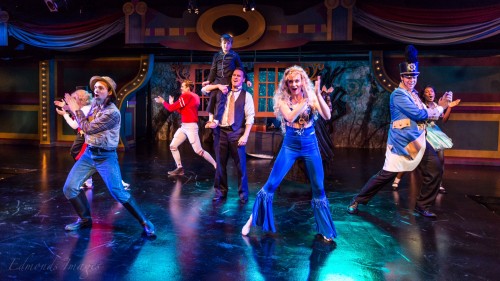 The success of "Big Fish" is one that Birmingham can celebrate alongside Wallace.
"That's how I have come to this adventure. I've taken a backseat approach. It was never my ambition to see it come this far and the fact that there are other things that have happened have been an adventure I have loved," said Wallace.
"Big Fish" is one of many productions performed at RMTC. Founded in 1979, originally as Summerfest, RMTC is a nonprofit organization that fosters artists, inspires youths and engages audiences through quality theater and education programming. Throughout its 30-year history, RMTC is one of the only year-round professional musical theater organizations in Alabama and is deeply committed to seeing Birmingham thrive.
In addition to engaging audiences through year-round performances and growing highly acclaimed talent, RMTC serves the community through theater-based education programs, workshops, skill-building classes and outreach.
"Red Mountain Theatre brings tremendous value through their education programs and outreach in the schools. They build confidence and creativity in students, and they do it with great young talent, many who have going onto professional careers in theater," said Alabama Power Bobbie Knight.
It's not too late to catch "Big Fish" at RMTC, as it runs through Sunday, Oct. 4. For more information about "Big Fish" and RMTC, visit www.redmountaintheatre.org.