ABOVE: Dr. Santosh Gangwal and Tim Hansen discuss the design and results of SR's proprietary sorbent testing and cycling.
Seeking to build on Southern Research's groundbreaking discoveries, the White House has announced a new partnership with the institute to improve the containment, storage and efficiency of solar energy.
The $3 million joint venture will support research and testing on an innovative thermochemical energy storage system (TCES) to enable solar power facilities to provide reliable energy even when the sun isn't shining.
"New technology like this drives efficiency improvements," said Bill Grieco, vice president of Southern Research's energy and environment division, "and that is critical to making renewable energy commercially viable in the future."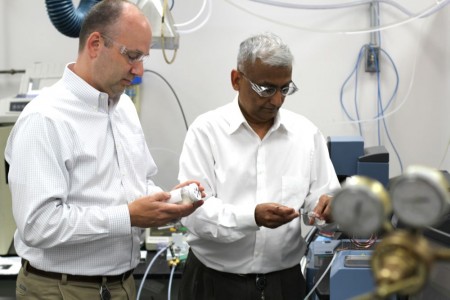 The TCES project is a key component of the U.S. Department of Energy's SunShot initiative, whose mission is to make solar energy cost-competitive with traditional energy sources by decade's end.
"We want to give every American an energy choice on what they want to use, no matter who they are or where they live," said Vice President Joe Biden in announcing $102 million in new solar project funding on Sept. 16.
Work on the TCES will be conducted through collaboration between the nonprofit Southern Research and Southern Company, the Electric Power Research Institute (EPRI) and Precision Combustion Inc. (PCI) of North Haven, Conn.
It follows a successful Southern Research project to develop a low-cost, calcium-based sorbent to store thermal energy.
"It was basically a simple, well-known chemical reaction with abundantly available material," said Santosh Gangwal, associate director of energy and environment who is the project's principal investigator. "But the materials degrade over time. The breakthrough is making a sorbent that lasts a long number of cycles."
The development of a successful sorbent for energy storage was advanced through research on carbon capture in traditional power plants. "One of the techniques being studied is capture of carbon dioxide using similar sorbents from coal-burning and coal-gasification power plants," said Gangwal.
The three-year TCES project will be conducted in stages. In the first year, researchers will scale up the process to see if the chemicals retain their heat-storage properties. The second year will focus on building a reactor simulator. The third year will be dedicated to simulating a concentrated solar power (CSP) plant.
Following that, the institute will look for industry partners to help turn the green energy into marketplace gold.
"The goal at the end is to have the technology demonstrated and validated at scale for commercial use, up to 50 megawatts capacity," said Tim Hansen, project co-principal investigator.
Southern Research has gained the confidence of policymakers through other solar projects. The PREDICTS program, a 2013 partnership with Southern Company, EPRI and Sandia National Laboratories, seeks to better understand how solar photovoltaic (PV) panels degrade and fail over time. Its sequel, PREDICTS2, has been awarded $1.3 million by the SunShot initiative.
"Southern Research will be testing the PV panels by accelerating the aging process in the lab and comparing it to panels in the field," said Grieco.
It's a winning formula for the independent institute created 74 years ago by Tom Martin when he was Alabama Power president. The company recently won approval to secure up to 500 megawatts of renewable generation.
"For renewables to have a meaningful impact on the nation's energy sector, energy storage is critical, and we want to play a major role," said Grieco.