Catholics from Birmingham were among throngs of cheering faithful who greeted Pope Francis during his first U.S. visit Sept. 22-27. The pope's whirlwind travels took him to Washington, D.C., New York City and Philadelphia.
Washington, D.C.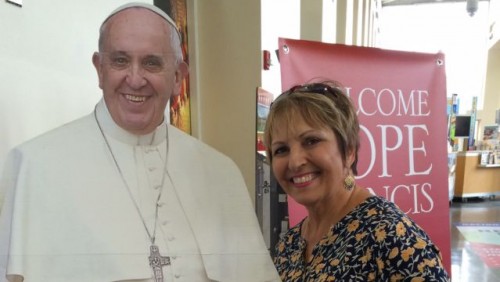 "It was just a wonderful experience," said Gene Borgosz, who was one of 1,200 seated in the U.S. Senate gallery when the pope addressed a joint meeting of Congress.
Borgosz snagged the highly coveted seat when invited by Alabama Rep. Gary Palmer. "I didn't realize the tremendous impact he (Pope Francis) has across all faiths."
Borgosz expected Catholics to flock to the pope, but was astonished Francis drew so many from all walks of life.
"We didn't realize the magnitude of his presence throughout the world and not just Catholics."
What impressed Borgosz was the pope's willingness to boldly discuss politically charged topics such as abortion, climate change and capitalism.
"He is not opposed to talking about delicate subjects such as immigration and the death penalty."
Borgosz watched the pontiff's departure in a motorcade, surrounded by what Borgosz describes as "phenomenal security."
New York City
The pope's next stop took him to New York City, where Birmingham Mayor William Bell Sr. caught up with the 78-year-old "people's pope." Bell was one of 40 mayors and leaders who welcomed the pope by signing a nonbinding pact to drastically cut carbon emissions.
Bell signed the "Under 2 MOU" pledge to greenhouse gases by 80 percent compared with 1990s levels. Participants hope to encourage world leaders to agree on a global treaty in Paris later this year.
The pope said humanity's "reckless" behavior has pushed the planet to a "breaking point." Bell is an ambassador for the anti-trafficking organization Human Rights First.
In August, Bell was among 60 mayors (one of three Americans) and local government officials from across the globe summoned to the Vatican to discuss climate change and human slavery.
Bell issued a letter of invitation to the pope to visit Birmingham, and proclaimed a day of service in the pontiff's honor. Bell's office has the support of the Diocese of Birmingham's Bishop Robert J. Baker.
Philadelphia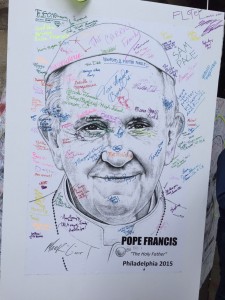 "We enjoyed the Mass itself," said Birmingham area resident Sally Springrose.  Springrose, a Catholic, said she felt special sitting 20 rows back from the altar where Francis celebrated Mass with tens of thousands of people gathered in Philadelphia.  The Mass was the culminating event of a Vatican-sponsored conference on the family that drew the pontiff to Philadelphia.
"The singing was gorgeous," said Springrose.
"The Mass and the experience filled you with hope and with peace," she said. "The experience made me a little more tolerant of others and maybe a little more patient with myself, too. It strengthened my faith. It deepened my faith. I saw Jewish people, Episcopalians, Methodists, a Lutheran in the group. All different faiths; all being reverent and enjoying the Mass."
Springrose said she met people who had traveled from all over the country and from around the world, but didn't encounter anyone else from Alabama.