Officials share findings of 2015 Report Card for Alabama's Infrastructure from Alabama NewsCenter on Vimeo.
Alabama's first infrastructure report card doesn't have any F's or A's, but there are way too many D's and an incomplete that has to be addressed.
Those were the findings of the Alabama Section of the American Society of Civil Engineers, which released the 2015 Report Card for Alabama's Infrastructure Thursday.
Overall, Alabama earned a C-, earning its highest grades in energy (B), aviation (B-), ports (B-) and rail (B-). The lowest grades came in transit (D), roads (D+) and inland waterways (D+).
Drinking water (C+), bridges (C-) and water and storm water (C-) made up the other grades.
The state scored an "incomplete" in its dam assessment because the state does not have a full inventory of all of the dams that exist in the state. Only an estimated 2 percent of all known dams in Alabama are being inspected for safety, maintained and have emergency action plans in place for use in the case of an incident or failure, the report found.
While major dams like those maintained by companies like Alabama Power are well-known and regulated, many smaller, dams on private property are not counted or assessed as to their stability.
"We need to know our dam safety risks," Shelia Montgomery-Mills, president of the Alabama Section of ASCE, said. "We have to find our dams so we know our risks."
She said it's only through identifying dams that they can be assessed and emergency action plans can be established for those who could be affected if an at-risk dam fails.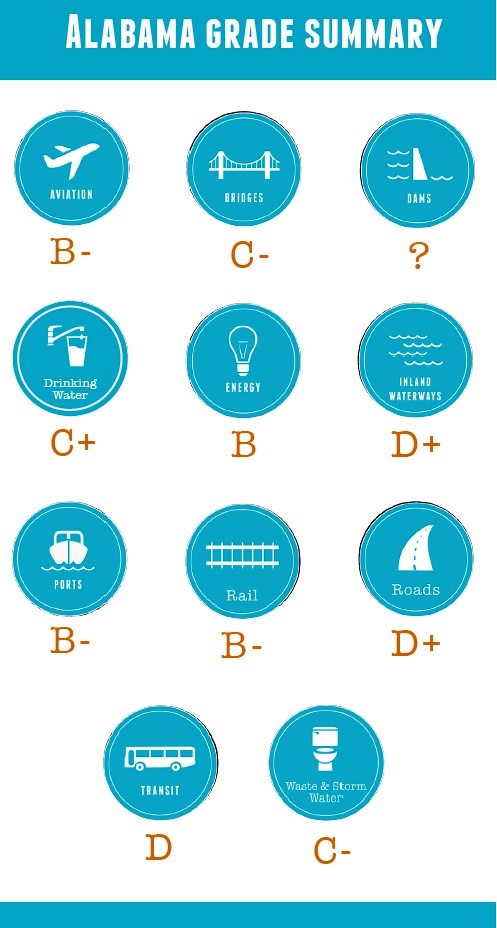 That's a very real concern, according to Dusty Myers, president-elect of the Association of State Dam Safety Officials.
"Dams have the potential to fail with tragic consequences," he said, pointing to the millions of dollars in damage and the lives affected by failed dams during the South Carolina floods in October.
"We do not want to see what happened in South Carolina happen here in Alabama," he said.
Jim Byard, director of the Alabama Department of Economic and Community Affairs, said a division of ADECA has been taking an inventory of the state's dams. He said the work is 67 percent complete and scheduled to be finished within the next year.
While the unknown is troubling, there is much about what is known about Alabama's public infrastructure that raises concerns, Montgomery-Mills said.
"The report card is intended as a tool that shows the extent, condition and importance of Alabama's infrastructure assets that support modern life," she said. "Our infrastructure is only as strong as its weakest link."
Some of the infrastructure issues impact many people every day, Montgomery-Mills said.
"Nearly half of Alabama's interstates and state highways are in fair, poor to very poor condition," she said. "Driving on potholed and congested roads takes at least $300 out of every driver's pocket every year. By spending a portion to fix the roads, we can put this money back in our pocket."
Other findings in the report card included:
The majority of the state's drinking water infrastructure was installed from the 1960s to the 1980s and is operating beyond its useful design life.
Septic systems are commonly used in more rural parts of Alabama; 25 percent of the estimated 850,000 on-site septic systems are in failing or failed condition and could be polluting groundwater.
Alabama has 1,388 structurally deficient bridges, ranking 15th most in the country, with many of these bridges being funded and maintained locally.
Much of the inland waterway lock and dam infrastructure within the state is breaking down and has passed or is approaching the 50-year design service life. As an example, Coffeeville Lock and Dam has vessel delay rates of 150 hours.
Joe Meads, government relations chair of the Alabama Section of ASCE, said more than 30 members spent more than a year compiling the grades for the state's first infrastructure report card.
"Infrastructure is the backbone of our state," he said. "Our roads ensure that trucks can get from Point A to Point B to deliver products to our store shelves. Our water infrastructure delivers our hot shower in the morning, which we all appreciate. Our wastewater infrastructure carries it away safely. Our economy, our ability to create jobs, personal incomes and the ability to compete globally as a state are all linked directly back to infrastructure."
The issues raised in the report card have a far-reach impact, he said.
"Unfortunately, despite being essential to our lives and economy, we have let our infrastructure languish and much of Alabama's infrastructure has reached its useful service life and is now hobbling along with emergency repairs," he said.
Angela Till, deputy secretary of the Alabama Department of Commerce, said business recruitment and retention in the state is directly tied to infrastructure.
"Modernizing our infrastructure is crucial to maintaining Alabama's status as one of the Top 5 business climates in the country," she said. "Alabama companies depend on good infrastructure."
Till said businesses need water and power, and manufacturers need roads, rail, port and waterways to move goods through the U.S. and around the world.
"Within a day's drive for half of the U.S. population, Alabama is in a great location to be a logistics hub and it takes our infrastructure to leverage it," she said.
While the news in the report card is not very flattering, ADECA's Byard said it's important to know where the issues are so the state and local governments can work together to address them.
"We are excited about this report card and while it does have a variety of grades – some we might be excited if our 14-year-old daughter brought them home and some we might not be if our 14-year-old daughter brought them home," he said. "This report card basically tells us where we are and as a state agency we plan on using this to help us as we work with cities and counties across our state."
The report not only graded the infrastructure, but offered suggestions to raise the grades, including:
Pass legislation to create a dam safety program that creates an inventory, establishes emergency action plans, and uses periodic safety inspections to keep communities safe.
Prioritize routine maintenance to save money and prevent emergency repairs across all infrastructure types.
Increase replacement of structurally deficient bridges, which are mostly owned and operated locally.
Create state funding strategies that recognize the importance of functional drinking water, stormwater, and sewer infrastructure to support the economic development of Alabama.
Use technology and new methods to help ease congested areas, build more efficiently, and monitor infrastructure conditions.
"Alabama has an opportunity to fix what's broken and grow the state's economy by making investments to improve our infrastructure," Montgomery-Mills said. "We can rebuild our roads, make our bridges safer, and prevent costly water main breaks — all things that will save us money in the long run. Alabamians pride themselves on being self-sufficient in all aspects of our lives — and improving our infrastructure needs to be part of that philosophy."
Although this is the first report card for Alabama, ASCE sections in other states have produced similar grades. State report cards are modeled after the national 2013 Report Card for America's Infrastructure, which gave America's infrastructure a grade of D+.
To read the full Alabama report, click here.