It looks like Samford Hall, complete with the bell tower and the iconic clock overlooking Auburn University's campus.
But it sure doesn't taste like Samford Hall.
This version of Auburn's 1888 landmark is made of gingerbread and candy, part of the ever-expanding Gingerbread Village at the Hotel at Auburn University and Dixon Conference Center.
For seven years, the hotel has partnered with Auburn's McWhorter School of Building Science to create to-scale gingerbread versions of Auburn buildings. This year, there are 10, including Samford, the hotel, the president's house, the Jules Collins Smith Museum of Fine Art and Langdon Hall.
"The students use 3-D scanning equipment for the buildings, so they get to completely do it to scale," says Hans van der Reijden, managing director, hotel operations and educational initiatives. "They're made out of wood, and we cover them with gingerbread and assorted candy."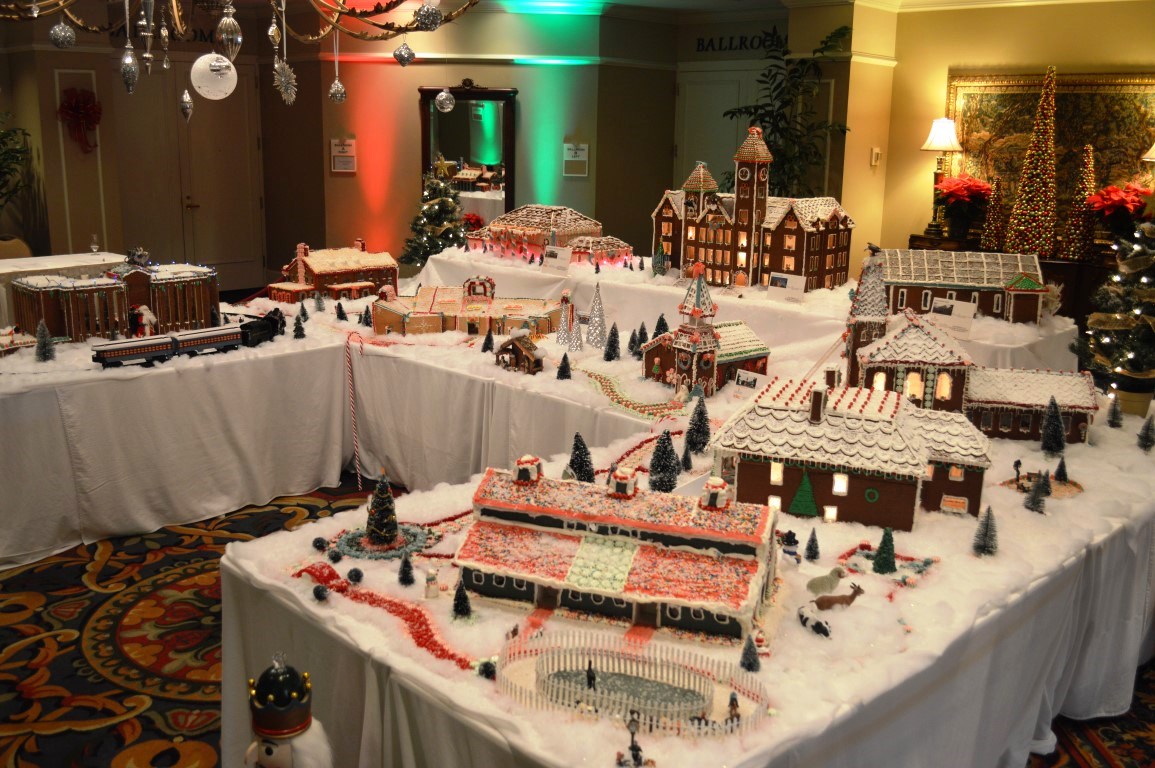 The 10 buildings are a far cry from the two that started the tradition seven years ago. Then, it was in the hotel's lobby. Now, there are so many buildings that the display has moved to the pre-function area near the hotel's banquet rooms. They'll be on display until Jan. 1.
Employees at the hotel get behind the project full force, van der Reijden says. Volunteers will "adopt" a building and decorate it after the wood form is built.
"All these buildings have so many great stories, so we like to have fun with it, too," he says. "The chapel is the most haunted building in Auburn, so we have little ghosts floating around there. There's the infamous story of the vet school students who sent the cow up into the bell tower of Samford Hall, so we have a cow hanging out of the bell tower."
New to this year's gingerbread village is the horse barn for Storybook Farm, a non-profit the Hotel at Auburn University and Dixon Conference Center supports.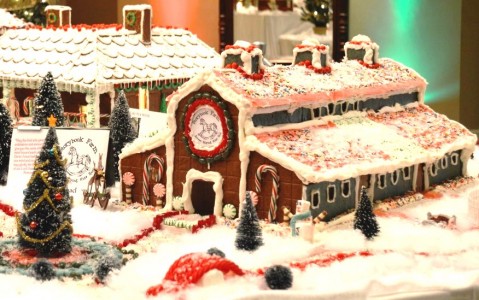 It's the communal effort that really makes the Gingerbread Village fun, van der Reijden says. Sarah Mecom, chef de partie at the hotel's Ariccia Trattoria restaurant, oversees the decorating, but the bulk of it is done by anyone from front desk clerks to accountants to waitresses to cooks.
"If this were up to just our pastry chef to do, he would be out for a month and most probably have a nervous breakdown, because it's a lot of work," van der Reijden says. "These groups of employees totally own their building, doing everything from covering it with gingerbread to decorating it to making it something special."
When all is said and done, here is what is used to create the Gingerbread Village, according to Alex Hoefer, sous chef for the hotel:
250 pounds of gingerbread.
100 pounds of royal icing.
75-80 pounds of candy canes, peppermints, gum drops and other candy.
212 gelatin sheets (for windows).
15 pounds of gum paste, which Hoefer says is like fondant.
The houses are under construction at the hotel for about 10 days, and about 40 employees take part, van der Reijden says.
"It's a very friendly competition," he says. "There's no prize, but there's a lot of pride in this."
The display is open to the public daily, and Santa Claus will be there during the hotel's upcoming children's gingerbread class Dec. 19-22. (For reservations, call Anna Kent at 334-321-3175 or email [email protected].)
Mostly, though, the Gingerbread Village is for the community, van der Reijden says.
"We have people coming through all day," he says. "It has become part of the Auburn holiday tradition."