Cindi McGee's Christmas tradition this year won't involve buying gifts, but spending quality time with family and friends and appreciating them.
"We're so blessed and we do things all year. There's nothing we need at this time," she said.
She has purchased tickets for 10 of her family members to watch "It's a Wonderful Life" at the Alabama Theatre Sunday, Dec. 20.
While McGee said she looks forward to watching the Christmas classic with her loved ones, she admits she does not look forward to another Christmas tradition – decorating her home. But she said she does it anyway because it adds something special to her neighborhood. She lives in the Candle Brook subdivision of West Jefferson County.
Decorating your home for the holidays: Laser lights vs. traditional light displays from Alabama NewsCenter on Vimeo.
McGee noticed the newest fad this year of laser lights adorning many of her neighbors' homes. She got a jump start three years ago when she purchased the laser lights to accompany her and her family members on outdoor camping trips and music festivals. Holiday decorating was not part of the original plan.
But last Christmas, for the first time, she decided to use them on her home.
"We have three different laser light projectors and they've lasted with no problems. They are so pretty and just so convenient. I didn't buy them originally to decorate my home, but I figured why not?"
A new trend was born. Apparently, others have taken note – many others. Call or go to any store and ask about the laser light projectors.
One associate at a local Wal-Mart said they can't keep them in – even after several shipments.  "They sell out just as fast as we get them."
Canvassing many a neighborhood, you'll find a healthy balance of both traditional and laser light displays on homes. A number of homes use both.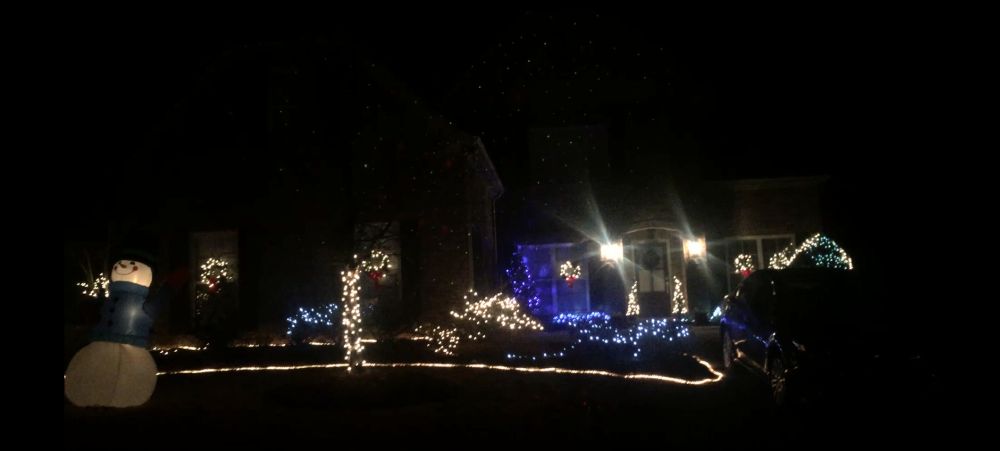 While McGee enjoys using the laser lights on her home, her biggest concern now is not their functionality, but their accessibility. Authorities have issued warnings for homeowners to beware of thieves.
"The convenience with which we use these to decorate also makes it convenient for thieves to steal," McGee said.
Setup involves simply sticking the fixture into the ground, with the laser light projector attached, and then plugging it in. Then watch the magnificent light display. You can choose static or moving light displays.
While laser lights are not the most affordable home decorating option available today, McGee said the investment has been worth it. She purchased three laser light projectors for about $15 per projector three years ago.
But if you plan to purchase these from your neighborhood home improvement store, be prepared for prices starting at about $40 per laser light projector. Online prices start at about the same and trend upward, depending on the brand.
While counting the cost of decorating with laser lights, McGee makes one other observation that might help in your decision-making process.
"Everyone is busy, so I think it helps with decorating – it saves time and storage space."