Mobile Aeroplex at Brookley on Tuesday welcomed Zodiac Aerospace, the latest support firm seeking proximity to Airbus' $600 million U.S. manufacturing facility.
France-based Zodiac, a global leader in aircraft cabins, employs more than 30,000 across 100 sites worldwide.  The Mobile location is the 25th in the United States.
"(Zodiac is) being aggressive and planting a flag. … We expect them to grow as (A320 production) rate grows," Mobile Airport Authority Executive Director Roger Wehner said. He called the project a "testimony for our ability to work collaboratively crafting solutions that meet the unique needs of the supply chain."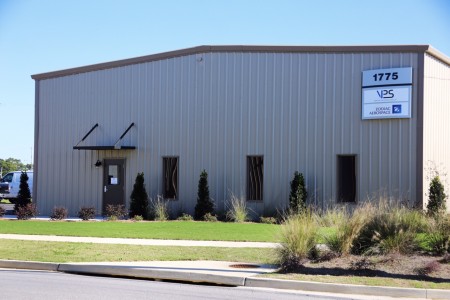 The Mobile facility – expected to employ fewer than five people initially – will focus on A320 cabin interiors, specifically seating.
Wehner called the project "further evidence of our commitment to help bring rewarding careers in the aviation industry to Mobile, and interiors represents another building block in the methodical development of Mobile's aerospace cluster."
Zodiac is a global leader in aerospace equipment and systems for commercial, regional and business aircraft.
In a statement, Mobile Mayor Sandy Stimpson welcomed the newest example of foreign investment to the Port City.
"By establishing a base here, Zodiac joins a growing roster of top aerospace firms, which are establishing Mobile as a city on the rise," Stimpson said.
Zodiac will occupy about 1,700 square feet of a 5,000-square-foot space already inhabited by Hamburg, Germany-based Vartan Product Support. Airbus inaugurated its A320 final assembly line – its first on U.S. soil – five months ago within view of Vartan's and Zodiac's new Ninth Street address.
Meanwhile, Continental Motors, VT MAE, Star Aviation and AeroStar already employ a combined 2,000 people at Brookley, with MAAS proceeding with plans to build a $39 million twin-bay paint facility targeting third-party U.S. maintenance, repair and operations customers.
Mobile County Commissioner Merceria Ludgood said she anticipates a "long and rewarding partnership" with Zodiac.
"We are delighted to learn that yet another global aerospace firm has chosen to join Mobile's family of companies locating at Brookley to service the Airbus assembly plant. … As production ramps up at Airbus, each of the individual businesses will expand, our network of suppliers will grow, and the taxpayers of Mobile County will reap the benefits of a thriving economy," Ludgood said.
Established in 1980, the Mobile Airport Authority oversees the Mobile Regional Airport, a 3,000-acre commercial airport and industrial complex, as well as Mobile Aeroplex at Brookley and the adjacent Mobile Downtown Airport, which combine to create a 1,700-acre campus.
The authority bills Mobile Aeroplex as the "transportation and industrial epicenter of the Central Gulf Coast."