The go-to authority for all things Mardi Gras is nestled on Government Street in the William and Emily Hearin Mobile Mardi Carnival Museum.
There, visitors can immerse themselves in three centuries of history and tradition, complete with glimpses of the crowns, scepters and robes of past Mardi Gras monarchs; costume design and float construction; and videos of parades and balls. The museum also features a pictorial gallery of historical photographs dating to 1886, and allows patrons to climb aboard a float for a behind-the-mask view of a street party.
RELATED: Good times roll as Mobile prepares for Mardi Gras
A complete historical timeline of Mardi Gras in Mobile is available by clicking here, but a few highlights, courtesy of the museum, are as follows:
1703: Mardi Gras observed for the first time in the New World by French pioneers at Twenty-Seven Mile Bluff, the first settlement of Mobile.
1711: Carnival is born in present site as residents join in song, food and dance. Papier-mâché bull, in honor of Boeuf Gras (another name for Mardi Gras), is pulled down Dauphin Street in what is believed to have been the first carnival "parade" in North America.
1830: Michael Kraft wakes up the mayor on New Year's Eve with rakes and hoes and cowbells, forming the Cowbellian de Rakin Society: the first masked parading society in America.
1840: Cowbellians introduce horse-drawn floats in a parade entitled, "Heathen Gods and Goddesses."
1842: Striker's Independent Society formed. Paraded for over 50 years. The oldest remaining mystic society in America.
1862/1865: Carnival is canceled during the Civil War.

The home of Joe Cain, located in the Oakleigh Garden Historic District in Mobile. He is regarded as reviving Mobile's Mardi Gras celebration following the Civil War. (Mike Kittrell/Alabama NewsCenter)

1866: Joe Cain revives Mardi Gras after the war by costuming as undefeated Chief of the Chickasaw Indians, "Old Slacabamorinico," and leading the Lost Cause Minstrels in a procession through the city in defiance of occupying Union troops.

1867: Order of Myths, the oldest continuous parading society, is founded.
1872: First Royal Court is reigned over by Daniel E. Huger, first king of Carnival, styled as Emperor Felix I. The Mobile Carnival Association is organized.
1875: Alabama Legislature declares Shrove Tuesday a holiday in Mobile. The public is encouraged to close down business and to mask.
1884: Comic Cowboys of Wragg Swamp are established, along with their mission of satire and free expression.
1890: First Jewish mystic society, The Continental Mystic Crew, is founded.
1894: Order of Doves, believed to be the first Black mystic society in Mobile, is formed.
1917-1918: Carnival canceled because of World War I.
1928: Floral Parade debuts.
1929: First electric floats roll into Mobile via the Infant Mystics' Parade.
1938: First Black Mardi Gras parade. The first king hailed "Mayor of Carnival."
1939: First "Colored Carnival Association" formed. It later became Mobile Area Mardi Gras Association (MAMGA). Samuel Besteda was named "First Mayor of Colored Mobile."
1940: Colored Carnival Association selects its first king and queen, Alex Herman and Aliene Jenkins.
1942-1945: World War II cancels celebration of Carnival.
1956: MAMGA names Hank Aaron as its mayor for the celebration.
1965: First doubloon thrown in Mobile by the Infant Mystics, two years before their 100th anniversary.
1967: Joe Cain celebration revived at Church Street Cemetery, a location quickly outgrown.
1969: MAMGA dedicates its first float warehouse. Develops revolutionary system of pulling floats in and out of warehouse.
1980: Order of Osiris, the first gay Society in Mobile, holds its first dance.
1995: First International Carnival Ball held in Mobile with every known mystic society represented.
2005: New Carnival experience opens: the Mobile Carnival Museum opens with Gordon Tatum Jr. named first curator.
Although the 2016 Carnival season kicked off officially Jan. 9 with the Krewe de la Dauphine parade on Dauphin Island, revelry really kicks into high gear this weekend with the first downtown Mobile parade as the Conde Cavaliers roll at 6:30 p.m. What follows are more than 30 parades spanning more than two weeks and culminating Feb. 9 with the 6 p.m. Order of Myths parade.
Click here for the complete 2016 Mardi Gras schedule.
By far, the most active weekend of the season falls just before Fat Tuesday with the celebrated Joe Cain Day and People's Parade, slated this year for Feb. 7.
Cain, credited with reviving Mardi Gras in Mobile following the Civil War, remains a Mobile icon, and will be given his due in an upcoming Alabama NewsCenter feature.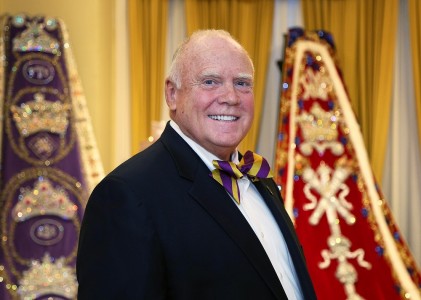 Meanwhile, architect and historian L. Craig Roberts Roberts said he simply cannot stress enough the family nature of Mardi Gras in Mobile.
The problem, he said, is the misperception that Mardi Gras is the free-for-all often depicted by the national media and pop culture.
"They go to New Orleans and stand on Bourbon Street and roll the cameras, and that's what the rest of the country thinks Mardi Gras is. That's not even on a parade route," Roberts said.
Roberts tells the story of the city and the event in his new book, "Mardi Gras in Mobile."
The real Mardi Gras – the one born of Mobile's history and soul – is ingrained with family traditions, reunions and heritage.
"The embodiment of Mardi Gras is families getting together. A lot of the parades are fashioned for children and even some of the ball themes can be incredibly childlike," Roberts said, adding, "In simplest terms, Mardi Gras gives a release from the daily toil of life."