When "Rock of Ages" opens tonight at the Virginia Samford Theatre in Birmingham, it will be a homecoming of sorts for Daniel C. Jackson, who stars as Drew, a busboy and rock star wannabe, in the musical filled with hits from the 1980s.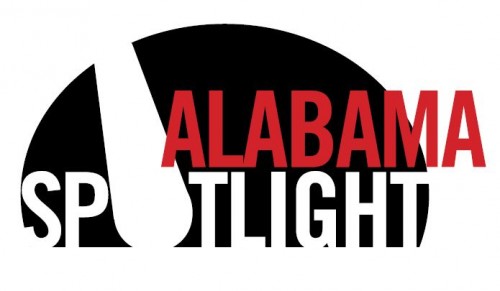 Back in 2010, Jackson starred as a bonafide star in "Buddy ­– The Buddy Holly Story," first at the Virginia Samford Theatre and then at several places around the country.
Directed and choreographed by Tawny Stephens, "Rock of Ages" also stars Carl Dean and Hannah Comedy (a Samford grad). It runs through Feb. 21.
Before tonight's opening, Jackson, who attended the Alabama School of Fine Arts and got his start at Birmingham Children's Theatre, answered a few questions about his career and the show:
Alabama NewsCenter: What have you been doing since "Buddy" in Birmingham?
Daniel C. Jackson: From 2010-2012 I traveled and performed "Buddy" in Annapolis, Maryland; Reno, Nevada; Winter Haven, Florida; and in Cape Cod. While in Cape Cod, I got a callback for "American Idiot" after an audition I had flown up to NYC to do. I spent the whole time focusing on that show, working on my stamina and overall focus and was fortunate enough to book the show. It opened in Southampton, England and ran in the UK for almost three months, closing in London at the very popular Hammersmith-Apollo Theatre.
I was in the Ensemble of "American Idiot" and covering the character St. Jimmy. Closing night in London, I went on as St. Jimmy in both performances for the first time.
After a six-month tour of the U.S., the contracts for most of the cast were up, and I got promoted to the role of St. Jimmy full time. I toured with that until January 2014.
In April of 2014 I booked a cruise ship based out of Hamburg called Aida. It was a great job that  took me all over the Caribbean and Western European countries. I sang and made music with so many people from around the world. I stayed up looking at stars and listening to conversations while at sea. It was a very cool time.
I finished that in June 2015, and I did a few shows in New York — an original show called "#Lovestory," which is a terrific show with an even better score, and a live-voting performance platform called "Tonight's Star."
Since 2014, when I moved back up to New York full-time off tour, I worked as a tour guide in New York through Central Park and played with a band The Young Presidents, who I have since joined full time.
NewsCenter: You seem to have a knack for rock musicals. Has that always been the case, or did you just fall into it?
Jackson: Music has always been important to me. I've played guitar since I was 11. I never on purpose did rock shows; I just learned that I have a connection with the energy and storytelling. I love many non-rock musicals. But I also have so much respect for other people's music, classics, etc. Jukebox musicals like "Idiot," "Holly" and "Rock of Ages" are a perfect outlet for me to have a good time. I've always followed my passion. Music from the past speaks to me, and I love getting to give people the memories.
NewsCenter: Are you a fan of '80s rock? Getting to sing anything here that's a favorite of yours?
Jackson: "Oh Sherrie" is definitely my favorite song to sing. But I wouldn't say it's one of my favorites. Steve Perry is one of my faves, so getting to sing a song he sang is what makes it so cool. Journey was one of my first favorite bands. First it was Michael Jackson, Eagles Greatest Hits, Counting Crows then Journey. "Wheel in the Sky" was one of my favorite songs as a kid.
As for the show? Some of my favorite '80s songs ever are in this show. "Heat of the Moment," "Keep on Loving You," "Wanted (Dead of Alive)" are in it but they are all sung by other people. I get to listen. And maybe I sing along. Just maybe.
I have always been an '80s fan. My parents were in high school in the mid-late '80s so most of what I grew up on was '70s and '80s rock, folk, singer-songwriter stuff.
NewsCenter: Tell me about your character. Are you a lot alike? Any differences?
Jackson: Drew is any guy who wants to make it. He's at a time where the loudest personalities are in the spotlight, and he doesn't know how to take it. Not everyone has a five-step plan to success. He knows this is where he needs to be and is very happy in the moment.
I'd say we are very alike. I've flown by the seat of my pants my whole life. I live in the moment fully and pursue art passionately. For me it's never been about money or fame. Music drives me. I think Drew is a bit driven the same way. He would love to be famous, but fame isn't what makes him tick. Love and love-inspired rock ballads of the '80s make him tick.
NewsCenter: What's next for you?
Jackson: Next is go back to New York and try to continue to grow, get better and pursue a career in Music/Theater/Whatever. I have so many aspirations that go beyond being a performer. I just want to work on projects I'm proud of. I'm always sad to leave Birmingham, though. I can't say enough about how much this city means to me. There are many people in this city that have helped me grow and evolve both artistically and personally. Many people who have helped me get to auditions, inspire confidence and help me move into the career I've had. Some of these people I don't get to see or speak with any more like I'd want to. Life moves us around so much. I'm always happy to return to the city that inspired me to follow my passions.
Info: "Rock of Ages" runs Jan. 28 through Feb. 21 at the Virginia Samford Theatre. Call 205-251-1206 or go to virginiasamfordtheatre.org for more info.
Alabama Spotlight focuses on the stories of Alabamians in the performing arts, both on stage and behind the scenes, in-state and in far-flung places. Longtime Alabama entertainment journalist Alec Harvey tells their stories. Email him comments, as well as suggestions on people to profile, at [email protected]