Click here to view or print the entire new home monthly report compliments of the ACRE Corporate Cabinet. Join the Center mailing list HERE.
Demand: New home sales totaling 259 units in January increased 19.4 percent from the same period last year. January new homes sales were 33 percent below the prior month. Average days on market in January of 120 represent a 30.3 percent decrease from last January which is encouraging news.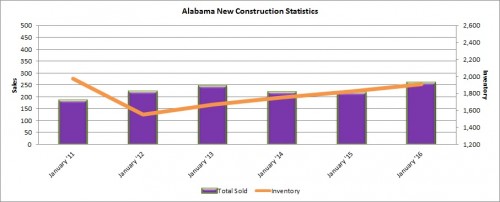 Supply: Months of new home supply in January was 7.3 months. Statewide new construction inventory is approximately 4.7 percent above last January and up 5.4 percent from last  month.
Pricing: Alabama metro markets' median new home sales price during January was $233,335, an decrease of 5.2 percent from last January and a decrease of 11 percent from December.
New Home Pipeline: Janaury statewide housing starts were down 7 percent from 2015 and were down 4 percent from the prior month. Statewide building permits in January were down 4 percent from January 2015 but were up 12 percent from the prior month.
Residential Construction Employment: According to the Alabama Dept. of Industrial Relations, statewide related residential construction employment in January increased 4 percent (+4,000 jobs) to 84,000 from the same period last year and remaned unchanged from the previous month. This represents the 17th consecutive months of positive year-over-year comparisons associated with construction employment.  
Local Results :Eleven out of the 27 associations (40 percent) reported building permit gains from January 2015, while 11 associations (40 percent) experienced gains in housing starts. Eight associations experienced an increase from their December 2015 monthly housing starts.
Industry Perspective: From David Crowe, NAHB chief economist "There are a number of positive indicators that provide solid evidence this will be a good year for housing and the economy. Private sector job growth has been averaging 240,000 per month over the past two years. GDP growth is expected to climb slightly above last year's level and consumer confidence is nearly back to its pre-recession peak. Builders report their top concerns in 2016 include the cost and availability of developed lots and labor, federal environmental regulations and policies that are making it more expensive and difficult to build homes, and building materials prices."
The ACRE New Construction Monthly Report is work product stemming from our partnership with the Home Builder's Association of Alabama Foundation. The Alabama Center for Real Estate's core purpose is to advance the real estate industry in Alabama by providing relevant resources in the areas of research, education and outreach. Join the Center mailing list HERE.