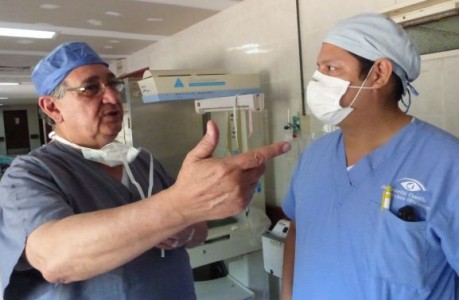 Blind eyes see, hearts that haven't beat normally since birth suddenly beat rhythmically and the lame walk.
The scene is almost biblical, as one considers the crushing health-care needs of many Nicaraguans helped by Dr. Rudy Vargas and his volunteers through the 501(c)(3) nonprofit Friends of Rudy (FOR) Nicaraguan Health. Vargas, a board-certified internist who specializes in endocrinology at Brookwood Medical Center in Birmingham, was born and raised in Granada, Nicaragua. He has worked to help the country's citizens since the 1980s.
With an average income under $2 per day, most Nicaraguans don't have health insurance. For the majority, health care is either low-quality or unaffordable.
Volunteer physicians who call themselves the "Friends of Rudy" have treated critical health needs of hundreds of impoverished residents of Granada and surrounding areas for 17 years. Vargas and others from Birmingham's medical community treat up to 1,500 Nicaraguans each trip.
'Friends of Rudy' help hundreds of Nicaraguans in medical need from Alabama NewsCenter on Vimeo.
Recently, nearly 100 volunteers – mostly from Birmingham but some from as far away as South Africa – descended on Grenada to assist people. When residents heard that Vargas and his team would be there in February, hundreds lined up to receive life-changing – and for some, life-saving – medical care.
"We are very welcomed by the people," said Scott Chramer, a Friends of Rudy board member and member of Highlands United Methodist Church who has assisted in Vargas' mission for about 16 years. "They know when we're coming."
Opening blind eyes
This year's team included 37 doctors, nurses and medical technicians, as well as 57 other volunteers. An ophthalmological team spearheaded by Dr. Michael Callahan, Dr. Richard Feist and Dr. John Parker of UAB Callahan Eye Hospital performed cataract and retina surgeries, transplanted corneas and corrected many cases of crossed eyes.
The cataract surgeries correct vision problems that hinder many residents from earning a living.
"They lose their ability to make a living because they go blind," said Chramer, who has helped perform hundreds of cataract screenings.
"The cataracts are so thick," Chramer added, "they almost look like a cross-section of a cigarette butt when they are removed. People are close to the equator, and most don't wear sunglasses for eye protection."
An optometry team measured eyesight for about 1,500 patients, who received their prescriptions and eyeglasses within the makeshift clinic.
"We've used imagination to do this," Vargas said about the setup that allows patients to get their glasses the same day.
Providing high-tech care to heal hearts
Nicaragua has one of the highest rates of poverty and unemployment in Central America. With the assistance of Friends of Rudy, in 2009, Nicaragua got its first electrophysiology lab, bringing high-tech heart care to the country and making available the latest treatments.
"We work hard in the area of cardiology," Vargas said.
During their visit, cardiologists treated their Nicaraguan patients' Wolff-Parkinson-White syndrome, which would have been impossible without the electrophysiology lab. The syndrome causes a rapid heartbeat, which is present at birth.
"It's a very expensive treatment that costs about $100,000 to $125,000 here in the United States," Vargas said. "Obviously, new cases arise every year. We do about 30 to 40 cases of electrophysiology surgery."
Supplying additional specialized care  
Three or four dentists travel with the medical team each year. Vargas said the dental team performs up to 150 minor surgeries such as tooth extractions. Birmingham dentist and oral surgeon Dr. Iradj Sooudi performed patients' highly needed dental work.
Pediatrician Dr. Bryant "Bear" Benson saw about 600 patients that week, with his wife, Susie, and nurse practitioner Janet Reeves assisting.
Specialists in oncology, hematology, gastroenterology and orthopedics rounded out the group.
Birthing Granada's medical miracle
In 2004, FOR and Vargas formed the free Clinica Alabama-Granada in his hometown.
"I simply always knew what I wanted to do with my life," Vargas said. "I've been fortunate to achieve my goals, but I never forgot where I came from. I have a moral obligation to help the people."
Currently, the clinic treats more than 600 patients monthly, many of whom are diabetic and insulin-dependent. With those urgent health needs, it's difficult for patients to manage financially, Vargas said.
With the help of Executive Director Frances Owens, Vargas coordinates the clinic from Birmingham.
"There's a lot to move along," Vargas said. "The idea came in the 1980s when I was seeing the needs of Nicaragua. I started bringing back medicines in my suitcase, which I would give to small clinics and dispensaries."
"They don't have enough money to buy insulin or testing strips to check their blood sugar," he said. "We try to give information about diabetes care and how to prevent complications." He said the clinic has an overhead of about $150,000 yearly. Much of the operations, Vargas said, depend on fundraising efforts in the U.S.
"It's our flagship," he said. "We see adults and children, between 50 and 60 patients every day, and give free medicines. The patients give a small donation, about $1.50, which gives them a feeling of empowerment. The medicines are much more expensive."
Vargas said many patients receive medicine costing $80 to $120 per visit. Most receive a monthly diabetes checkup, with blood-sugar monitoring.
Without the help of his church and the many medical volunteers who assist each year, Vargas said, the medical mission trip would be impossible. Yearly, volunteers such as Chramer pay for their own travel and lodging to work for seven to 12 days.
"One year, the late Dr. Brice Brackin brought his entire medical team and did a dozen knee replacement surgeries for some crippled people for free," said Chramer, a Friends of Rudy board member. "The Friends of Rudy do things like that every year."
Chramer said he feels privileged to help: "I'm a very small part of a large, wonderful group. It's a powerful thing to be able to help very skilled doctors and nurses help people, cure their blindness, give them hope and restore their lives. The grateful hugs from these people are payment in full."
Vargas is thankful for the support of friends and his family.
"I am eternally grateful to all of them," he said. "They do it because they love to help the people. They have a passion and need to help the needy."
At 72, Vargas recognizes the day will come when someone else must lead the Friends of Rudy. He continually considers who may be able to take his place. It takes nearly a year to prepare for the medical mission trip, and Vargas daily oversees the operations of the Granada clinic. Thus far, he has found no "takers."
"I will do it until I am unable to move," Vargas said. "As long as my physical abilities are there, I will continue to do it."