The Maker: Justin Hill, Eastaboga Bee Company, Eastaboga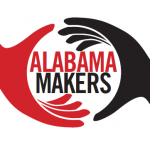 On a couple of hundred acres in eastern Alabama, a young farmer is sidestepping the family cattle business to dip his hand in the honeypot — literally.
Six years ago, Justin Hill started the Eastaboga Bee Company and is now producing some of the best honey in the state.
Hill, 30, didn't start out to be a beekeeper. For four generations, his family has raised cattle on land in Eastaboga.
"I always knew I didn't want to be inside. A cubicle sounds like hell to me," he says.
"I wish I could say I had a childhood passion for bees. I killed a lot of bugs with a magnifying glass, but that doesn't count," he adds with a laugh.
Eastaboga Bee Company is one honey of an Alabama Maker from Alabama NewsCenter on Vimeo.
He started keeping bees as a way to grow the farm. Getting more cows meant getting more land – and that wasn't in the plan. "I think diversification on farms is so much more important these days. Farming is so much harder," Hill says. "Whether you're row-cropping or raising cattle, you can't be a one-crop person. The market is too volatile. All it takes is one weather hiccup and you're out of business."
Hill started with a couple of hives about six years ago and leaned heavily on the knowledge of other more wizened beekeepers throughout the state. "After a while, I'm sure people would see my number pop up and think, 'Oh, Lord …,'" he says.
Hill continued to add more hives. A year into it, he realized, "Man, I've got a lot of bees." Now, he maintains one of the most productive hive systems in the state.
When asked if he's ever been stung, he says, "I got stung this week. I can't even tell you how many times I've been stung." But he says it's more annoying than painful.
"When a bee stings you, it dies and lets off a pheromone that sends a signal to the hive that says 'Hey, there's danger and I just gave my life to defend the hive.' So you're just left with an angry hive," he says. "The tone changes when they get mad – from a low-frequency buzz to a high-frequency buzz – and normally they're really docile."
Much like environmental factors play an important role in the taste of wine, the land around the hives directly influences the flavor of the honey. Hill's bees tend to get into clover, privet hedge, thistle and soybeans. "They also like the neighbors' pool pretty good," he said, laughing. The result is a rich, golden nectar with a sweetness, less musky than a sourwood honey.
And just as Hill wanted to diversify the family farm, he's also expanding his product line. "We're a bee company, but we don't sell a whole lot of bees," he says.
The Product: Wildflower Honey 
Eastaboga Bee Company still sells mostly honey, but it also produces wood polish, leather creams, lip and hand balms, honey barbecue sauce and honey mustard. "If it's made with honey or beeswax, we probably make it," Hill says.
And now, breweries such as Railyard and Cheaha and restaurants from The A&P Social in Montgomery to barbecue joints are incorporating his honey in their own brews and dishes. If you've tried the Cheaha honey blonde, you've had a taste of the Eastaboga Bee Company goods.
Sold online and at farmers markets, such as Pepper Place in Birmingham, and in Anniston, Leeds and Pell City. 
Take Home: Wildflower Honey, $7
Alabama Makers explores the artisans, crafts people, carpenters, cooks, bakers, blacksmiths, designers and others making original and extraordinary items in our state. If you know an Alabama Maker, let us know at [email protected]