Birmingham's public bikeshare program is sprouting new roots this spring, with three new stations and a dozen more on the way over the next few weeks. The growth spurt will expand the system, launched last fall, to 40 stations and 400 bikes.
But the Magic City isn't the only place in Alabama buzzing about bikeshare.
Early this year, Auburn University joined the bikeshare movement, with 75 Auburn-themed bikes distributed among 10 stations.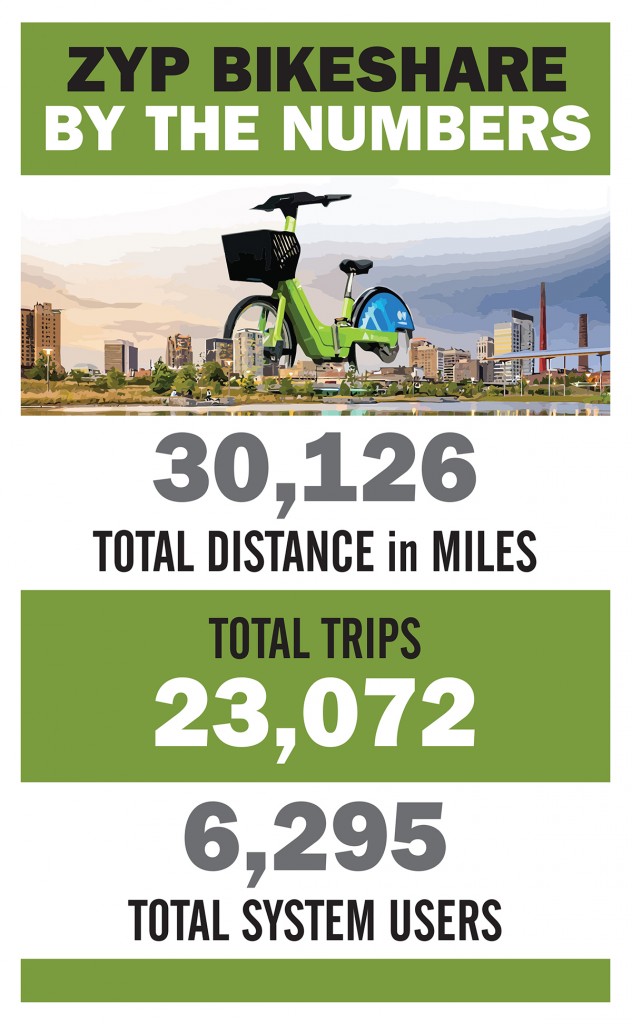 Now the city of Homewood is looking closely at bikeshare. A feasibility study is under way, and two public meetings have been held. Homewood residents can go to www.homewoodbikeshare.com to offer feedback and ideas for potential station locations in the city.
Across the globe, more cities are making bikeshare a part of their transportation systems. They also serve as tourist attractions and can help reduce traffic and air pollution.
In Birmingham, the Zyp bikeshare system has been used by more than 6,000 people in its first few months. Combined, Zyp bikeshare members and others who swipe out bikes for short-time use have tallied more than 23,000 trips totaling over 30,000 miles. And the numbers are growing daily.
Lindsey West, Zyp director, said the program's success has exceeded expectations. And with warmer weather on the way, she anticipates bikeshare use to continue its upward trajectory.
West is also part of the bikeshare exploratory team in Homewood. She said the city is examining options and costs. It could decide to join the Zyp system, or go with a different model. Or it could forego the idea altogether.
Meredith Drennen, executive director of the Homewood Chamber of Commerce, is excited about the possibility of bikeshare. "I'm really interested in seeing what the feasibility study says."
She said a bikeshare system has the potential to draw tourists, and could also help mitigate parking problems downtown.
"We have a lot of large employers – Buffalo Rock, Samford University – in a city that is only eight square miles." Drennen said. She said a bikeshare system could make it easier for workers to get around town during the day without having to get in their cars and search for parking. It could be especially attractive for ServisFirst Bank, which plans to move 140 employees to a new corporate headquarters under construction near downtown.
But the most exciting element of bikeshare, she said, is that it would add a new amenity for Homewood residents. "To me, the quality-of-life aspect is foremost." She said when a city adds bikeshare, it often moves forward on other improvements, such as expanding sidewalks and bike lanes that can make a community more accessible, more walkable and more attractive, to both residents and visitors.
Lance Taylor, assistant region engineer for the Alabama Department of Transportation, said he has seen a "big shift" as far as cities and counties having greater interest in sidewalk and bike path projects that can work well with bikeshare. In some cases the proposals are related to reducing traffic congestion or improving air quality. In other cases they may be tied to creating safer routes for children to get to school.
"Cities want to see more sidewalks and more bike paths, and we will work with them," said Taylor, whose region stretches from the Birmingham area to the Georgia line and south to beyond Alexander City.
He said proposals to further toughen air quality rules could mean more areas of the state will qualify in the future for public funds for projects like sidewalks, bike lanes and mass transit that take automobiles off the roads.
Many cities in Jefferson County are expanding hiking/biking trails and greenways, and connecting them. Last week, Birmingham cut the ribbon on the new Rotary Trail, linking Railroad Park and the central city to Sloss Furnaces national historic landmark. Next month, community leaders expect to officially open the new High Ore Line walking and biking trail, which connects sections of West Birmingham and Midfield and will eventually tie in to Red Mountain Park, which straddles Birmingham and Homewood.
Alabama Power was one of the early adopters of bikeshare in the state, launching a small employee system at its corporate headquarters in Birmingham, years before Zyp was established. Now, with Zyp up and running, the company has sent its bicycles to company offices in downtown Mobile and Tuscaloosa, for employees to use in those cities.
One of the newest Zyp bikeshare stations is in the Uptown entertainment district of Birmingham, close to the Birmingham-Jefferson Convention Complex and two major hotels. That station is expected to be popular with hotel visitors interested in getting to other nearby downtown attractions without using a car.
Learn more about the Zyp system at www.zypbikeshare.com.