Birmingham's Innovation Depot is coming off a record-setting 2015 for the business incubator, which has had an economic impact on the state of nearly $1.4 billion the past five years.
"We ended the year with over 100 startup companies here at Innovation Depot," CEO Devon Laney said. "Those companies employ over 800 people. So you've got technologists, IT professionals, engineering professionals, biotech, life scientists – incredible employees all under one roof."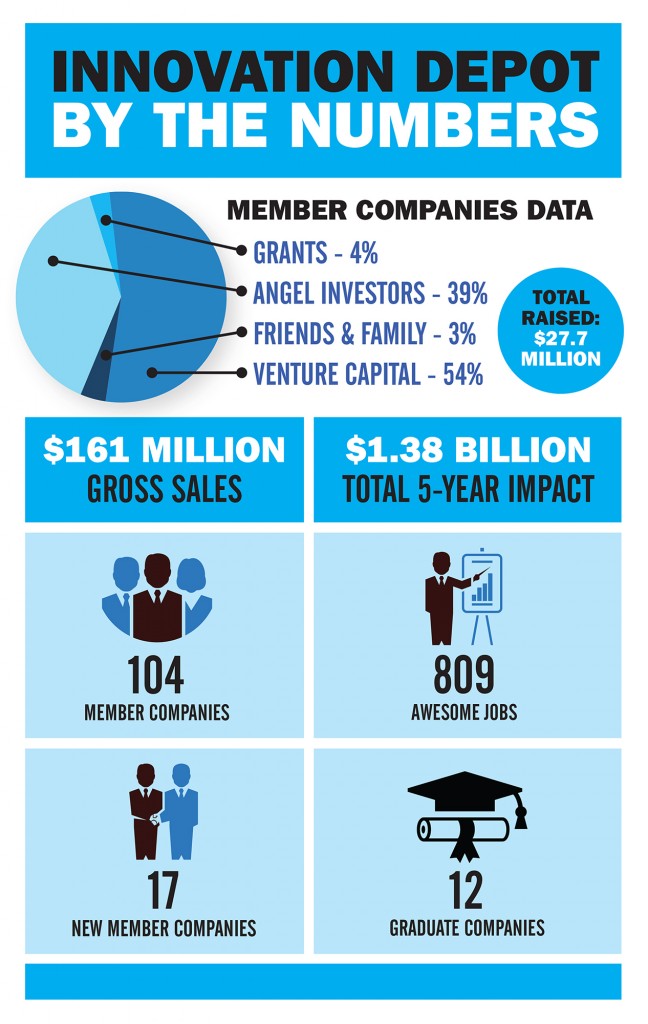 As a business incubator that assists startup companies with everything from business plans, accessing capital and, most importantly, low-cost office and lab space, Innovation Depot measures its own success by that of its tenants.
Here is how 2015 measured up:
104 tenant companies
809 jobs
141 new applicants
17 new member companies
12 graduate companies
More than 100 training and connecting events
36 company awards
Six of the "Top 30 Fastest Growing Companies in Birmingham"
Nine UAB iLab student businesses
Four Venture for America Fellows
Four Birmingham Business Journal "Top 40 Under 40" winners.
The successes at Innovation Depot are critical to the new Innovation District the city of Birmingham is establishing in the area surrounding Innovation Depot. City and business leaders want to see that portion of downtown, anchored by Innovation Depot at 1500 First Ave. N., become a hotbed of growth fueled by young, vibrant companies like those at Innovation Depot.
"Our goal has always been, as companies come into the Innovation Depot and we help those companies grow, that they eventually graduate out of the Innovation Depot," Laney said. "We know those companies want to stay in the area around Innovation Depot. We know they want to be close, they want to stay adjacent to and connected to Innovation Depot. So, being the heart of the Innovation District is incredibly important."
CEO Devon Laney talks Innovation Depot's record 2015 in Birmingham from Alabama NewsCenter on Vimeo.
Once they graduate, Laney said it becomes increasingly important that those young companies be given every opportunity to thrive with support of the community at large.
"Part of what we do at Innovation Depot is make sure that we are drawing as much attention as we can to early-stage companies, that we're supporting early-stage companies and that we do it in a way that provides high visibility and high awareness – both from the public perspective and from the corporate perspective," he said. "We want the large corporate community to support these companies as well and we want the public to understand why it's important that those companies be here."
As strong as 2015 was, Laney said Innovation Depot is off to a potentially better year in 2016.
"We will see some big graduates this year in 2016, should be some pretty big newsmakers, hopefully, in 2016 and, if trends continue, it looks like it's going to be a great year for our companies in terms of private capital, investment and sales growth," he said.