Vinyl records, like Birmingham, are making a big comeback. Those two stories intersect at Seasick Records.
Daniel Drinkard's life took a big turn when visiting Birmingham to see a band at the legendary, now closed Bottletree Café, where he met his future wife, Amy. Not long after, he found himself moving from Memphis to Birmingham, where he had relatives and knew its growing music scene well.
Music has been a part of Drinkard's life from an early age, from playing in bands to owning an indie record label named Fat Sandwich Records, releasing albums by regional bands.
With everything he came to know and love about the Magic City, Drinkard found one thing lacking – a record store aligning with his musical tastes and vinyl obsessions.
"I knew we were opening a record store the second he said he wanted to," said Amy Drinkard in the film "Seasick: A Short Documentary" by Scott Hodnett. "When Daniel gets an idea in his brain, he's not going to stop until it's done."
That idea in short order became Seasick Records, a store with a varied and eclectic mix of music made up almost entirely of vinyl albums by artists of today and yesterday, from the well-known to the obscure.
Record revival
Vinyl record sales have skyrocketed in the past few years, coming back from near death. While the popularity of CDs has fallen with the advent of owning music digitally on devices, vinyl albums seem to be withstanding the test of time.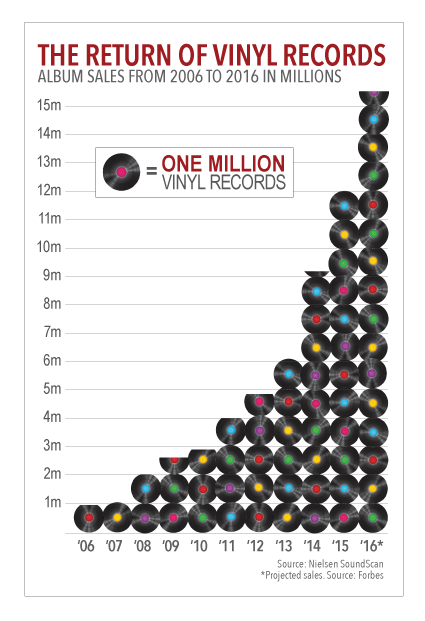 Vinyl's recent rise has been propelled by people of all ages seeking a more visceral listening experience, from those who grew up when most households owned turntables to younger fans who enjoy the physical act of putting on a record.
Ten years ago, fewer than 1 million vinyl records were sold in the U.S. each year. By 2015, that annual figure was more than 12 million, and in 2016 vinyl album sales are projected to jump another 30 percent to more than 15.5 million. While still a fraction of total music purchases, vinyl is outpacing all other entertainment formats, audio or video, in growth percentage.
"People want to actually experience music again. It's more personal," Drinkard said. "When I was in high school I used to look at all the liner notes, the artwork. When I listen to music nowadays, most of the time it's going to be on vinyl. We don't even have a CD player in our store."
Annual phenomenon
It was during what seemed like vinyl's swan song that Record Store Day began, an idea hatched by music store owners in Baltimore to celebrate individual record stores. The idea spread like wildfire, first across the U.S., then pretty much everywhere this side of Antarctica. It's even treated as an official holiday in cities such as New York City, Los Angeles and Las Vegas.
On Saturday, April 16, more than 1,400 independently owned music shops such as Seasick Records will feature giveaways, live in-store bands and releases of new albums, often in very limited editions. Of those releases, the majority are available only on vinyl and only at independent record stores, and more than half are from independent labels and distributors.
Other stores in Alabama taking part in Record Store Day include Charlemagne Record Exchange in Birmingham, Pegasus Records in Florence, the Record Stop in Montgomery and Oz Music in Tuscaloosa. For more information about the event and a list of Alabama stores participating, go to www.recordstoreday.com.
Seasick's origins
Seasick's original space on the fringes of East Avondale was a small, dark and windowless store, just a mile from its current Crestwood Boulevard location but worlds apart in terms of size, available parking and the ideas Drinkard could put into action.
"We knew we'd outgrown our original location, spent months looking at places in the area," he said. "Then our current landlords approached us. They had just bought Crestwood Shopping Center. We saw we'd finally have good parking, big windows down the front, lots of natural light, but originally we were somewhat skeptical of how big the space was.
"But now," Drinkard said, shaking his head with a smile, "we could already use more space."
Drinkard enjoys the growing scene in both Crestwood and Avondale, where he lives with Amy and their 5-month-old daughter, Everett. "A lot of our customers live in Crestwood or surrounding communities," he said. "I wanted to be in this area. It's where I wanted Seasick to be."
Directly out the windows of Seasick is The Filling Station, once a long-abandoned gas station and now a busy new restaurant with a large, welcoming patio, created by the owners of Birmingham's popular Rogue Tavern. Two stores down from Seasick is a Crestwood staple, Crestwood Coffee Company.
Crestwood, much like Avondale, is undergoing a renaissance, with rapidly increasing home values and young families who want to live closer to the urban center and to feel a sense of community.
"One thing we try to do at Seasick Records is give back," Drinkard said. "We've participated in canned food drives, coats for homeless shelters, and provide a place for events of organizations that may not have the money for large venues. Recently, we hosted the Girls Rock Birmingham, featuring lady DJs and a silent auction.
"It's great that we can provide a space and let people do things for good causes," he said. "It makes sense to collaborate with other businesses and organizations. If there's any way we can cross-promote stuff, what's good for us, what's good for them is also good for the community."