On a recent Sunday, the tranquil woods at Oak Mountain State Park echoed with the encouraging shouts of enthusiastic parents, the clanging of many cowbells, an occasional air horn and the singular sound of team-issued vuvuzelas, as nearly 300 student-athletes raced their mountain bikes along the park's winding trails.
The start was uphill, and the course – rough with rocks and roots – was about five miles long. Middle-school riders did one loop. Varsity girls raced 13 challenging miles, and varsity boys rode a demanding 17.
These young people are members of the Alabama Interscholastic Cycling League, which was organized in 2015 to provide mountain biking programs for students in grades 6 to 12. There are 23 teams statewide. Some are school-based, and others are community "composite" teams with students from multiple schools.
"The biggest thing that we do is we give kids who are not traditional-sport athletes an opportunity to be part of a team and to have the athlete experience in middle school and high school that they might not otherwise have," said founder, league director and race director Eddie Freyer.
He's talking about kids who don't necessarily have the ball skills or the speed to make their school's basketball, track or soccer teams. "This gives them an opportunity to be part of a sport."

The Alabama Interscholastic Cycling League is putting young people on bikes from Alabama NewsCenter on Vimeo.
The Alabama league is a member of the National Interscholastic Cycling Association (NICA). It operates as a 501(c)(3), relies on league partners and sponsors from the local business communities and is almost exclusively volunteer-driven. There are 240 licensed coaches who give their time to the program. There's a core race staff of 14 volunteers who help out at every race. And each race sees some 75 additional volunteers, including parents and other cyclists.
They travel all over the state. The Space Race, earlier in the season, was held at the U.S. Space & Rocket Center in Huntsville with riders flying through the middle of Rocket Park.
While the program can serve as a gateway for young people who want to advance in their sport to elite-level racing, it's most certainly creating a passion for the simple joy of pedaling a bike along a wooded path. The idea, Freyer said, is to "establish the habit of exercise and fitness along with a love for positive living and the great outdoors."
There are no benchwarmers in the league; every finish counts. There are no tryouts either. The Alabama Interscholastic Cycling League is committed to providing a positive experience for all student-athletes, regardless of ability level.
This idea has caught on quickly. There are 334 students participating, and the first race of this season drew 289 riders. Freyer said there are about 100 more athletes per race this year than last.
There's a competitive side to all this, but there's much more to the league than winning races.
"I can't tell you how many parents I've heard from since we launched who've told me that this has fundamentally changed their family dynamic," Freyer said. "They are spending time with their kids that they didn't do before. They have this activity that they can enjoy together. They are camping and mountain biking as a family. They are going to races together. Parents are always telling me how life-changing this has been for them."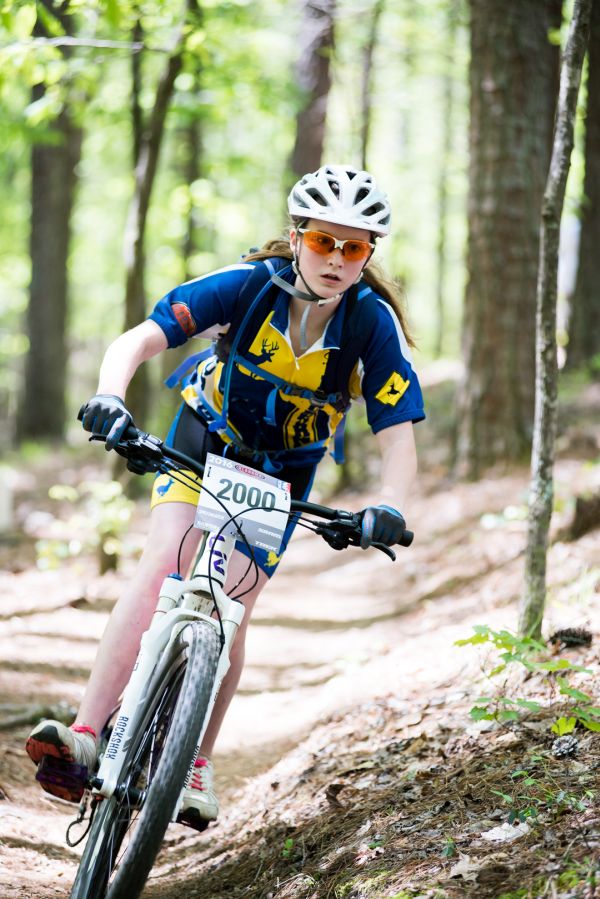 Kevin Mobley, who is the assistant coach for his son Michael's Huntsville Rockets Composite Team, is one of those parents.
Mobley said his son, now 17 and a junior at Huntsville High School, was headed down the wrong path before becoming involved with the league. "During his freshman year, he was around friends who weren't necessarily making the right choices. His grades were poor, and he wasn't eating and sleeping right. He was more into playing video games and wanting to stay out and party."
Mobley saw an informational flyer for the league and all but dragged Michael to the first training session. "He wasn't enthusiastic," Mobley said. "During one of the first practices at Monte Sano State Park – I joke about this now, but it's an indication of how far he's come – we were going up a hill and he was absolutely exhausted. He threw up at the top and was one of the last kids to make it to the top. I told him, 'Michael, you keep at it and those hills will become a strength. They will be something you'll enjoy as your fitness improves.'"
Michael did keep at it. He trained with his teammates and his dad and worked with a skills coach; he finished second in his first race and moved up to the more competitive junior varsity category where he finished third overall last year. "But it really was about the lifestyle changes," Mobley said. "He stopped hanging out with the party crowd. He started paying attention to his nutrition and sleeping better. His grades improved significantly."
Today Michael is his team's captain. "I love helping out with the younger ones and teaching them new things," he said. "I learn new things when I teach them.
"Before NICA," Michael said, "I was partying every weekend and just in a bad environment. I got in trouble." Joining the league, he said, "changed my life. It opened up my eyes. It changed how I live every day. I'm healthy. I work out six days a week. I eat healthy. I don't know where I would be right now if it weren't for NICA.
"Hopefully, I'm going to race in college. That's my main goal right now. Hopefully, I can race pro. But I want to stay in the cycling community and give back for what they've given me. I want to pass along the opportunities they've provided."
At the Oak Mountain Rumble on the Ridge, Michael finished second – only seconds behind teammate Noah Elkins. Michael went down in the last mile of the last lap, and that crash might have cost him the day's victory, but he was happy for Noah. "We're a tight bunch of friends," he said. "We congratulate each other."
In fact, there's a tremendous sense of camaraderie and community at these races.
Teams create colorful, bustling tent cities where kids in different jerseys share snacks and stories and play cornhole and Hacky Sack. Families camp in the woods and enjoy potluck dinners. Cyclists team up with the next day's competitors for volleyball games. Parents shout encouragement to kids who are not their own.
When the riders from one team showed up with standard, ordinary helmets, this cycling community came together to buy them better, safer versions. Madalyn Green, 12, from the Red Mountain Composite Team, raised $300 toward this effort by herself.
The young racers are learning much more than cycling skills.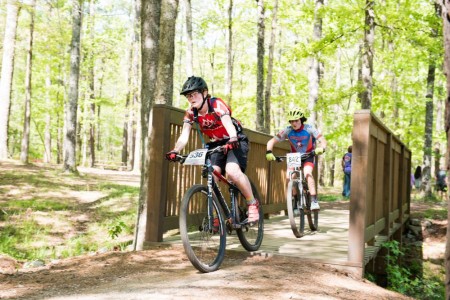 The Red Mountain team has members from Highlands School; John Carroll Catholic High School; The Altamont School; and Homewood Gardendale and Mountain Brook schools. Madelyn Roberson, 13, is from Gardendale, and she's the current leader in the freshman girls' category, having won all her races this year. During the off-season she plays volleyball for her school, but she said she enjoys the diversity of her cycling team. "We're not all from the same school – some are from public schools, some are from private – so we can talk about a lot of different things."
Roberson's teammate Alex Green, riding as a freshman boy, also wears a brown and white leader's jersey, with first-place finishes at each race this season. Coach William Lockridge said people will look at his two young league leaders and ask, "'what is he teaching those kids?' I'm teaching them to have fun on bikes," he said.
Lockridge coaches the Red Mountain team with his wife, Meg Gilmer, an orthopedic surgeon. Both have ridden competitively themselves as Cat. 1 mountain bike racers. They spend about 15 to 20 hours a week with the team. "Probably the most exciting thing for a coach is watching the kids become more outgoing," Lockridge said. "When we teach them skills, their confidence gets better and their confidence off the bike increases, too."
Katie Soto, 13, an eighth-grader who rides as a freshman for the Madison Trailblazers Composite Team, said:  "I've made a lot of new friends. I was shy at first, but biking has helped me get out of my shell. Now I'm known as the 'bubbly girl' at school."
There aren't many sports that allow parents to actively participate alongside their children, but mountain biking appeals to all ages.
Lockridge said his practices sometimes have more parents than kids training on the trails. Michelle Roberson said her family, including Madelyn's 9-year-old sister, Gabby, plans vacations around biking. They have traveled to state parks in Georgia, North Carolina and Tennessee and on one trip logged 100 miles in one week.
The successful second season for the Alabama Interscholastic Cycling League wraps up the second weekend in May with the State Championship races at Chewacla State Park in Auburn.
"I know we're a competitive league, but I try to emphasize the fact that we're getting kids on bikes and creating a lifelong sport," Freyer said. "This is something that they can do forever. We really are changing lives."