Auburn coach Gus Malzahn hopes that facing the final two teams from the 2015 playoffs will help his Tigers reach the 2016 final four.
Malzahn spoke on that and other subjects Thursday as he took part in the Southeastern Conference football spring teleconference.
The Tigers coach was asked if scheduling 2015 runner-up Clemson will benefit Auburn's bid to reach the playoffs.
"Any team in the (SEC) West, their strength of schedule is going to be at the top," he said. "Every year, we've played one of the toughest schedules – if not the toughest schedule. The goal is getting to Atlanta and winning that game (against Clemson), I think, pretty much assures that you'll to be in the final four."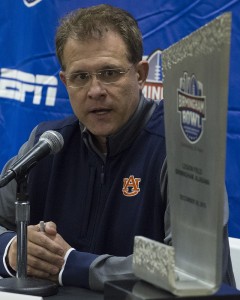 Responding to a question, Malzahn said playing Clemson could afford his team some "wiggle room" as it makes its way through the 2016 campaign. Of course, Auburn ends its regular season with its annual Iron Bowl meeting with cross-state rival and defending national champion Alabama.
"We're playing the two teams that played for the whole thing last year – one at the first of the year and one at the end of the year," he said. "You've got to earn it."
Malzahn was also asked about senior running back Jovon Robinson, who was ruled ineligible as a freshman, left for junior college and then came back from injury to earn MVP honors in the Birmingham Bowl victory over Memphis.
The coach said the senior's experiences have shaped him positively.
"Since he's been here, I can see a lot of growth," Malzahn said of Robinson, who ran for 126 yards and a touchdown on 27 carries against Memphis. "Those experiences have helped him. Once he was healthy, I think everyone could see what he could do on the field and did a good job of protecting the football, too."
Robinson split time at running back with Rock Thomas during spring practice.
"This spring was really great for him," Malzahn said of Robinson. "He got a chance to really get a better understanding of the offense with the protection and the check-downs and everything that goes with it. He's in a good spot to be a complete running back going into this next year."
Malzahn also fielded a question on his philosophy on transfers. He cited Michigan transfer Blake Countess, who earned defensive MVP honors for the Tigers in 2015 before being drafted by the Philadelphia Eagles.
"From a coach's standpoint, you've got to see what's best for your team and you've got to understand the chemistry that goes with it," he said. "The only difference is you're going to have (transfers) for one year. You've got to figure out the dynamics of your team and the chemistry of your team and, really, the need. I think that's a factor, too."