Smart investors know the value of diversifying their portfolio. That's what developing more than 500 acres between Alabama Highway 59 and the Baldwin Beach Express on the south side of Foley is all about.
The city of Foley is putting $32 million in a sports complex and 90,000-square-foot event center in hopes of turning sports tourism into a major source of city revenue and economic development. The complex will go hand in glove with development of a family-friendly entertainment destination planned by the Poarch Band of Creek Indians.
Foley sports complex: A new place to play on Alabama's Gulf Coast from Alabama NewsCenter on Vimeo.
Foley is banking on sports tourism providing a dependable stream of tourism revenue regardless of season or what might be happening at the beach. For the Poarch Indians, the development is an investment that doesn't depend on gambling – something it has invested in heavily with bingo operations in Atmore and Wetumpka.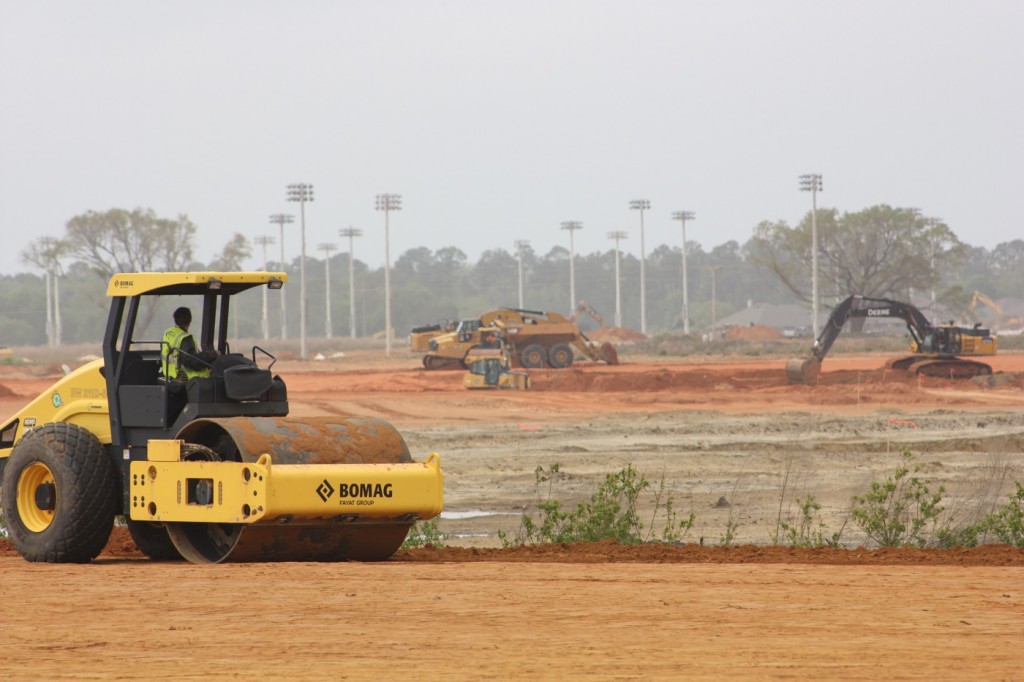 "During the oil spill, the one thing Orange Beach and Gulf Shores could say is sports tourism went on," said Don Staley, executive director of sports for Foley.
Perhaps it was a lesson they took to heart. In 2014, Foley snagged Staley from the Tuscaloosa Tourism and Sports Commission to promote and run the facility. Staley, a former University of Alabama soccer head coach, helped bring the Alabama High School Athletic Association's Super Six football championship to Tuscaloosa's Bryant-Denny Stadium and Auburn's Jordan-Hare Stadium every other year in a rotating swap.
Staley knew the potential for Foley, just nine miles from Alabama's beaches. He brought his UA soccer team to Orange Beach for a spring game, which eventually led to the Southeastern Conference's soccer tournament coming annually to Orange Beach.
The Foley Sports Tourism Complex will include 16 natural grass multipurpose fields, one of which will be a championship field with stadium seating, a press box and upgraded lights to accommodate television broadcasts. The 120-yard-long, 75-yard-wide natural grass fields are designed to accommodate soccer, lacrosse, seven-on-seven football, rugby, ultimate Frisbee and other outdoor sports. These sports are played year-round and regardless of rain.
"With these dimensions, you can play everything but baseball," Staley said. "In the stadium, you could even play a junior college or small college football game. The last five Super Bowls have been played on Foley sod. We'll have some of the best surfaces in the country."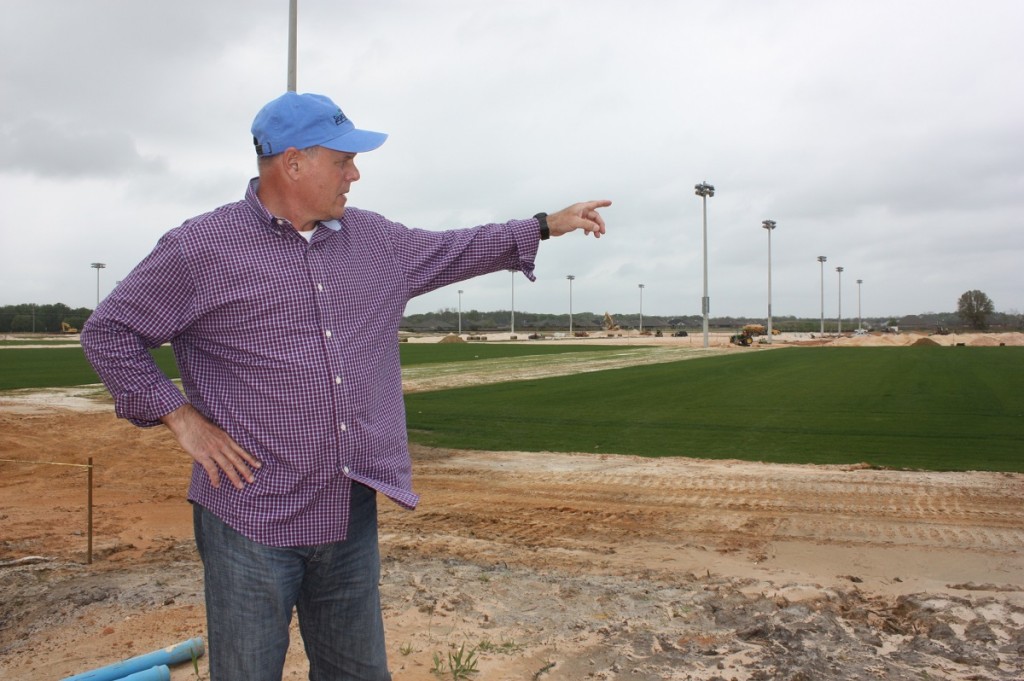 The 90,000-square-foot event center will host basketball, volleyball, cheerleading, dance and other indoor competitions. It will also be available for the convention and trade show market, Staley said.
While the fields are still under construction, Staley has already booked the first major event. In November, the National Intramural-Recreational Sports Association will bring 96 club and intramural soccer teams to Foley.
Foley hopes to capture some of the tourists visiting the beach and to use the beach as an attraction that will induce sports organizations to choose Foley. Staley said the facility is designed to allow organizations to play a tournament on one site without having teams scattered among fields in different locations.
"There are incredible complexes around the country," Staley said. "What separates us is when the Poarch Creeks build. We've got the beach, which is huge. But what puts us over the top is next door we'll have an amusement park, hotels, restaurants, retail, an RV park and even a water park."
Sports tourism has a lingering effect as well, Staley said. Kids who come to the Gulf Coast for sports tournaments will return with their families as adults.
Meanwhile, the Creek Indian Enterprises Development Authority's Foley Holdings LLC is negotiating with the Alabama Department of Commerce to secure incentives to develop its proposed entertainment destination. Its first phase would include a 14-acre lake; a 150-room national brand hotel (attached to Foley's Indoor Event Center); 225,000 square feet of retail, dining and entertainment space; and a 10-acre theme park with 20 rides, including one major roller coaster. A trolley system will circulate people through the sports complex and entertainment center and take them to Foley's factory outlets at the Riviera Centre across the street.
Foley Holdings hopes construction will begin in the summer and be done by summer 2017. Plans include an indoor/outdoor water park with an attached hotel and a resort-level RV park.
"Although the beautiful Alabama Gulf Coast beaches provide opportunities for relaxation and fun, we feel there is still a huge need for a family-friendly destination," said Tim Martin, president/CEO of Creek Indian Enterprises Development Authority and managing member of Foley Holdings LLC. "With more than 6.5 million-plus visitors annually, there are limited opportunities in the market currently for families to shop, dine and be entertained within one location."
The property is often referred to as the "Blue Collar" property because original plans called for development of a Blue Collar Country entertainment complex. The project involved Blue Collar Comedy team members Jeff Foxworthy, Bill Engvall and Larry the Cable Guy.
The Poarch Creek tribe provided financing for the real estate acquisition, and when developers didn't meet their obligation on the property, the tribe assumed ownership of the land.
The sports complex and entertainment center aren't competing with the beach, Staley said. They're complementing it. Even the types of fields that Foley chose to build took into account that Gulf Shores and Orange Beach are heavily invested in baseball and softball. Foley sometimes gets spillover on its baseball fields when Gulf Shores and Orange Beach need more room for baseball and softball, and they hope that will work in reverse when tournaments booked in Foley need more room.
"I envision this project will have a ripple effect throughout Baldwin County," Staley said.