The Cane Creek Canyon Nature Preserve in northwest Alabama is a ruggedly beautiful landscape of canyons and boulder-strewn streams. It teems with the diversity in plants, animals and geology that distinguishes this state. Relatively unknown and advertised mainly by word of mouth, the preserve still drew more than 10,000 day-visitors from across the country and world last year.
Of the many nature sites in the state, this one is a little different. Its 713 acres in Colbert County were purchased, made accessible and opened to the public free of charge by an idealistic and service-minded couple, retired educators Jim and Faye Lacefield. The Lacefields opened the preserve in 1996 and in 2007 placed it in a conservation easement with the Alabama Nature Conservancy so it will remain in its natural state, undeveloped, after they are gone.
Cane Creek Canyon Nature Preserve is an Alabama jewel from Alabama NewsCenter on Vimeo.
Steve Northcutt, director of protection for the Alabama Nature Conservancy, said, "Most of our conservation easements are not open to the public. The Lacefields opened theirs even before they put it under our protection. They did it all on their own dollar and largely with their own labor. That's extremely unusual for anywhere in the country, but it's absolutely one of a kind in Alabama."
Visitors enter the preserve off a half-mile dirt road that ends at the Lacefield home. Parking is in an open field. At a nearby kiosk, visitors sign in and pick up trail maps and literature that provide detailed guidance through well-marked trails. When home, the couple try to meet new arrivals, answer questions and suggest features to see.
"We enjoy meeting folks, hearing their stories and introducing them to the preserve," Faye Lacefield said. Among the visitors recently were a young mother with preschoolers, a trio of women whose spouses were fishing in a nearby tournament, ardent hikers, and a family with its 86-year-old matriarch.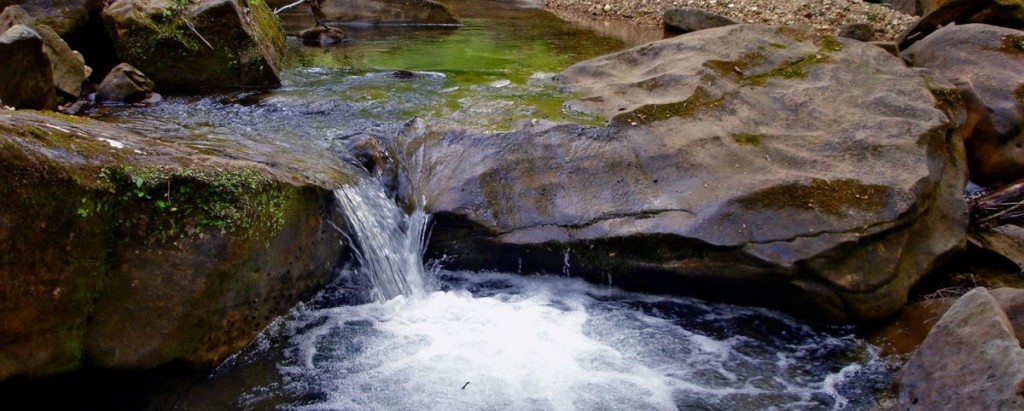 Cane Creek Canyon is also a Treasure Forest, a designation usually meant for tree- or game-management sites, according to Jim Lacefield. "In our case, the goal is to maintain the forest for educational and recreational purposes for the public," he said.
Wildlife abounds at the preserve, from beavers to foxes to a variety of birds. It is an authorized wildlife release site, where injured animals may be entered back into nature.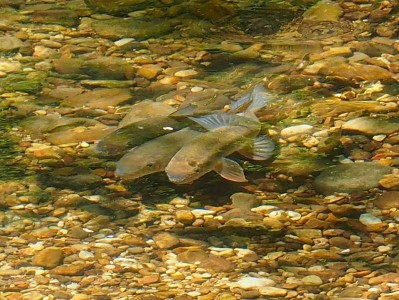 While the preserve is not an easy walk-in-the-park, most people can find places they can get to with a little effort. Favorite areas include 60-foot waterfalls, rock shelters that were home to the state's earliest native Americans, glades of unusual wildflowers, lush boulder gardens, house-sized blocks of sandstone and deep cliff shelters. At the Point Overlook, almost 400 feet above the canyon bottom, visitors enjoy a broad vista that includes Wagnon and Hawk Pride mountains, and the valley between them where Cane Creek flows north to the Tennessee River. At one time the creek was the boundary between the Cherokee and Chickasaw nations.
Joseph Rickard of Florence has visited the preserve with his family frequently for several years. "My 8-year-old girl practically grew up here," he said. "It's a wonderful place to experience nature and doesn't take all day to get to."
Vitaly and Larissa Charny of Birmingham travel there regularly as well. "It's an interesting location and one of the few where I do butterfly counts," he said. "We love nature – it helps us relax from our office jobs, and we learn a lot about plants and rocks."
It's not unusual for organized groups to visit the preserve, including the Alabama Wildflower Society, Sierra Club and the Boy Scouts. Charles Rose, president of Shoals Environmental Alliance, regularly leads groups on nature hikes through the canyons and glades, including three outings earlier this year sponsored by the Birmingham nonprofit Fresh Air Family.
"The Cane Creek Canyon preserve is the premiere hiking destination in this area," Rose said. "Its accessibility, well-maintained trails, conveniences like drinking water and bathrooms, and the great variety of flora and fauna are just amazing. And the Lacefields are always there to help everyone have the best experience possible. Jim and Faye are two of those rare people who actually live their values."
The Lacefields, natives of the state, were shaped by the back-to-the-land movement and other ideals of the 1960s. The couple settled in Colbert County and bought their initial 40 acres in 1979.
"The idea of starting a nature preserve evolved over the next 10 years," Jim Lacefield said. "I had a science background and began to realize that everywhere we went in the property we would find something new or unusual. Eventually we came to the awareness that it should be made available to the broader community, in perpetuity."
They lived on little from their schoolteacher salaries, and built their own concrete block home into the hillside, adding to it as their two children grew to teens.
Faye said the couple had common values and made a commitment to add to their land. Some things worked to their benefit. The area had been known as bootlegger badlands, a no-man's land of rough living, so few people traveled through and even fewer scientists had catalogued its natural bounty.
Unsuitable for farming or development, canyon land was relatively cheap, and the couple was glad to swap a little bit of "better" upland for more acreage of the scenic but "undesirable" terrain at the rocky bottom.
They were able to accumulate more land when their children won significant higher education scholarships, freeing the family's college savings. A later boost came from an inheritance. "It was a significant sum, but we didn't want it to change our lifestyle so we used it to purchase more land we'd always had our eyes on," Jim Lacefield said.
His dissertation in science education, for his doctorate from the University of Alabama, resulted in the 2000 publication of his book, "Lost Worlds of Alabama in Rocks." The proceeds from this guide to the state's ancient life and landscapes also help expand the nature preserve. The book, which entered its second edition in 2013, is used by schoolchildren from the seventh grade up in Alabama and adjoining states, as well as in college classes from Iowa to South Carolina.
"Within Alabama you can find an unusually diverse array of geologic formations, so scientists and hobbyists find they can see a great deal in a relatively small area instead of having to make several long-distance trips to other regions," he explained. Colbert County lies in the Highland Rim Province, and the Hartselle Sandstone is a notable surface feature of the land, formed some 330 million years ago when shallow oceans covered most of Alabama.
In fact, evidence of the same type of sands that now comprise the white crystal beaches of the Gulf Coast can be seen in the striated bluffs of the Cane Creek Canyon country. "The world's landscape has been sculpted by processes of natural change," Jim Lacefield said. "This low range of hills, called the Little Mountains, are the westernmost outcrops of the Appalachians. Over those millions of years, streams flowing north to the Tennessee River carved through the sandstone caps to form the canyon country."
The dance of geologic time is seen in the mosaic of shale, sandstone and limestone. He said, "These truly are 'worlds stacked upon worlds,' with each tier of stone in the cliff representing a microhabitat with its own community of life, each layer a different soil chemistry and texture, different stability of slope, moisture level, sunlight exposure and other variables."
Microenvironments provide safe haven for the development of rare plants. French's shooting star (Primula frenchii) grows only beneath overhanging ledges and bluff shelters of the sandstone bluffs. Its geographical distribution has mystified botanists, who wonder why it is found here, hundreds of miles from its nearest relatives. Another example is the filmy fern, a relic of Alabama's tropical climate long ago. The tiny plants are thought to have survived the Ice Age by retreating deep into the interior of rock shelters where temperature, moisture and light remain practically even throughout the year.
The preserve contains several wildflower glades, including three with rare plants found in no more than five places in Alabama. Botanists and native plant enthusiasts visit Cane Creek Canyon from around the world to study such a concentration of unusual flora.
The plant life attracts many varieties of butterflies, to the delight of specialists and casual observers. A new species, the swamp metalmark, was discovered here in 2011 and officially announced in a scientific journal. To provide some protection for it, a small area of the tall thistle plant is cordoned off. The downy underside of the plant's spiky leaves camouflage the insect's caterpillar from predators.
The streams are popular with hikers. Gravity and the forces of weather and erosion as well have brought great blocks of stone tumbling from the canyon rims to litter the bottomland. The more athletic visitors scramble across the rocks. And in the spring, a big attraction is the annual "Cane Creek salmon run" of the river redhorse, a type of sucker related to carp. In their spawning rites, the fish travel up the creek some 10 miles from the Tennessee River to lay their eggs out of the reach of predators.
The Lacefields themselves cut the 15 miles of trails and keep them graveled. They and their children built the low stream bridges. On a recent Monday, Jim Lacefield checked the preserve in an all-terrain vehicle. More than 200 people had enjoyed the primeval landscape the previous day, and fortunately most had left little trace of their presence. He emptied the garbage bins and replenished containers of water that are strategically placed at sheltered picnic tables and stone resting benches. He made sure the stolid composting privies were clean and had adequate toilet supplies, then monitored the trail for wet areas that might need more gravel.
"This is not a vast preserve," he said. "It takes just a few hours of moderate to moderately strenuous hiking to cover the two main trails and see most features unique to this region of the state. All we ask is for people to sign in and out at our entrance kiosk and please don't litter, pick the flowers, harm the wildlife or disrupt anyone or anything."
He explained the couple's motivation for opening the land for others to enjoy. "Faye and I had the same values, an ethic of service, of improving the community and the world, of giving to others. We complement each other, she with great people skills and I with enough scientific knowledge to know what is special about the natural world. We looked for how we could protect this area for the long term. This is why we put it into a conservation trust, so it would be in its natural state, forever, for everyone to enjoy."
For directions to the site and more information, visit Friends of Cane Creek Canyon Nature Preserve on Facebook or contact the Lacefields at [email protected] or 256-381-6301. The address is 251 Loop Rd., Tuscumbia, AL 35674.