While many of her counterparts have traveled the world studying the art of pastry-making, Dolester Miles has learned by doing.
"Being a cook is the only job I've ever had," said Miles, lead pastry chef at Highlands Bar and Grill, Chez Fonfon and Bottega – Birmingham-area restaurants owned by culinary legend Frank Stitt.
Highlands' Dolester Miles: How sweet it is being named one of nation's top pastry chefs from Alabama NewsCenter on Vimeo.
Miles joined Highlands before the doors opened for the first time 34 years ago. She learned of the opportunity from her sister, Diane, who had been hired as part of the staff.
Before the grand opening, Miles and her sister pitched in to help clean the restaurant and had a hand in sewing the first set of curtains that graced the windows.
In those early days, Miles started by making salads and hors d'oeuvres. But her talent truly began to shine when she persuaded Stitt to allow her to prepare a dessert for Highlands.
"I had been interested in baking since I was young," said Miles. "When the opportunity came up, I told Frank I wanted to make a dessert, so he let me do one for him. He went for it, and the rest is history."
Stitt saw Miles' promise, realizing she could help the restaurant build a world-class pastry program.
"Dol was working 'garde manger' (French for 'keeper of the food'), and we needed someone to produce more and better desserts, and she was the natural one, so that began her career as our pastry chef," Stitt said.
"Dol combines traditional Southern ingredients with the professionalism of a French pastry chef, and she does all of that with a big pinch of love," he said.
National acclaim
Today, Miles, assisted by two other pastry chefs, prepares desserts for Highlands, along with Stitt's French restaurant, Chez Fonfon, and his Italian eatery, Bottega Dining Room and Café.
She recently drew national acclaim when she was selected as a finalist for the 2016 James Beard Award for most outstanding pastry chef. Renowned as the "Oscars" of the culinary world, the award celebrates the top chefs, restaurateurs and restaurants in the country.
"I believe the judges recognized Dol's incredibly delicious desserts, from coconut cake to dacquoise with almonds," Stitt said. "From the more traditional to the sublime, her desserts resonate with a purity, flavor and thoughtfulness."
Miles was flabbergasted when she got the word that she was ranked among the country's foremost pastry chefs.
"For me to make the top five, I still don't believe it," Miles said. "It has been an awesome experience."
Creative process
Working from the kitchen at Bottega, Miles' team starts its day before sunup, checking out the list of desserts that remain from the previous night and planning the pastries that need to be added to fill out the menus. Then, the team works until mid-afternoon turning out desserts specifically designed to fit the cuisine at each restaurant.
Miles said finding the perfect blend of ingredients is often trial and error. An example is her blueberry tiramisu, which combines a new flavor with an old favorite.
"We were doing the regular tiramisu with espresso and chocolate, and I said, 'Let's try it with blueberries,'" she said. "Everybody liked it. It has been a big seller."
Miles and Stitt also partner to create desserts that will attract patrons' palates.
"Some things don't work, and we throw it out and start over again," Miles said, adding that simply renaming a dessert or moving it to the top of the menu can increase its popularity.
Miles and her team often change the dessert lineup, using seasonal ingredients that are readily available.
Many of Miles' most popular desserts are reminiscent of those made by grandma, including her signature coconut cake and strawberry cobbler. But Miles said her own favorite is the lemon tart, with its rich blend of sweet and sour flavors.
Always something to learn
Miles fell in love with baking as a young girl helping her mom and aunt in the kitchen.
"They started letting me break eggs, help with the measurements and put in the sugar," Miles said. "It was interesting to me how you could put some ingredients together and come out with a cake or pie or whatever."
With that start, Miles got her first job working as a waitress at a local Mexican restaurant while in high school. But it was when she moved to Highlands that she found her "home."
"Highlands was so fancy," said Miles, who was raised in Bessemer. "A lot of the stuff, like watercress, I hadn't even heard of before, but I love it now. I learned a lot."
Miles attributes her success to hard work and a willingness to "stick with it."
"Because I enjoy cooking so much, I try to better myself as I go," Miles said. "You never know it all. You think you do, but there's always something to learn."
---
Want to try it yourself? Here are two recipes from award-winning pastry chef Dolester Miles.
Lemon Bars
Crust:
½ teaspoon lemon zest
¾ cup flour
1/3 cup + 1 tablespoon powdered sugar
¼ cup cornstarch
¼ teaspoon salt
1 stick unsalted butter
Filling:
6 eggs
1 ½ cups sugar
1 cup fresh lemon juice
6 tablespoons flour
¾ teaspoon baking powder
¾ teaspoon salt
1 teaspoon lemon zest
Preheat oven to 335 degrees.
In food processor, pulse flour with powdered sugar, cornstarch and salt. Add butter. Pulse until mixture resembles coarse crumbs. Line the bottom of the pan with parchment paper. Press into bottom of 9" x 9" square pan and refrigerate for 15 minutes.
Once refrigerated, bake for 20 minutes, until crust is lightly browned. Once crust is baked, reduce the oven to 325 degrees.
Meanwhile, begin making the filling.
In a bowl, beat eggs with sugar. Add lemon juice, zest, flour, baking powder and salt. Pour over hot crust.
Bake for 20 minutes, until filling sets.
Cool to room temperature. Refrigerate about an hour before cutting. Sprinkle with powdered sugar.
Dolester Miles, pastry chef, Highlands Bar & Grill, Chez Fonfon and Bottega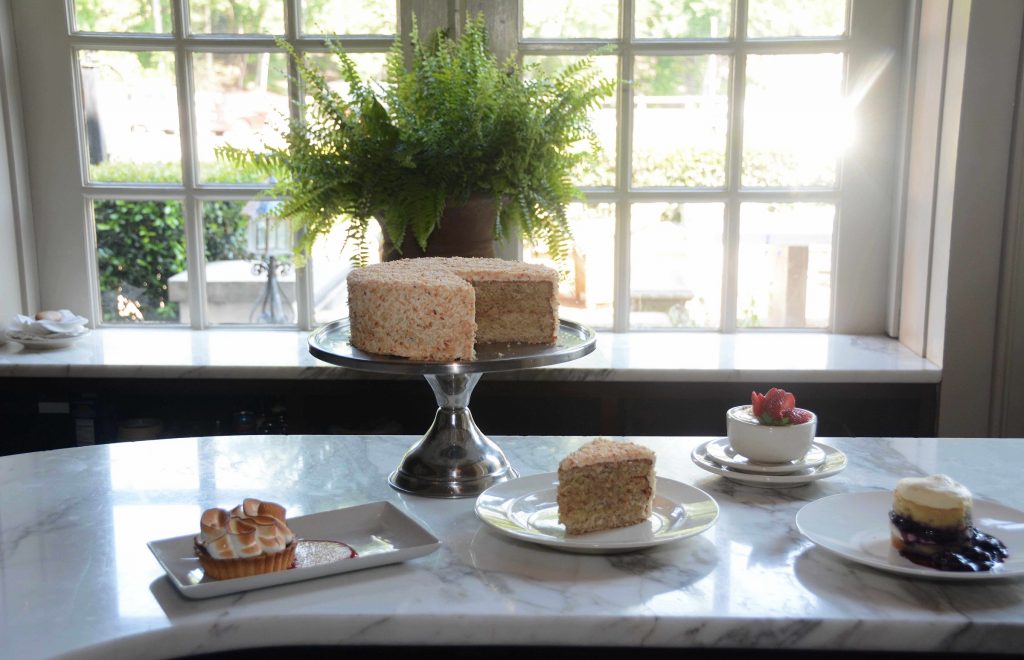 Strawberry Cobbler
Fruit filling
4 cups strawberries
1/3 cup sugar
3 tablespoons cornstarch
Juice and zest of 1 lemon
Cobbler dough
1½ cups flour
1 cup cake flour
1/3 cup sugar
2 tablespoons plus 1 teaspoon baking powder
¼ teaspoon salt
1 stick butter, cubed
1 cup heavy cream
Cinnamon sugar
½ teaspoon cinnamon
½ cup sugar
Mix cornstarch and sugar. Add strawberries and follow with the lemon juice and zest.
Portion into 12 baking cups and top with a teaspoon of butter.
Next, mix all of the dry ingredients before adding the butter. Mix until the butter is broken up into small cubes and then add cream.
Divide dough into two sections and roll out; cut with round cutter.
Place dough round on top of fruit and brush with heavy cream.
Mix the sugar and cinnamon together to make "cinnamon sugar" and sprinkle on top of dough.
Place the 12 baking cups on a full sheet tray and bake at 325 degrees for 30 minutes.
Dolester Miles, pastry chef, Highlands Bar & Grill, Chez Fonfon and Bottega