Ira Glass' mind doesn't work like everyone else's.
He's shown that as host of "This American Life," the Public Radio International show in which he tells stories and, along with stories from others, weaves them into sometimes surprising themes. ("Too Soon?," for instance, included stories about celebrity comebacks, parent-child conversations and more.)
So it should come as no surprise that Glass has decided to add one of our most-visual art forms to what he does working with one of our least-visual art forms.
"It feels like an episode of our show, plus dancing," Glass says. "Which I know is something no one wanted, but now it exists."
"Three Acts, Two Dancers, One Radio Host," featuring Glass and dancers Monica Bill Barnes and Anna Bass, will come to the Alys Stephens Center on Saturday, June 11. There, an audience will see the melding of Glass' storytelling with dance, something that Glass had never imagined, until he saw Barnes and Bass perform.
"I saw these dancers and thought, what they're doing using no words is exactly what I'm trying to do on the radio with words," Glass says. "They were funny. And they had a documentary quality where they were trying to capture real feelings and moments. And they were accessible. They're doing the same thing we do."
So Glass – whose radio series has spawned the success of David Sedaris and the award-winning "Serial," among many other things – pursued it.
"Monica, the choreographer, had very much been wanting to reach an audience that wasn't a dance audience, and I showed up and said kind of the same thing," Glass recalls. "Very first thing we did, I made some suggestions, and Monica threw them all out, and we were sure it couldn't work. Then, she made some suggestions, and it did work."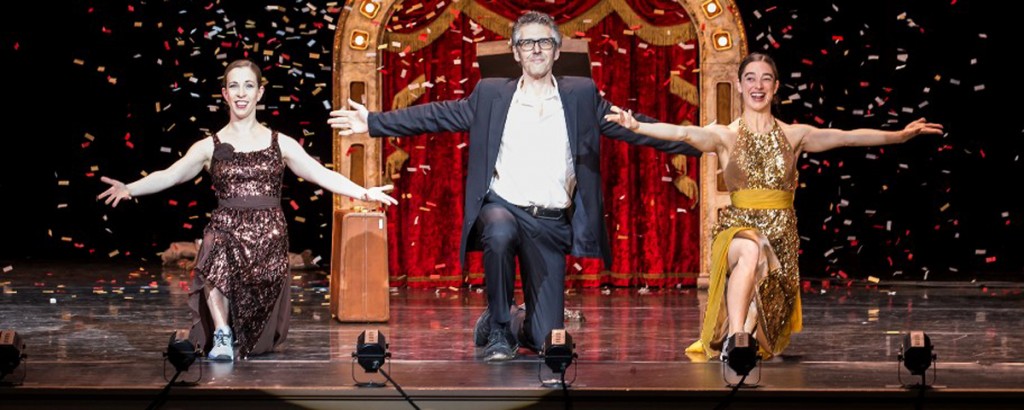 Before "Three Acts" came along, Glass says he "knew nothing about dance at all."
His only exposure to the art form, he says, was like many others' encounters with it.
"Most dance I see includes at least one child or adult that I know in it," he says. "I think most people who go to see dance are that way. So I will be the person you know in this show."
The two-year tour of "Three Acts," which is winding down, has taken the trio to 50 different sold-out venues. They've performed at Carnegie Hall, and they'll wind up the tour at the famed Sydney Opera House.
All along, of course, Glass has remained at the helm of "This American Life," which airs on WBHM Saturdays at noon and Sundays at 3 p.m. The show is a public radio staple, featuring stories that run the gamut from funny to dramatic, international to local, trivial to life-changing.
"Generally, we'll have one story we know we like that's strong enough to build a show around, and then we'll invent a theme and go find other stories," Glass says. "In the process of collecting other stories, we'll figure out what the theme will be.
"From the start, 20 years ago, we were not covering the news, so we needed an excuse to glue the stories together."
Telling stories like this on the radio is what Glass, a cousin to composer Philip Glass, wanted to do.
"I feel lucky that it worked out," he says. "Anybody who does reporting and can pick their own stories, that's the dream. I feel very fortunate."
"Three Acts, Two Dancers, One Radio Host," at the Alys Stephens Center Saturday, June 11, at 8 p.m. Tickets are $39.50-$59.50.