Mark Childress is coming home.
The Alabama-born author, whose "Crazy in Alabama" was made into a movie and "Georgia Bottoms" was adapted as an opera, is fresh off an airplane from Hanoi, where he has been living. He's here for an event Tuesday, June 28, at 6 p.m. at Birmingham's Lyric Theatre. Hosted by Books-A-Million, "A Celebration of 'Crazy in Alabama'" commemorates the 23rd anniversary of Childress' book. The free evening features hors d'oeuvres, cash bar, book signing and a panel featuring Childress and authors Deborah Johnson, Joshilyn Jackson, Carolyn Haines and Michael Morris.
Childress took the time to answer some questions via email about his life in Alabama, "Crazy in Alabama" and what followed.
Alabama NewsCenter: Give us the quick Mark Childress Alabama bio.
Mark Childress: Born in Monroeville Sept. 21, 1957. Grew up all over the Midwest and South. Went to high school in Mississippi and college at THE University of Alabama, graduated 1978. Studied fiction under Barry Hannah and Kitty Johnson, and journalism. Worked at The Birmingham News from 1977-1980, Southern Living from 1980-84 (regional editor) and the Atlanta Journal-Constitution 1984-86. I wrote my first novel while at Southern Living, published it in 1984, and quit my job after I published my second in 1988. Novels were "A World Made of Fire," "V for Victor," "Tender," then "Crazy in Alabama." (After that would come "Gone for Good," "One Mississippi" and "Georgia Bottoms.")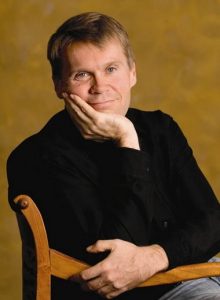 ANC: Is it hard to believe it has been 23 years since "Crazy in Alabama" was published?
MC: It actually seems longer ago to me than 23 years. I remember being very excited because it was my first book sold at auction, and several publishers were involved in the bidding.
ANC: How would you describe the book to someone who hasn't read it?
MC: In Alabama 1965, a boy and his brother have to go live with their uncle in his funeral home because his aunt has murdered her husband, cut off his head, and headed for Hollywood to become a movie star.
ANC: Anything you would have changed looking back at the book?
MC: I have never willingly re-read one of my own books. By the time I am through with all the drafts, I know it as well as I want to and when I try to re-read, all I see is the mistakes I made. Besides, there are so many good books by other people that I haven't read yet.
ANC: Were you involved in the making of the movie?
MC: The movies. Yes, I was involved all the way through. The script was originally written for Disney and several different movie stars were involved along the way through the process of development. Finally, we accepted an offer from Melanie Griffith and Antonio Banderas at Columbia Pictures, because they wanted me to write the script. Being a European, Antonio strongly believed in having the writer involved in every step of the film, so I was, from pre-production through editing. When people ask me if "they" changed my book, I have to answer that I'm the one who changed it. I think it was pretty faithful to the book considering it was a Hollywood studio production. I also served as the unofficial technical adviser to the director because Antonio didn't know much about the American South.
ANC: Tell us about Tuesday's event.
MC: I first met with the folks at BAM about this book in 1991, months before the book was first published. They were excited about it then and stayed excited about it from then on. They threw an amazing launch party at their Hoover store where I think I signed more than 1,000 copies. So they have been a partner in this book's success from the beginning. Not long ago they placed a big order for a new edition and this is the result. I'm delighted they're throwing yet another party for me and my book — it's been a long and happy association. They chose the authors for the panel, a really great group — almost all friends of mine. I'm so flattered these people would take time from their own writing to do this. And Don Noble is the perfect moderator and host. They even got a foreword from Fannie Flagg — the whole thing is just a huge honor.
ANC: What's going on with you now?
MC: Everything good, I spend early morning riding my bike and as much of the day at the computer as I can force myself to do. We're hoping to bring the opera of "Georgia Bottoms" to Budapest in 2017. I'm working on a film project I can't discuss, and writing my eighth novel, "Meteor Boy," which has nothing to do with Viet Nam. It should be out from Little, Brown in a couple of years. I loved living in Key West, but I have always enjoyed being a foreigner. Living in Hanoi is about as foreign as it gets, and that is invigorating to me. Where I'll go next, I have no idea. Definitely into going, as opposed to staying home.
ANC: What are you reading these days?
MC: Just finished reading two new books by Alabamians in manuscript — Daniel Wallace's "Extraordinary Adventures" and Henry Hoke's "The Book of Endless Sleepovers." Both terrific and forthcoming, so keep an eye out.  My favorite book last year was Viet Thanh Nguyen's "The Sympathizer," which won this year's Pulitzer. Dark, funny, harrowing, brilliantly written.
ANC: Tell us your five favorite "Southern" books.
MC: Do I have to pick just five novels to be my favorites? Can't do it!  In no particular order:
"A Confederacy of Dunces" by John Kennedy Toole
Any book by Fannie Flagg
"Their Eyes Were Watching God" by Zora Neale Hurston
"Sula" by Toni Morrison
"Wise Blood" by Flannery O'Connor
"Light in August" by William Faulkner
"Other Voices, Other Rooms" by Truman Capote
"To Kill a Mockingbird" by You Know Who
"The Prince of Tides" by Pat Conroy
"Forrest Gump" by Winston Groom
"A Celebration of 'Crazy in Alabama'" takes place Tuesday, June 28, at 6 p.m. at the Lyric Theatre. Admission is free, with hors d'oeuvres and a cash bar available. Featuring Childress, host Don Noble and authors Deborah Johnson, Joshilyn Jackson, Carolyn Haines and Michael Morris.