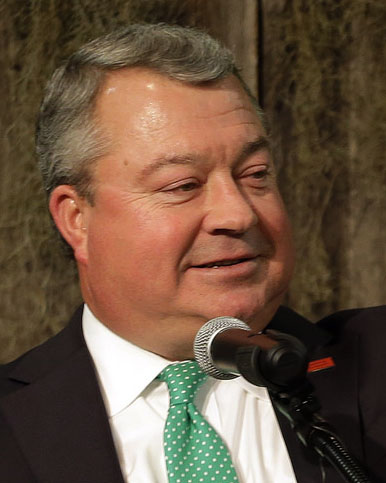 Alabama Commerce Secretary Greg Canfield said economic development years like 2015 don't come along very often. In fact, by one measure there's never been a year like last year for Alabama.
"We've gone back several years and we can't find a year where we had $7.1 billion in capital investment like we had in 2015," Canfield said. "It's quite an achievement. It's going to be hard to beat."
Canfield spoke to economic developers from throughout the state Monday kicking off the Economic Development Association of Alabama's 2016 summer conference. The commerce chief credited last year's success with his department's collaboration with local economic development entities throughout the state, Alabama's universities and community colleges, the state's power companies, the Alabama Department of Economic and Community Affairs and the Economic Development Partnership of Alabama.
In addition to the record-setting capital investment, 2015 saw the announcement of 19,202 new or future jobs from those projects.
Alabama Commerce Secretary Greg Canfield talks economic development for 2015 and 2016 from Alabama NewsCenter on Vimeo.
Mercedes-Benz, the company credited with starting what EDPA President Steve Spencer called the "golden age of economic development in Alabama" with its first automotive plant in 1994, announced a $1.3 billion expansion last September.
It is the latest major expansion from the German automaker, which will have $5.8 billion invested in the state and employ 3,800 workers when it is complete.
"It doesn't get much better than that – to have that company risk that kind of capital investment in your state," Canfield said. "They obviously don't see it as much of a risk."
Other 2015 highlights Canfield noted:
Google's $600 million data center in Jackson County will create 100 of the kind of jobs that will help the state reverse the "brain drain" that has caused many of the state's young people to leave Alabama for technology job opportunities.
Polaris chose to expand its new Huntsville manufacturing operations before it even started production. The company recently began production on both the Ranger ATV and the Slingshot three-wheeled vehicle that adds to the cool factor.
Production of the first Alabama-built Airbus airplane in Mobile started in 2015 and the company is already ramping up production ahead of schedule.
"Airbus came to Alabama expecting to be successful, but after talking with executives at the recent Farnborough Air Show, it's clear that we have exceeded their expectations of success," Canfield said.
Canfield said it's hard to overstate the significance of delivering the first state-made Airbus to JetBlue in April, which the airline named the "Blues Mobile."
"The only criticism I heard about that first plane was that the coffee pot didn't work," Canfield said. "I'm happy to say that coffee pot wasn't built in Alabama."
With half of 2016 in the books, Canfield said he doesn't foresee capital investment topping last year's record-breaker, but there is much being done in the state to lay the groundwork for future success.
Newly enacted economic development incentives are getting a positive reaction from companies and site consultants, Canfield said, and incentives designed to help grow businesses in rural parts of the state and boost distribution center growth will start to pay dividends this year.
This year will also see the development of Accelerate Alabama 2.0, the latest version of the five-year economic development plan enacted in 2011.
Canfield said the initiatives of the original Accelerate Alabama plan led to $20.2 billion in capital investment and 75,000 new and future jobs between 2012 and 2015.
So far in 2016, there have been some large announcements, Canfield said. Berghoff Group announced a $30 million precision machining plant in Auburn, UTC Aerospace is expanding in Mobile and adding 260 jobs, Mando announced a $19 million expansion in Opelika, and German auto supplier Gerhardi announced its first North American plant will be in Montgomery, creating 235 jobs.
"We're pretty proud of 2015," Canfield said. "But we're not stopping. We're doing some important and significant work in 2016. It might not be a record year, but it's definitely an important year for the future of economic development in Alabama."