Jennifer Stevenson leads a double life of sorts.
At home, she's the wife of John Stevenson, editor and publisher of The Randolph Leader, spending her time at their place in Roanoke tending to donkeys, chickens, goats and more.
At the office, though, as head of development and special events for the Lakeshore Foundation, she goes by a different name – the name she had when she won a gold medal in diving in the Montreal Olympics 40 years ago.
"I'm a Chandler at work and a Stevenson at home," she says.
And since she's taking a walk down memory lane, reliving her Olympic experience, we'll stick with the former.
"I'm where I am today because of what happened that night," Chandler says. "My entire life, that experience has influenced everything I've done in some way."
A silent moment: Alabama Olympic diving gold medalist Jennifer Chandler remembers from Alabama NewsCenter on Vimeo.
Chandler's diving career came about because of a couple of happy coincidences.
First of all, her mother, the swim team manager at Mountain Brook Swim and Tennis Club and a former diver herself, was trying to start a diving team.
"We didn't have any divers, and she suggested I do it," Chandler recalls.
Most important, though, was the presence of Carlos DeCubas.
"He just happened to be at MBST, and he was a Cuban Olympic swimming and diving coach," she says.
DeCubas took the 8-year-old under his wing and knew early on that she had talent.
"He told me when I was 10 I could be a national champion, and we started training for the Olympic trials when I was 12," Chandler says. "It was kind of an early plan."
And Chandler, with two very supportive parents behind her, loved every minute of it.
"I always liked the flying part," she says. "I liked the airtime. I also liked being outside and being with my friends."
Toward the gold
At age 13, Chandler moved to Georgia to continue training with DeCubas, who became coach at Georgia Tech. (Chandler attended his induction last year into the Georgia Aquatic Hall of Fame, of which she is a 2012 inductee.) At age 14, she won the senior national diving championship for the first time.
In 1975, Chandler began training with Ron O'Brien, who was coaching future Olympic gold medal winner Greg Louganis and many others.
"I needed to dive with divers who were better than me and I could emulate," Chandler says. "When I was diving with Carlos, I was the only diver he had."
Soon after changing coaches, Chandler won gold at the Pan American Games in Mexico City at age 16 and set her sights on the Olympics the following year.
"One of the hardest parts was just making the team," Chandler says. "We had a lot of depth in diving."
Chandler won the Olympic trials, and it was off to Montreal, where she hobnobbed with the likes of Bruce Jenner, who was competing in the decathlon.
"It was over the top from the very get-go, starting with the opening ceremonies," Chandler recalls. "You stand for hours and hours and hours while they're lining up all the teams. When you finally get to step on the track, it's such a relief. It's also so overwhelming you can barely take a breath. The cheers were so overwhelming."
'I needed to comb my hair'
Chandler's event, the 3-meter springboard, was one of the Montreal Games' first.
"I remember my dives," says Chandler, now 57. "I remember what my dives felt like, all of them."
At the end, Chandler, who did not pay any attention to the scoreboard, had no idea she had won the gold, much less by 40 points.
"I was in shock," she says. "My first thought was I needed to comb my hair and find my sweats."
She also had no idea how much her life would change.
"It didn't really start up much until I got home," Chandler recalls. "I was asked to be grand marshal at parades all over the state. People would recognize me when I'd go out, and I wasn't prepared for that. I really thought I was the same me and I had just had a good meet. I had to take some time off. It was a lot of pressure for a 17-year-old."
A missed opportunity
Chandler took 10 months off from diving before returning to the pool as a freshman at Ohio State University, where O'Brien was coach. She followed him to Mission Viejo, California, and eventually would graduate from the University of Arizona with a degree in drawing and painting.
In 1980, she once again made the Olympic team, but the U.S. boycotted the Games because of Russia's involvement with Afghanistan.
"You can't really put into words how disappointing that was," Chandler says. "I was so fortunate that I had already had a chance to compete. There were teammates of mine in '80 who didn't get to go again."
In the end, that was it for Chandler, who had hurt her back during the Olympic trials. She retired from the sport four years after winning gold. She did a few commercials here and there and some TV commentating.
Still a fan
Chandler went to work for HealthSouth Rehabilitation in 1993. She eventually became educational outreach director for the Alabama Sports Hall of Fame and, five years ago, began working at Lakeshore.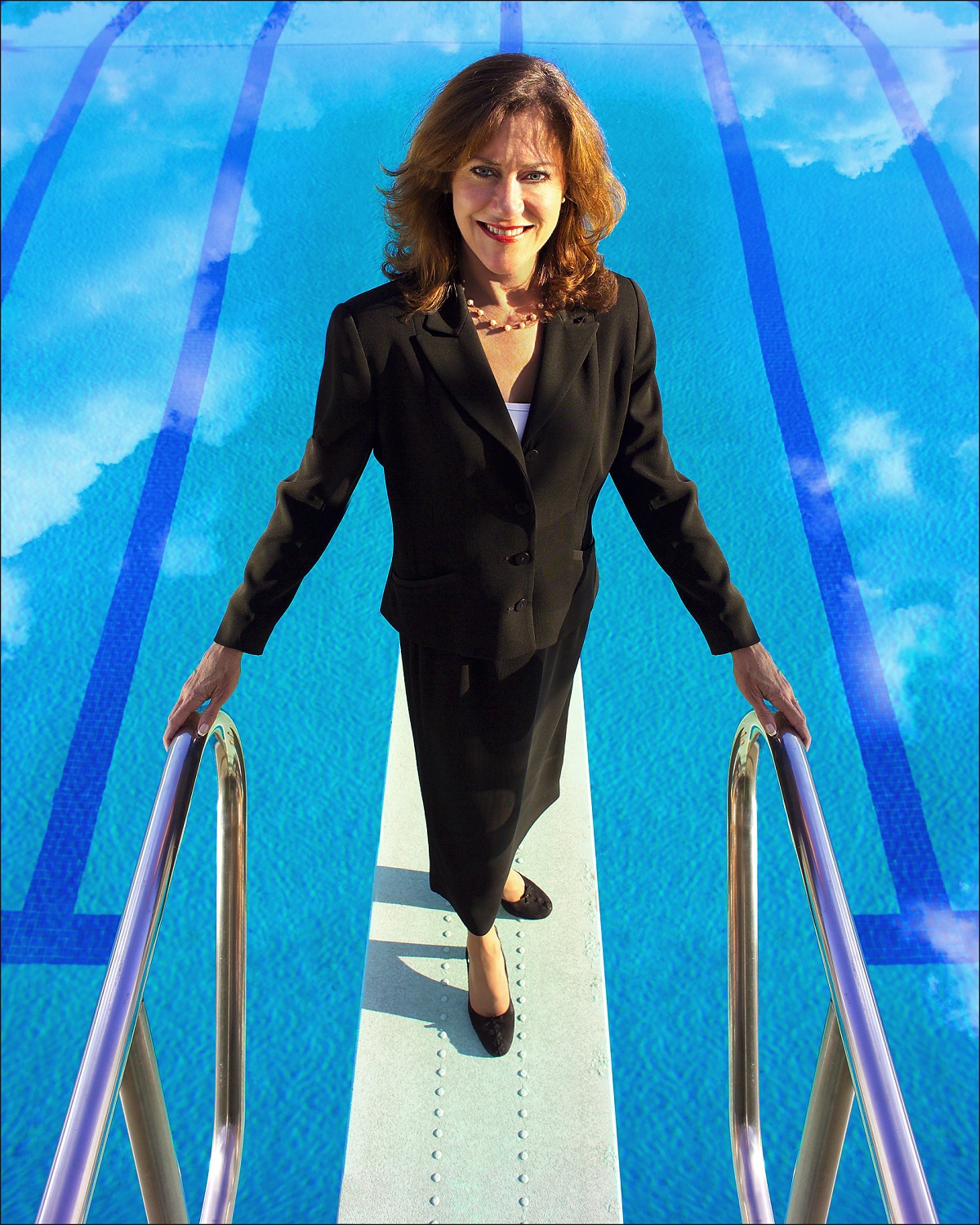 Chandler attended the Olympics in Los Angeles and Atlanta as a spectator, and she still watches them every four years.
"It's beautiful to watch," she says. "It does take me back some. What really gets me is right after the whistle blows and before the dives – the silence over the water. … Diving is a beautiful sport, and the dives have gotten more difficult. It's a lot more acrobatic than it used to be."
Her gold medal has a place of honor – with her mother, Kay Merrill, who lives in Birmingham.
"She deserved it because she got me everywhere I needed to go," says Chandler, whose father, Terry Chandler, lives in Albertville. "I was the Olympic diver, and she was the Olympic driver. … I really never look at it unless someone asks me to bring it to a speaking engagement."
In 2007, Chandler married John Stevenson, and she now spends her weeks in Birmingham and her weekends in Roanoke.
"We have a city house and a country house, and it's perfect," she says. "I got a chicken coop for my birthday, and we're getting new chickens this weekend."
But she'll always look back fondly on her days as an Olympian, not hesitating a second when asked what one word she thinks of when she thinks of the Montreal Games.
"Joy," she says. "Just joy."