More than 200 business leaders, investors and start-up companies kicked off the Velocity Accelerator program at Birmingham's Innovation Depot Tuesday with a goal of cultivating a Silicon Valley-like spirit into the heart of the Magic City.
Nate Schmidt will be program director of Velocity Accelerator and kicked off the event. The co-founder of Instagift and a graduate of a Seattle program similar to Velocity Accelerator knows what's possible with the program.
"Velocity Accelerator is a 12-week boot camp for 10 companies and the goal is that these start-up technology companies like you'd see in Silicon Valley will come into this space," he said. "We'll give them $50,000 for walking in the door and over the course of three months, we will give them world-class training and mentoring and give them the opportunity for investing after the program. And the goal is that in three months, by giving a perfect work environment for these companies, we can give them the ability to make a year's worth of progress in just a few short months."
Velocity Accelerator at Innovation Depot aims to boost Birmingham start-ups from Alabama NewsCenter on Vimeo.
Schmidt said the companies will learn how to avoid the mistakes others have made, get trained in the best practices for starting and growing a company and be able to collaborate with other like-minded innovators.
"We have a community, we don't just have start-ups," he said.
Tuesday's event marked the opening of the application process. Applications will be accepted the next few months with the first class notified in December and the inaugural Velocity Accelerator class kicking off in January 2017.
Andrew Petrovics is founder of Koyote, a company focused on the location intelligence segment of the "internet of things" technology. He was invited to pitch his company as part of Tuesday's kickoff event.
"If you are involved with start-ups in Birmingham, this is the place to be," Petrovics said. "I'm very excited about this program, Innovation Depot and just the whole community around this."
The other startup companies that made pitches were Book It Legal, Planet Fundraiser, On the Corner, Quickwork and Spruce Planner.
Alabama Commerce Secretary Greg Canfield attended the launch. He said in an interview programs like Velocity Accelerator fit in perfectly with the state's economic development plan, Accelerate Alabama, which is currently being updated.
"Among all of the focuses that we have, the most exciting focus is on building entrepreneurship, building technology and early-stage company development because in building that, we're building the future of careers and job opportunities for tomorrow," Canfield said.
Devon Laney, president and CEO of Innovation Depot said he was blown away by the hundreds who turned out for the Velocity Accelerator kickoff.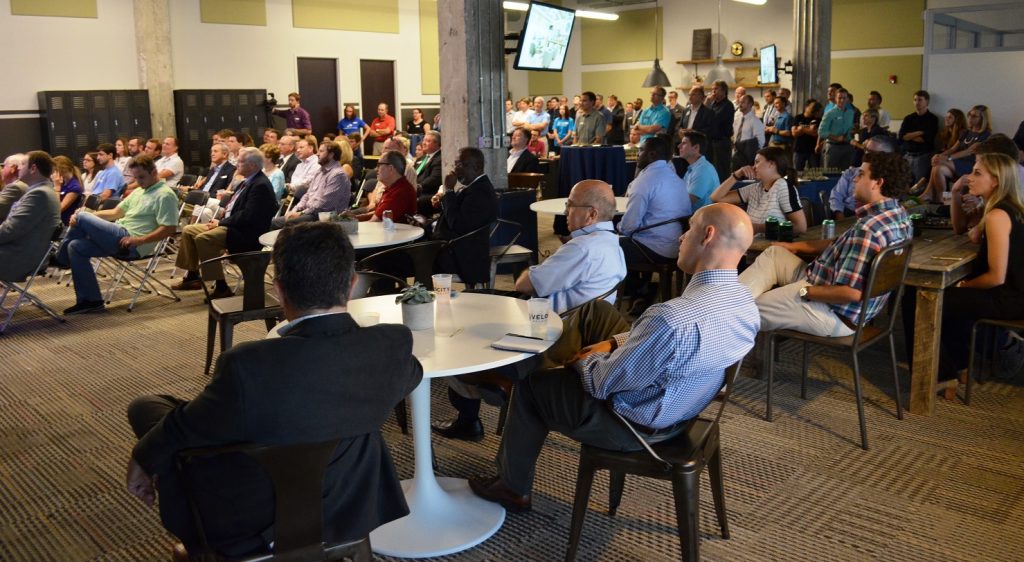 "I think it shows that there is already an incredible ecosystem here – incredible companies, incredible resources – and we've just got to pool all of those together into a meaningful program that can have impact over time," Laney said.
He said Velocity Accelerator gives start-up companies the two most value things they need in funding and guidance. A Velocity Accelerator fund will be part of the equation and the program and its partners will provide the latter.
"We're raising that fund to be able to invest seed capital in those companies to move them through the process so that hopefully at the end they result in big successes," Laney said. "By having all of these resources in place, all of these community partners in place – the leadership from UAB, the Birmingham Business Alliance, the private sector – all of these organizations coming together and providing funding through Innovation Depot and the Accelerator program, I think, elevates us to a very small group of communities that are saying, 'We're going to do this, we're committed to doing it and we're going to put the resources behind it to make it successful.'"