Click here to view or print the entire monthly report compliments of the ACRE Corporate Cabinet.
Sales: According to the Gulf Coast Multiple Listing Service, Mobile-area residential sales totaled 419 units during July, a decrease of 6.3 percent from the same period last year (four units). Year-to-date home sales through July rose 4.4 percent over last year. Two more resources to review: Quarterly Report and Annual Report.
For all of Mobile's area housing data, click here.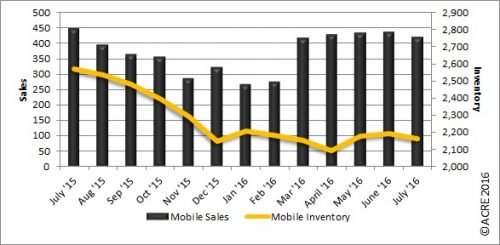 Forecast: July sales were six units, or 1 percent, above the Alabama Center for Real Estate's (ACRE) monthly forecast. ACRE's year-to-date sales forecast through July projected 2,631 closed transactions, while the actual sales were 2,674 units, a favorable difference of 1.6 percent.
Supply: The Mobile-area housing inventory in July was 2,160 units, a decrease of 16 percent from July 2015. Inventory has now declined 41.8 percent from the July peak (3,711 units) reached in 2010. There was 5.2 months of housing supply in July 2016 (6 months represents a balanced market for this time of year) vs. 5.8 months of supply in July 2015, a favorable decline of 10.4 percent.
July inventory in the Mobile area decreased 1.5 percent from June. As seller confidence in the housing market continues to strengthen gradually, more listings for sale can be anticipated, including more home construction. This is important because the quality of inventory has become a market impediment, according to recent surveys.
Demand: July sales decreased 4.1 percent from June. This direction contrasts with historical data, which indicate sales, on average (2011-15), increased from June by 2.3 percent.
Existing single-family home sales accounted for 87 percent of total sales, down from 90 percent in July 2015, while 9 percent were new home sales (up from 6 percent last July) and 4 percent were condo transactions (up from 2 percent).
Pricing: The Mobile-area median sales price in July was $139,900, up 16.6 percent from last July. The May median sales price increased 0.7 percent when compared to June. This month-over-month direction contrasts with historical data (2011-15) indicating, on average, the July median sales prices decrease from June by 2.8 percent. Pricing can fluctuate from month to month as the sample size of data is subject to seasonal buying patterns. ACRE highly recommends consulting with a local real estate professional to discuss prices, which can vary from neighborhood to neighborhood.
Industry perspective: "Financial volatility resulting from Brexit has created some uncertainty among investors as yields on government bonds have dropped sharply, Treasury yield curves have flattened over the past month, and the Chinese Yuan has depreciated to a six-year low against the dollar," said Fannie Mae Chief Economist Doug Duncan. "In addition, our view on interest rates continues to be 'low for long' as we believe a Fed decision to raise interest rates will likely be on hold until June of 2017. Brexit's economic impact on the U.S. will likely be limited, especially from a trade perspective, and should be a near-term positive for the housing and mortgage market as falling mortgage rates have prompted new refinance demand." For the full report, click here.
Click here to generate more graphs from the Mobile July Housing Report, including Total Sales, Average Sales Price, Days on the Market, Total Inventory and Months of Supply. 
The Mobile Area Residential Monthly Report is developed in conjunction with the Mobile Area Association of Realtors to better serve Gulf Coast consumers.