Your weekend turns golden with a little help from your friends at Can't Miss Alabama.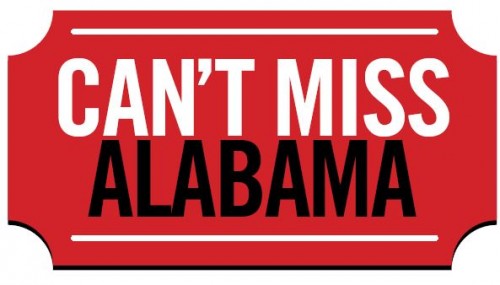 Seafood lovers, unite! Get to beautiful Gulf Shores for the National Shrimp Festival Oct. 13-16
Spice up your weekend with fresh-from-the-Gulf seafood. You'll find it all at the 45th National Shrimp Festival at Gulf Shores, where more than 50 vendors' mouth-watering delights line the boardwalk. Hit the tasting tent, which houses more than 200 pounds of shrimp, offered daily as free samples.
Get your fill of entertainment. More than 80 hours of music will please any palate: Hear Southern rock, country, Motown, jazz and zydeco. More than 300 vendors will offer fine art, a market place and an outdoor village. Little ones will be captivated by the Children's Activity Village.
The music begins at 10 a.m. daily, continuing until 10 p.m. Thursday through Saturday. The event ends at 5 p.m. Sunday.
Don't miss the fun at Gulf Shores' public beach.
See amazing Civil War-era quilts at the Landmark Park Quilt Festival in Dothan Oct. 14-16
Get an up-close look at the artistry of more than 100 antique and contemporary quilts at the Landmark Park Quilt Festival. As part of Landmark Park's Fall Farm Day, you'll enjoy exhibits, speakers and the chance to win door prizes.
On Saturday, visitors can take part in a silent auction, watch quilters at work and buy wares from sewing vendors.
Enjoy from 1 p.m. to 4 p.m. Gate admission at Landmark Park is $8 for adults, $4 for kids, and $6 for seniors and active military.
Enjoy the South Alabama Barbecue Festival at the Mobile Zoo Oct. 15
Have a family fun day at the Mobile Zoo and the South Alabama Barbecue Festival. Mom and Dad can eat tasty barbecue and jive to live music and karaoke. The day will be magical for kids, with lots of games, face painting, a petting zoo and a bouncy house.
Saturday hours are 9 a.m. to 3 p.m. Admission is $5 for ages 13 and up, and children 12 and under are free.
The Mobile Zoo is in Wilmer at 15161 Ward Road.
Hear an inspirational message and be entertained by Duck Dynasty's Sadie Robertson and crew at the Alabama Theatre in Birmingham Oct. 15
If you love A&E's "Duck Dynasty," you'll want to catch Sadie Robertson's performance Saturday at Birmingham's historic Alabama Theatre. As part of Robertson's Live Original Tour 2016, you'll thrill to her motivational message and musical entertainment from Family Force 5, Love and the Outcome and more.
Doors open at 6 p.m. and the show starts at 7 p.m. Click for tickets.
Go to the big Kentuck Festival of the Arts in Northport Oct. 15-16
Have a family day out at the 45th annual Kentuck Festival of the Arts, with unique offerings from more than 150 artists. Be amazed while watching demonstrations in basket weaving, blacksmithing, glass blowing, woodworking, jewelry and fabric making and more. Groove to the melodies of some 300 renowned folk musicians.
Kids can get creative with free, hands-on art-making.
Admission is $10 to $15. Enjoy from 9 a.m. to 5 p.m. at Kentuck Park, 3501 15th St. in Northport.
Attend the "Gourd Roundup" in Cullman Oct. 15-16
The Alabama Gourd Festival is the place to find unique, lovely works of art created with gourds. Let your creative side run free – there will be plenty of raw gourds, supplies and tools for purchase. Kids can decorate their own gourd to take home, absolutely free.
The entire family will get a kick out of the artistry provided with gourds as they tour the fabulous ribbon competition exhibit room.
Gourd artists will demonstrate their techniques and hold classes.
Attend at the Cullman Civic Center at 510 Fifth St. SW. Saturday hours are 9 a.m. to 5 p.m., and Sunday's show is from 10 a.m. to 4 p.m.
Don't miss the Heritage Day Festival in Attalla Oct. 15
The annual Heritage Day Festival in the Greater Gadsden area promises a fun-filled day of arts and crafts, live entertainment and a car show. You and the kids will love the free rides, face painting, balloons and games.
Attend from 9 a.m. to 5 p.m. in downtown Attalla, 1 mile off Interstate 59, exit 183. From Highway 431 South, turn left at Fourth St. N.W. and drive four blocks.
Do your early Christmas shopping at the Shoals Flea Market in Muscle Shoals Oct. 15-16
Put on your shopping shoes and hit the Shoals Flea Market for all kinds of unusual gifts, including arts and crafts, antiques and collectibles, and boutique apparel.
Shop on Saturday from 9 a.m. to 7 p.m. and on Sunday from 10 a.m. to 5 p.m.
The flea market is at the North Alabama State Fairgrounds at 65 Sportsplex Drive in Muscle Shoals.