Click here to view or print the entire new home monthly report compliments of the ACRE Corporate Cabinet.
Demand: New home sales totaling 472 units in September increased 24.9 percent from last year. September new homes sales were 4.6 percent above the prior month. Average days on market in September of 102 represents a 16.2 percent decrease from last September.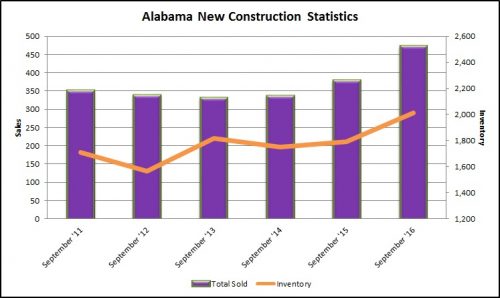 Supply: Months of new home supply in September was 4.2 months. Statewide new construction inventory is approximately 12.5 percent above last September and down 5.3 percent from last month.
Pricing: Alabama's metro median new home sales price during September was $243,045, an increase of 0.5 percent from September 2015 and an increase of 1.1 percent from the prior month.
New home pipeline: September statewide housing starts were up 11.6 percent from 2015 but down 4.3 percent from August. Statewide building permits in September were up 23.2 percent from September 2015 and were down 3.9 percent from the prior month.
Residential construction employment: According to the Alabama Department of Industrial Relations, statewide related residential construction employment in September decreased 4.9 percent (-3,700 jobs) to 78,400 from the same period last year and was down 0.26 percent from the previous month.
Local results: Thirteen of the 27 associations reported building permit gains from September 2015, while 14 associations experienced gains in housing starts. Eleven associations experienced an increase from their August 2016 monthly housing starts.
Industry perspective: From Robert Dietz, NAHB chief economist: "Low mortgage rates, continued job growth and tight inventory levels are all factors that point to increased housing production as we move into 2017. The inventory of new homes for sale was 235,000 in September, which is a 4.8-month supply at the current sales pace. The median sales price of new houses sold was $313,500. Regionally, new home sales increased 33.3 percent in the Northeast, 8.6 percent in the Midwest and 3.4 percent in the South. Sales fell 4.5 percent in the West."
The ACRE New Construction Monthly Report stems from a partnership with the Home Builders Association of Alabama Foundation. The Alabama Center for Real Estate's core purpose is to advance the industry by providing relevant research, education and outreach.