Fannie Flagg swears she's done this time.
"If you hear that I'm writing another book, you have my permission to get on a plane, come to California and beat me with a stick," says Flagg, a Birmingham native. "I'm tired. If I do anything after this, I'll do short stories."
Flagg – the author of eight best-selling books, including "Fried Green Tomatoes at the Whistle Stop Café" – has threatened retirement from novel-writing before, but she seems to mean it this time. She says "The Whole Town's Talking," which comes out Nov. 29, is her last.
"Long novels take too long and are too hard," says Flagg, who lives in Montecito, California. "I want to do shorter pieces now. Unless a miracle happens, I really don't want to do another novel. I just want to do other things."
A couple of years in the making, "The Whole Town's Talking" is the tale of the founding of the small town of Elmwood Springs, Missouri.
"It's sort of a saga," Flagg says. "It starts in the 1880s with a Swedish immigrant who buys this land and is the founder of the town. The book ends in 2020. It's the history of a typical American town, how it started and how it ended up."
Three of Flagg's previous novels – "Welcome to the World, Baby Girl!," "Standing in the Rainbow" and "Can't Wait to Get to Heaven" – are set in Elmwood Springs. "This one is kind of a prequel to those other books," she says.
The idea for "The Whole Town's Talking" came to Flagg because of visits to Solvang, California.
"It's a little town settled by Danish immigrants, and they're still living there, and that inspired me," she says.
In addition, a DNA test a couple of years ago said Flagg's ancestry went back to Finland.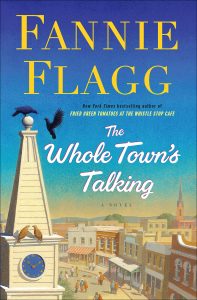 And so it was that Elmwood Springs was founded by Swedish immigrants.
"One of the great things about writing for me is that when I do research I learn so many things I didn't know," Flagg says. "I learned a lot about what immigrants went through just to get here. The trip over would have killed most people. We come from a sturdy, sturdy stock. We started out that way."
Flagg grew up in Birmingham, working with Town and Gown Theatre and on Tom York's "Morning Show" before heading off to national fame. She appeared with Allen Funt on "Candid Camera," was a constant game-show guest in the 1970s and appeared on Broadway in "The Best Little Whorehouse in Texas" and "Patio/Porch."
In 1987, she published "Fried Green Tomatoes at the Whistle Stop Café" and, in 1991, earned an Oscar nomination for best screenplay when it became the movie "Fried Green Tomatoes."
Flagg's father operated movie projectors in Birmingham, including at the Lyric Theatre, where Flagg will be the star of an event on Dec. 9. (She has an event in Fairhope on Dec. 6).
Until recently, Flagg had residences in Birmingham and Fairhope. She lives full time in California now, but she gets back to Alabama often, especially after writing a new book.
"I've always come to Alabama to launch my books," she says. "It's a good luck thing for me."
Before heading to New York, Fannie Flagg launches the tour of her new book with two Alabama events:
Tuesday, Dec. 6, at 6 p.m., a reading and signing, sponsored by the Page & Palette, will be held at the Fairhope Civic Center, 161 North Section St., Fairhope.
Friday, Dec. 9, at 7 p.m., a conversation with Janice Rogers of "Good Day Alabama" will take place at the Lyric Theatre, 1800 Third Ave. North, Birmingham. It is sponsored by Books-a-Million.