Click here to view or print the entire monthly report compliments of the Alabama Center for Real Estate Corporate Cabinet. Join the Center mailing list here.
Sales: Alabama home sales totaling 4,106 units during October were an increase of 5.6 percent from the same month a year ago. Year-to-date home sales for the state through October were up 14 percent compared to the same period last year. Two more resources to review: Quarterly Report and Annual Report.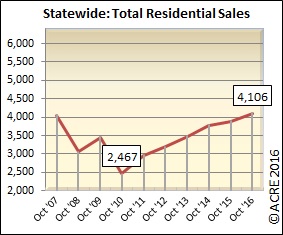 Forecast: October sales were 5.4 percent or 212 units above the Alabama Center for Real Estate's (ACRE) monthly forecast. ACRE's year-to-date sales forecast through October projected 41,937 closed transactions, while the actual sales were 45,749 units, a favorable difference of 9 percent.
Supply: The statewide housing inventory during October was 30,898 units, a decrease of 2 percent from October 2015 and 27 percent below the October peak in 2007 (42,039 units). There were 7.5 months of housing supply in October (6 months is considered equilibrium), which represents a favorable drop of 7 percent from October 2015 (8.1 months).
October inventory increased from September by 5.4 percent. This direction is consistent with historical data that indicate October inventory on average (2011-15) increases from September by 3 percent.
Demand: October residential sales decreased 13 percent from September. This direction is consistent with historical statewide data indicating that October sales on average (2011-15) decrease from September by 3.5 percent. The average days on market until a listing sold was 130 days, down 6.5 percent from last year. Nationally, existing home sales were up 5.6 percent from October 2015. See how Alabama compares with the U.S. residential market by clicking here.
Pricing: The October median sales price increased 4 percent from the same period last year to $145,147. During October, 88 percent of local markets experienced price gains from October 2015. This indicator can fluctuate from month to month due to sampling size of data and seasonal buying patterns. The October median sales price decreased 1.5 percent from September. This direction contrasts with historical data averages (2011-15) reflecting that the October median sales price increases 6.9 percent from September.
Seeking balance: The metro markets in Alabama representing 70 percent of all sales continued to trend toward greater seller bargaining power with 6.2 months of supply. Outside the metro markets, Alabama's midsized markets are reporting 7.4 months of supply, while rural areas are reporting 15.8 months of supply. There have been significant improvements from inventory peaks experienced during the recession. The supply of quality inventory in the past has affected sales, according to some boots-on-the-ground professionals.
Industry perspective: "Since July, more consumers, on net, have steadily expected mortgage rates to rise and home price appreciation to moderate," said Doug Duncan of Fannie Mae. "Furthermore, consumers' perception of their income over the past year deteriorated sharply in October to the worst showing since early 2013, weighing on the index. However, this component of the HPSI (home purchase sentiment index) is volatile from month to month, and the firming trend in wage gains from the October jobs report, if sustained, may foreshadow an improving view in the near future."
Click here to generate more graphs from the Alabama October Housing Report, including Total Sales, Average Sales Price, Days on the Market, Total Inventory and Months of Supply. 
The Alabama Residential Monthly Report is developed in conjunction with the Alabama Association of Realtors and its local associations.