Choose from one of our events and start a family holiday tradition.
"Origins," a gala performance featuring the best of Birmingham-based Arova Contemporary Ballet's repertoire will be Friday and Saturday Dec. 2-3 (7:30 p.m.) and Sunday Dec. 4 (2:30 p.m.) at the Dorothy Jemison Day Theater at the Alabama School of Fine Arts downtown Birmingham (800 19th Street North). Includes "Within Them a Great Divide" choreographed by Alabama Ballet's Michael Fothergill; "Women of the Cove" and "Sacred Vessels" choreographed by Jennifer Medina, artistic director of the Common Thread Contemporary Dance Company. General admission ($20 online; $25 at the door; $10 college students and younger at the door.) Click here for ticket information. For more details, visit the website.
Briarwood Walk-Through Nativity
Each advent season Briarwood Presbyterian Church on Acton Road presents the "Walk-Through Nativity." The event is December 7–9 (Wednesday-Friday) from 6:45 p.m. to 8:45 p.m. each night. More than 900 Briarwood members depict the birth and life of Christ in 14 live scenes with narrated drama and live animals (including a camel!) Visitors are treated afterward to coffee, hot chocolate, and cookies. Admission is free. Groups are welcome and wheelchair and stroller access is provided. Click here for more details.
Birmingham's Sloss Furnaces will showcase holiday tours Dec. 2-18 from 5 p.m. until 9 p.m. The tours include specialty scenes from "Penguin Land," "North Pole" and more. Enjoy holiday movies and photos with Santa. Pets are welcome. Admission is $12.50 for adults and children under 2 are free. For more information, visit www.slossfurnaces.com/events/.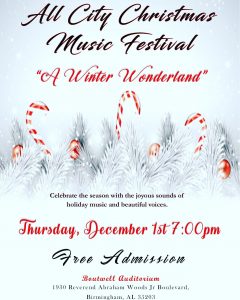 Birmingham's 77th annual All-City Christmas Music Festival is Thursday, Dec. 1 at 7 p.m. at Boutwell Auditorium. The festival will feature more than 1,000 elementary and high school students. Entertainment includes bands, orchestras, choirs and singers. Enjoy drama performances and a variety of holiday music. Admission is free. Boutwell Auditorium is located at 1930 Rev. Abraham Woods Jr. Boulevard in Birmingham. For details, visit the website.
Ice skating comes to the Magic City
Railroad Park presents Birmingham's Winter Wonderland through Monday, Jan. 16. The new outdoor skating rink will be open on Christmas and New Year's Day. The rink will offer a variety of entertainment for birthday and holiday parties, corporate events and more. Click here for the complete schedule. To learn more about the skating rink, follow this link. Get ticket information here. Railroad Park is at 1600 1st Ave. S. in Birmingham.
The Moscow Ballet performs the holiday classic, "Great Russian Nutcracker," at the Birmingham-Jefferson Convention Complex Saturday, Dec. 3 at 3 p.m. For ticket information, visit the website.
What's happening in the neighborhood?
The Woodlawn Street Market is Sunday, Dec. 4 from noon until 4 p.m. The marketplace will showcase produce, food vendors, homegrown restaurants, retailers and more. This is the last of a four-part series, which began in the spring. Follow the Woodlawn Street Market on Facebook.
The Huntsville Botanical Gardens will feature Galaxy of Lights' Driving Nights through Saturday, Dec. 31 from 5:30 p.m. until 9 p.m. A magical twinkling icicle forest, holiday village and other exhibits offer live entertainment for the entire family. Click here for the complete schedule. Click here for ticket information or visit the website. The Huntsville Botanical Gardens is at 4747 Bob Wallace Ave.
More than 40 holiday Christmas trees and wreaths are on display at the Guntersville Museum through Jan. 1. Community volunteers decorated the trees for the annual Festival of Trees. For a complete list of entertainment, follow this link. The event is open Tuesday through Friday from 10 a.m. until 4 p.m. During the weekend, the event is open from 1 p.m. until 4 p.m. For more information, visit the website. The Guntersville Museum is at 1215 Rayburn Ave.
It's Christmas at the Zoo
Spend a part of the holiday season at the Montgomery Zoo and Mann Wildlife Learning Museum's 25th Annual Christmas Lights Festival. The festival at the zoo is Dec. 1-4, 8-11 and 15-31 from 5:30 p.m. until 9 p.m. The event includes train rides, sky lifts and more. Enjoy live entertainment and a visit from Santa. Click here for directions and ticket information. Follow the Montgomery Zoo and the Mann Wildlife Learning Museum on Facebook. Call the zoo at 334-240-4900 or the museum at 334-240-4905.
Spend an evening with a storyteller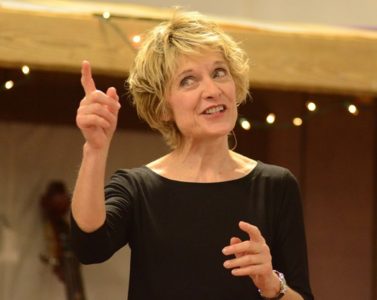 Storyteller and actress Dolores Hydock from Irondale presents "A Christmas Memory" Sunday, Dec. 4 at 3 p.m. Hydock retells Truman Capote's humorous, poignant, affectionate and nostalgic reminiscences of his boyhood in rural Alabama. Hydock's performance has become an annual tradition at the Birmingham Public Library. The event will be in the Linn-Henley Research Library's Arrington Auditorium on the fourth floor. Admission is free. The Birmingham Public Library is located at 2100 Park Place. To learn more, call 205-226-3631 or visit the website.
The 22nd Annual Marshall County Craft Club Christmas Show will feature more than 40 artists through Friday, Dec. 23 from 10 a.m. until 5 p.m. Each handcrafted gift can be personalized. Admission is free. The show is at Billy B. Dyar Boulevard in Boaz. For more information, visit Facebook.
The Imagination Place Children's Museum is open through Tuesday, Jan. 31 in Gadsden. Children ages 2 through 10 can play in a pit that feels like snow. The children will enjoy exhibits, train stations and more. The Hardin Center is closed on Christmas Day and Thanksgiving Day. For field trip information, call 256-543-2787 or visit the website. The Mary G. Hardin Center is at 501 Broad St. in Gadsden.