In the early 2000s, it seemed as if radio frequency identification – RFID, for short – was about to take over the world. For better, or for worse. As Josh McHugh put it in Wired in 2004:
Depending who you ask, RFID tags constitute:
The best thing to happen to manufacturing since the cog.
The biggest threat to personal privacy since the crowbar.
The near-exact fulfillment of the Book of Revelation's description of the mark of the beast.
The tags, with chips that could hold up to 2 kilobytes of data and be scanned from 25 feet away, were going to revolutionize supply chains and retailing. Wal-Mart Stores Inc. informed its suppliers in 2003 that it expected them to attach RFID tags to the pallets and cases of stuff they sent to its distribution centers. International Business Machines Corp. ran ads promising a world of ubiquitous RFID in which, among other things, you could stroll out of a supermarket with your pockets full of food and pay for it all automatically. Privacy advocates warned that any burglar with an RFID reader would be able to figure out what was in your closet and how much it was worth.
Then, everything seemed to slow down. Wal-Mart's RFID rollout took a lot longer than planned. RFID tags failed to become ubiquitous at supermarkets. Privacy advocates found other things – such as Google and Facebook – to worry about. The business and tech media found other things to write about, too.
And while the spotlight was elsewhere, RFID began quietly, belatedly, taking over the world. The world of apparel retailing, at least: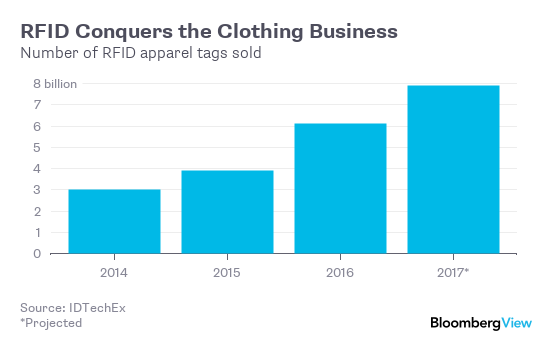 While only 4 percent of big U.S. apparel retailers had RFID tags on all their clothes as of last June, according to a study by the Auburn University RFID Lab, the other 96 percent are all in some stage of deployment. "In apparel, the payback from RFID is now very clear and so retailers are now adopting it across their stores in cookie-cutter style," Raghu Das, chief executive officer of IDTechEx, the research firm responsible for the data in the above chart, said in an e-mail.
"We're at the tipping point," Michelle Covey, vice president of apparel and general merchandise at GS1 US, the nonprofit that administers the main long-distance RFID standard, told me at the National Retail Federation's annual Big Show convention in New York this week.
In retrospect, the whole RFID saga has followed a pretty standard trajectory for technology adoption. To quote from the holy writ that is the Gartner Hype Cycle, we've passed the "peak of inflated expectations" and the "trough of disappointment" and are now headed up the "slope of enlightenment."
The first part of enlightenment was learning that putting RFID tags on cases and pallets of goods headed to Wal-Mart didn't really add much. Here's Bill Hardgrave, dean of Auburn University's College of Business and founder of the RFID lab that was initially based near Wal-Mart HQ and is now at Auburn, talking to Fortune in 2014:
When we look back, it almost seems silly that we started it as a supply chain tool. If you think about the way many manufacturing centers and distribution centers operate, for many retailers those were already Six Sigma. How much more efficiency or accuracy can you squeeze out of that?
A Six Sigma process is one that is 99.9997 percent defect-free. Retailers had already gotten their supply chains to that point with bar codes (first used in 1974) and other established technology.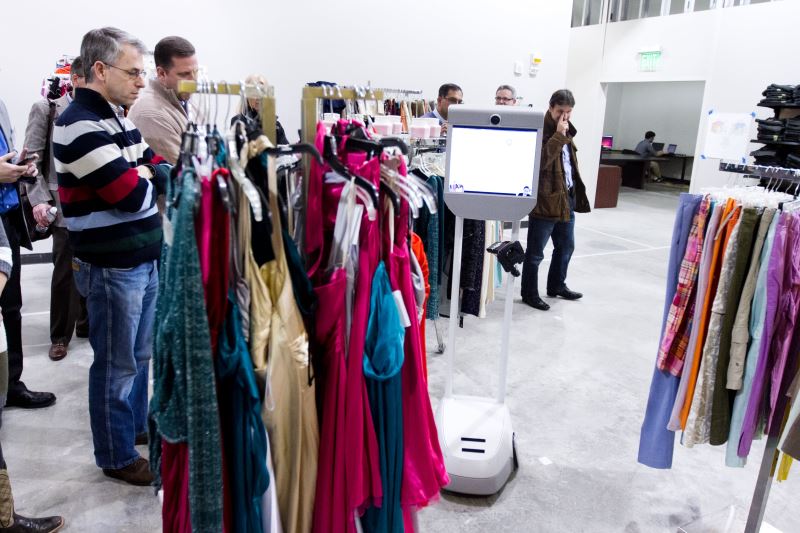 Once stuff got out on the sales floor, though, it was another matter. Estimates I heard at the NRF convention put inventory accuracy for apparel retailers in the 60 percent to 80 percent range. With RFID tags on every piece of clothing, said Covey, that goes above 99 percent. It now costs 5 to 15 cents to attach an RFID tag to a product label, depending on where or how you do it (they're usually but not always attached to labels that customers remove after purchase, reducing the odds of burglars scanning closets). Just knowing exactly where all your inventory is without sending your employees around to scan every bar code may be enough to make that investment pay.
Knowing exactly where all your inventory is all the time leads to other possibilities, too – the most obvious being that you can encourage customers to order items online and pick them up in the store with confidence that they'll actually be available. Another RFID application: letting your customers know while they're in the fitting room whether other sizes or matching items are available, and allowing them to ping a salesperson to bring the things to them.
The magic mirror that enables this, the product of a startup called Oak Labs, has been in existence for a few years and has been tried out at Ralph Lauren stores. "We think it's a foregone conclusion that RFID will be the centerpiece of retail going forward," said Oak co-founder and Chief Business Officer Michael Franklin as he showed me the mirror at the NRF convention (here's a photo of Franklin and the mirror at last year's Big Show). For one thing, it lets physical retailers do more of the software-driven personalization that has helped drive the success of online retail.
Franklin and several colleagues at Oak came from the retail innovation lab at eBay Inc. But the online retailer that the bricks-and-mortar people are most obsessed with is, of course, Amazon.com Inc. Amazon doesn't participate in NRF events, but it frequently comes up in conversation. Every person I asked at the NRF convention, for example, had seen the video released last month touting the soon-to-open Amazon Go grocery store, where – just like in the IBM ad of a decade ago – customers can pick up items and walk out without stopping at checkout. Initial speculation had it that this might be RFID-driven, but Amazon said no, it was a mix of "computer vision, deep learning algorithms and sensor fusion." Yeah, you try doing that, Kroger Co.!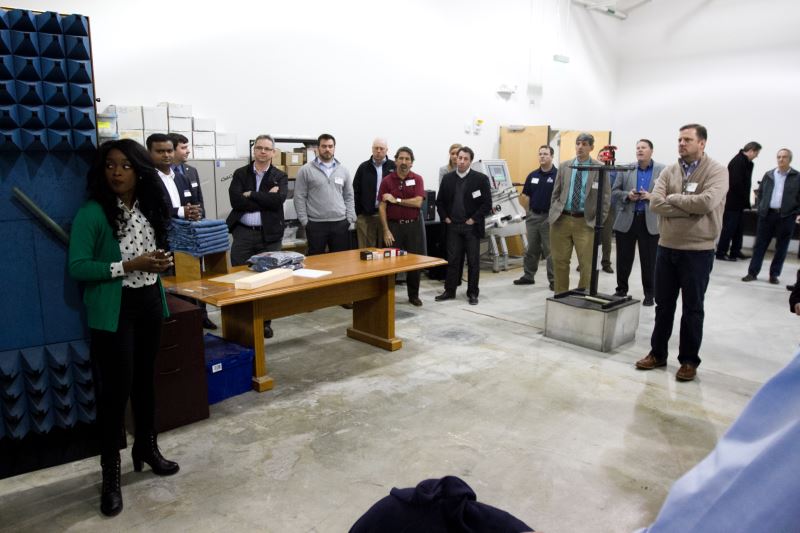 At 5 to 15 cents, RFID tags are still too expensive to use on a $1 can of soup. But Digimarc Corp., which for years has been producing digital watermarks for currency and IDs, had a possible alternative on display at NRF for retailers that don't have Amazon's research and development budget: invisible-to-the-naked-eye bar codes that are reproduced over every inch of a product package by tweaking the package art. Supermarket chain Wegmans Food Markets Inc. is rolling this out on its private-label products. The labels can't be read through boxes and walls like RFID tags can, but they do scan much faster at checkout, and a scanner-equipped robot can take inventory just by rolling down the aisle.
The overall message here is that retailing seems to be on the cusp of some big changes, as brick-and-mortar stores become capable of emulating more and more of the capabilities of online – with the advantage that you don't have to wait around for the package to arrive. Will that be enough to save them from Amazon's onslaught? Some of them, sure.
(This column does not necessarily reflect the opinion of the editorial board or Bloomberg LP and its owners. Justin Fox is a Bloomberg View columnist. He was the editorial director of Harvard Business Review and wrote for Time, Fortune and American Banker. He is the author of "The Myth of the Rational Market." Contact him at [email protected].)