Click here to view or print the entire annual report compliments of the ACRE Corporate Cabinet.
The Birmingham housing market experienced growth for the sixth consecutive year during 2016.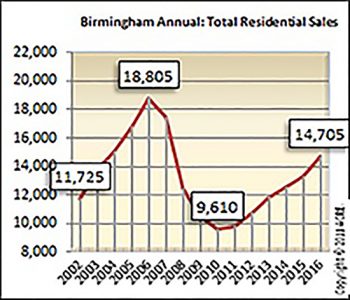 The 14,705 homes sold in the Birmingham metro area was 11 percent higher than 2015 (13,294). This growth was 53 percent above the 2010 trough of 9,610 units.
While home sales rose in the region during 2016, inventory continued its slide, as it has in most cities nationwide. Inventory has risen to one of the top issues in housing to watch in 2017.
There were 6,852 homes listed for sale on average in 2016, down from 7,032 in 2015 and 46 percent below the 2007 peak of 12,729 units. While lower inventory comes with its issues, Birmingham proved to be a much more balanced market in 2016 than the previous year, with 5.7 months of housing supply on the market throughout the year.
That was down 12.5 percent from 2015 (the market is considered to be in balance at approximately 6 months). The peak in months of supply occurred in 2010 at 14 months.
With lower inventory and rising demand, prices saw an uptick in Birmingham. The median sales price for the area was $183,396 during 2016, up 4 percent from $175,658 during 2015. This establishes a new peak for home prices in Birmingham. The previous trough was during 2002 at $136,444.
On average, homes spent 72 days on the market in Birmingham during 2016. That is a 4.6 percent dip from 2015 (76) and 34 percent below the 2007 peak of 110 days.
Click here to see a snapshot of the Birmingham housing market. 
The Birmingham Residential Annual Report is developed in conjunction with the Greater Alabama MLS and the Birmingham Association of Realtors to better serve Birmingham metro area consumers.