Flannel and Floral, Brewton
The Makers: Shannon and Megan Brantley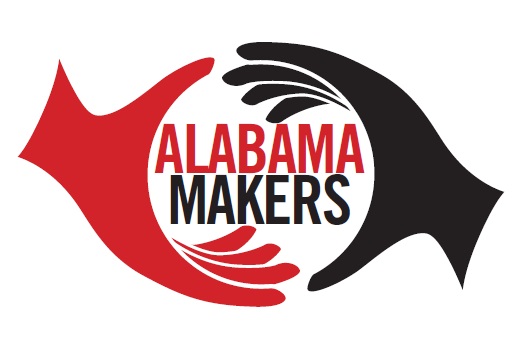 A devastating loss inspired Shannon and Megan Brantley to create things of lasting beauty.
"When Megan was pregnant with our first child, she suffered a miscarriage," Shannon remembered. "We were both so depressed that a friend of ours offered his home on Lake Martin for a quiet weekend."
After taking him up on the offer, the Brewton couple decided to drive to Atlanta.
"We were on a back road when we passed this woodworking shop," Shannon said. "Inside, this guy was carving spoons by hand. Megan turned to me and said, 'I could do that.'"
Flannel and Floral is an Alabama Maker revealing the wonders of wood from Alabama NewsCenter on Vimeo.
An art teacher who has been drawing and painting since she was a child, Megan soon added wood carving to her artistic talents, creating delicate wooden spoons for exhibiting on walls or using in the kitchen. At first, the couple gave the crafts to relatives as Christmas gifts.
"Then my sister-in-law in New York said that if I could send her as many spoons as possible, she could sell them all," Shannon said. "We thought, 'well we can do that ourselves.'"
So Shannon, a former construction worker, built a studio and started gathering woodworking tools while Megan took photos of their products and designed a website. While the work helped, Megan couldn't shake her depression.
"So we started a business called Flannel and Floral, and decided to sign up for the 2015 Southern Makers show in Montgomery," Shannon said. "We later found out we had applied about a month too late, but got in anyway."
As a crowd gathered around their show booth in Montgomery, praising and paying for their handcarved items — Megan started to smile. "That was the best we had felt in a long time," she remembered. "That Southern Makers really changed our lives."
Back home in Brewton, Megan spent her days teaching at a local elementary school, and her nights learning to use the woodworking tools (some made before the Civil War) that Shannon had collected.
"I've always loved drawing, painting and photography — and woodworking is much the same. You have to pay attention to detail," she said. "I draw a design for a spoon and then start carving."
While Shannon creates the larger items such as lamps and kitchenware, his wife is still queen of the spoons. "And don't let the fact that she's female fool you, she's a whiz on a lathe," he said. "Sometimes I may make a suggestion or two, but I never tell her what to do — I've been married long enough to know that."
Using mainly locally sourced woods, the couple turns out delicate pickle forks and cocktail spoons, sturdy serving utensils, smoothly sanded bowls, glittering quartz jewelry and quirky desk lamps.
"We don't use any stains or preservatives," Shannon said. "Just oils for color. They let the beauty of the wood shine through."
After making their second appearance at the Southern Makers show in 2016, the couple is planning a third trip to the annual event to be held in Birmingham this year. "This time there will be three of us," Shannon says. "Megan is expecting in May."
The Product: Handmade spoons and scoops, kitchenware such as bowls and cake stands, desk lamps and jewelry.
Take Home: A handcarved mahogany cocktail spoon ($60).
www.flannelandfloral.com 251-363-1999