Grean Pea Press, Huntsville
The Maker: Rachel Lackey
Like many art majors, Rachel Lackey left college with the talents — but not the tools.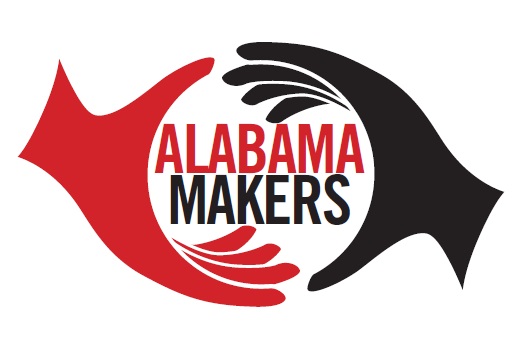 "I'm a Huntsville native with a degree in studio art from the University of Alabama in Huntsville," Lackey said. "I graduated in December 2008 at the depth of the recession, so there weren't many positions open for an artist. Luckily, I had a job teaching at a Montessori school. I had also gotten involved with Lowe Mill four years earlier, and when I found out they were developing the first floor for studios in 2010, I submitted a proposal."
Built as a cotton textile mill in 1900, the massive factory complex on the southwestern edge of downtown Huntsville was purchased in 2001 by local businessman and developer Jim Hudson, whose company turned it into the Lowe Mill ARTS & Entertainment Center.
Today, as the largest privately owned arts facility in the country, Lowe Mill offers 200 artists more than 140 studios and six galleries to create and exhibit their works.
Green Pea Press is an Alabama Maker with fresh creations and Southern roots from Alabama NewsCenter on Vimeo.
"I sent Mr. Hudson a proposal for opening a community print shop, which he approved," Lackey said. "Then, Everett Cox, the sculptor, told me about an etching press he had built at Lowe Mill, and offered me its use."
At first, as a single, working mother, Lackey thought she might be taking on too much by adding an artistic career.
"But I did some research, talked to other artists and art students around town, and found there was a real need for a place they could use for printmaking," she said. "Their stories sounded very familiar, because once you're out of school you have the knowledge — but buying a press is very expensive, so you don't always have access to the right tools."
So Lackey opened Green Pea Press.
"I chose the name Green Pea Press from suggestions given by our first members because I felt it conveys the spirit of what we do — fresh, and always growing," she said. "The 'peas in a pod' imagery signifies the community aspect, and we are a 'green' print shop, using as many nontoxic methods and chemicals as possible."
Today, Lackey and her partner, Martin Blanco, offer screen-printed T-shirts, tote bags and aprons, as well as letterpress stationery, holiday cards and posters — many of which they sell at their "Pea Pod" shop in Lowe Mill.
Green Pea recently sprouted an additional studio just down the street on Governors Drive Southwest. It now employs seven part-time artists, and has just started a student internship program with Lackey's alma mater.
In keeping with her wish to help other artists (and help create new ones), Green Pea also offers monthly workshops in screen printing and letterpress, and through the studio's "Live Event Printing" program, "a business or community group can hire us to come out," Lackey said. "We bring the presses to their location and print T-shirts or other items right on site. That way, the public can see how screen printing is done and get involved in the process. I love watching the look on someone's face when they make their first print."
The Product: Screen-printed T-shirts, tote bags, tank tops and aprons, as well as letterpress stationery and holiday cards.
Take Home:  An "Alabama Home" T-shirt (with a shape of the state as the "O" in home) available at the Pea Pod Shop or online at the Press' website ($20).
Green Pea Press at the Lowe Mill ARTS and Entertainment Center,
2211 Seminole Drive, Huntsville AL 35805
www.greenpeapress.com 256/679-7288