Spring, glorious spring, is here – the perfect time to visit Noccalula Falls Park and Campground.
With towering rock formations that remind one of the Smoky Mountains, the majestic 90-foot Noccalula Falls is nothing short of breathtaking. A fine mist from the falls sprays against your cheek as you peer down to the immense cave and water basin that winds through the ravine.
Spring rains have filled Black Creek, restoring the waterfall to its full glory. Last summer, the falls were depleted because of the severe drought – a virtual trickle in comparison to this year. From several feet away, one can hear the thunder of water spilling into the basin.
The falls come roaring back for spring at Noccalula Falls Park from Alabama NewsCenter on Vimeo.
This year's rains have watered the park's bountiful botanical gardens, coaxing dogwoods, daffodils, hydrangea and other plants and trees into full bloom. The park is the perfect setting in which to enjoy spring break, a delightful daytrip or a relaxing getaway.
"Lots of people come for spring break, and school groups start coming out in April," said Christina Richardson, supervisor to about 50 full- and part-time employees at Noccalula Falls Park and Campground. "Our entire staff works very hard to keep the grounds looking beautiful and making sure equipment is in good working order."
It's easy to understand why Richardson, who takes immense pride in the gardens she has lovingly tended, finds joy in her daily surroundings.
"It's new every day," said Richardson, who earned a degree in horticulture from Auburn University and has worked for four years at Noccalula Falls Park. "I get to be out in nature, and I work with great people."
With about 12,000 people visiting the park monthly in the spring, Richardson and other employees are gearing up to make this season pleasant for their many visitors.
Family fun
The 270-acre site in Gadsden offers something for all ages. Home to immense rock gardens and the "Fat Man's Squeeze" formation, the park contains many multiuse trails. Black Creek Trail is for strolling, while the Gorge Trail calls serious hikers.
"You can go all the way under the falls by way of the Gorge Trail inside the park," Richardson said. "The water in the basin of the falls is very deep. We've had divers go down to see how deep it is, and they couldn't reach the bottom."
Kids can try their hand at mini golf and ride the Noccalula train to their hearts' content. The replica 1863 C.P. Huntington train traverses the park. Children will enjoy the animal habitat and petting zoo, which feature ponies, sheep, goats, deer, rams, exotic birds, baby alligators, turtles, snakes, a raccoon, foxes, a lynx, a donkey, a lemur and a llama. Kids will be thrilled to see Sheila the lion.
There's lots of history to explore at the park, which is listed on the Alabama Register of Landmarks and Heritage. History buffs will marvel at Civil War carvings and the pioneer homestead, which provides a bird's-eye view of the ways of life of early mountain settlers. The cabins were moved from their original sites in Lawrenceburg, Tennessee, where they were built by pioneers. Gadsden Parks and Recreation Department employees reassembled the buildings.
"The log cabins are more than 200 years old," Richardson said.
Nearby, visitors can take in scenic views of the Gilliland-Reese covered bridge, built in 1899, and a water fountain.
"You may catch a sight of one of our black squirrels, unique to this area," she said.
At the park entrance on Noccalula Road, get an up-close view of an Army tank and the Etowah County Veterans Memorial at Ola Lee Mize Patriots Park.
The huge campsite provides areas for tent camping, as well as full hookups for cable, Wi-Fi, power and water. Cabin rentals are available year-round.
Noccalula Falls Park has a large chapel and hosts weddings throughout the year.
The 'Legend of Noccalula'
Visitors often ask about the meaning of Noccalula, Richardson said. Gadsden's Mathilde Bilbro wrote "The Legend of Noccalula," published in 1895.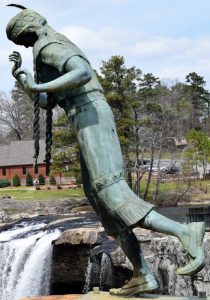 Legend has it that a powerful Cherokee chief wanted his young daughter, Noccalula, united in marriage to a rich chief from a mighty neighboring tribe.
But Noccalula loved a young warrior from her own tribe – someone renowned for skill and valor, though he lacked worldly goods. Nevertheless, Noccalula's wedding day was set with the neighboring chief, with the lovely young girl arrayed in finery. Overcome with grief, she slipped away and leapt to her death at the waterfall's gorge.
Her heartbroken father gave the waterfall his daughter's name, which ever since has been called Noccalula.
In 1969, a statue of Noccalula was installed at the head of the falls, with a plaque that says: "The Indian sign language which is prominently inscribed on the rocks in the Noccalula Falls area confirms that Princess Noccalula did jump to her death at a point near the location of the monument now erected honoring the Indians who once inhabited this area."
Smoke on the Falls festivities
There will be barbecue aplenty at the campground on the weekend of April 7-8, when cooks will come from far and wide to compete in Noccalula Park's Smoke on the Falls.
The fun starts at 5 p.m. April 7, when spectators can meet pit masters and team members for the Dean's Sausage Cook-off. Cooks will create dishes with Dean's Sausage. Some competitors will offer free samples after the entries are submitted. The Kansas City Barbeque Society certified barbecue contest will pit 48 teams in the professional and backyard divisions, in which cooks will vie for nearly $15,000. Visitors can watch as teams face off in competitions for chicken, beef and pork.
At 8 a.m. April 8, runners will scorch the paths through Noccalula Falls Park and Black Creek Trail during the Smoke Your Buns 5K Trail Run. Register here.
Festival admission is $5 for ages 4 and older, and free for children 3 and younger.
Hop on over to Easter egg hunt, sunrise service
The Noccalula Park community Easter egg hunt is always a popular event.
"We'll probably have about 1,000 children attend," Richardson said. The event will be at the park on Thursday, April 15, at 10 a.m.
On Easter, April 16, Pastor Bruce Word of Freedom Church in Gadsden will lead a sunrise service at the park chapel from 6:30 a.m. to 7:30 a.m. Word said the event will kick off weekly church services at the park for visitors at the Noccalula campsite.
"Noccalula Falls Park is a special place to be," Richardson said. "If you've never visited, come out and see the sights. I guarantee you'll never forget the beauty of this place."
---
Plan your visit
Go:  Plug in 1500 Noccalula Road, Gadsden, Alabama 35094 to your GPS.
Admission: Tickets are sold until 5 p.m. at the park gift shop. Admission is $6 for adults, $4 for visitors 55 and older, $4 for children 4 to 12, and free for those younger than 4.
Hours: The park is open from 9 a.m. to 7 p.m., and the playground from 8 a.m. to 10 p.m. The park closes Jan. 1 and reopens March 1.
Phone: 256-549-4663
Check the website for more events: www.NoccalulaFallsPark.com