Click here to view or print the entire monthly report compliments of the ACRE Corporate Cabinet.
Sales: According to the Lee County Association of Realtors Multiple Listing Service, Lee County area residential sales totaled 114 units during February, a decrease of 4 percent or nine units from the same month in 2016, when sales totaled 119 units. Two more resources to review: Quarterly Report and Annual Report.
Click here for all of the Alabama Center for Real Estate's Lee County residential data.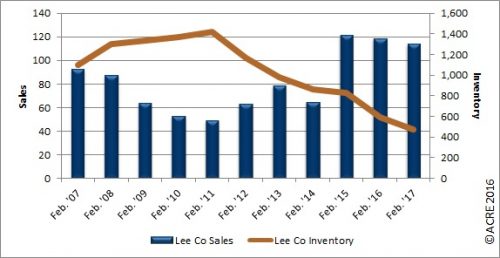 Forecast: February sales were seven units or 6 percent above ACRE's monthly forecast. ACRE's 2017 sales forecast through February projected 197 closed transactions, while the actual sales were 218 units.
Supply: The Lee County housing inventory in February was 474 units, a decrease of 20 percent from February 2016 and a 66 percent decrease from the February inventory peak in 2011 (1,417 units). February inventory in Lee County increased 24 percent from January. This direction is consistent with historical data indicating that February inventory on average (2012-16) increases from January by 15.4 percent.
The inventory-to-sales ratio in February was 4.2 months of housing supply. Restated, at the February sales pace, it would take 4.2 months to absorb the current inventory for sale. The market equilibrium (balance between supply and demand) is considered to be approximately 6 months during February. Lee County was one of Alabama's most balanced markets in February, especially compared to February 2011's 28.9 months of supply.
Demand: February residential sales increased 9.6 percent from January. This direction is consistent with seasonal buying patterns and historical data indicating that February sales on average (2012-16) increase by 7.4 percent from January.
Pricing: The Lee County median sales price during February was $195,000, up 8 percent from February 2016. The February median sales price was down 13 percent compared to the January median sales price. Historical data (2012-16) indicate that the February median sales price on average decreases from the January price by 6 percent. Pricing can fluctuate from month to month as the sample size of data (closed transactions) is subject to seasonal buying patterns. ACRE recommends contacting a local real estate professional to discuss the latest pricing trends.
Industry perspective: "We expect the housing expansion to continue, albeit at a more moderate pace than last year given continued pressure on affordability," said Fannie Mae Chief Economist Doug Duncan. "Depressed inventory, particularly in the more affordable segments, will likely constrain sales and push home price gains that outpace income growth. A faster pace of monetary tightening, unless accompanied by a stronger increase in household income, also poses downside risk to housing."
Click here to generate more graphs from the Lee County February Housing Report, including Total Sales, Average Sales Price, Days on the Market, Total Inventory and Months of Supply. 
The Lee County Residential Monthly Report is developed in conjunction with the Lee County Association of Realtors to better serve Opelika/Auburn consumers.