Miller's Pottery, Brent
The Maker: Steve Miller
Not many families have their own entry in the Encyclopedia of Alabama –  but the history of Steve Miller's folks take up a couple of pages. That's because they've been making some of the South's best pottery for more than 150 years.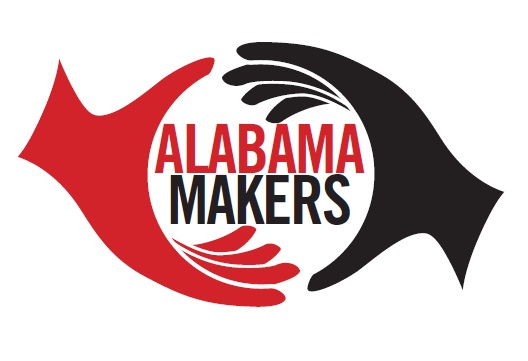 The sixth generation of Millers to work with clay, Steve grew up watching his father and grandfather turn pottery wheels and tell family stories.
"Francis Lacoste, my great-great-great-grandfather, came from France to the eastern shore of Mobile Bay in the 1830s and started making pottery," Miller said. "Before plastic came along, folks relied on stoneware pots, cookware and other items, so every community had its own potter."
Lacoste's daughter married Abraham Miller, and he took the family north to Perry County in the 1880s. There they crafted pottery for another 80 years, until Steve's grandfather, Hendon Miller, moved the business to its current location just south of Brent in the 1960s.
"A natural gas line had just been installed along Highway 5, and my grandfather used the gas to heat the kilns," Miller said. "That was a lot easier than the old way of doing it by burning pine knots."
Miller's Pottery is an Alabama Maker with deep roots in Alabama clay from Alabama NewsCenter on Vimeo.
Although other modern innovations – including propane heated kilns and electric pottery wheels (replacing the original foot-powered ones) have come along – Steve and his father, Eric Miller, still produce elegant and utilitarian glazed items in much the same way as their predecessors.
"It's very hard work, getting the clay, putting it on a wheel and making a piece," Steve said. "And you have to keep up with demand. Most of my grandfather's business was making flower pots for individuals and nurseries. The introduction of cheap plastic pots killed that demand – so my father and I went back to our roots by making things like candle dishes, pitchers, face jugs and collectible pieces. We're trying to bring Miller's Pottery back to a full-time business."
The Millers sell their products on Steve's Facebook page, in their studio (still on Highway 5), and at craft fairs such as Kentuck. They've exhibited their works at galleries around the state, and at the Smithsonian's American Folk Festival in Washington, D.C., and the Alabama Clay Conference in Birmingham.
Steve isn't the only family member to learn his craft from Hendon and Eric. His cousin, Allen Ham, trained in the shop while growing up and now creates and sells his own unique pottery in Marion.
"Allen is a master potter. I learned a lot from watching him," Steve said.
And another Miller potter may be in the making.
"My wife and I had a baby, Hendon River, a few months ago," Steve said. "I hope he'll be the seventh generation. But that's up to him, because this is a lifelong thing – I've been making pottery most of my life, and I'm still learning."
The Product: Glazed pottery, including candle dishes, drinking glasses, shot glasses, face jugs, flower pots and cookware, such as bowls and platters. The cookware is microwave, oven and dishwasher safe.
Take Home: A one-of-a-kind face jug (from $50 to $200).
Miller's Pottery, 2324 Highway 5, Brent AL 35034