A business incubator's ultimate goal is to help young startups grow so strong that they are able to graduate and leave the nest.
By that measure, Birmingham's Innovation Depot had its best year ever in 2016 with a record 17 graduates.
Another good measure of how those companies are doing is their ability to hire workers. There again, Innovation Depot companies set a new high with 870 jobs.
Innovation Depot sets records in 2016 in Birmingham from Alabama NewsCenter on Vimeo.
While all of the other measures weren't exactly records, the $126 million in gross sales and $19.9 million in funding among 102 companies were still among the top years for Innovation Depot.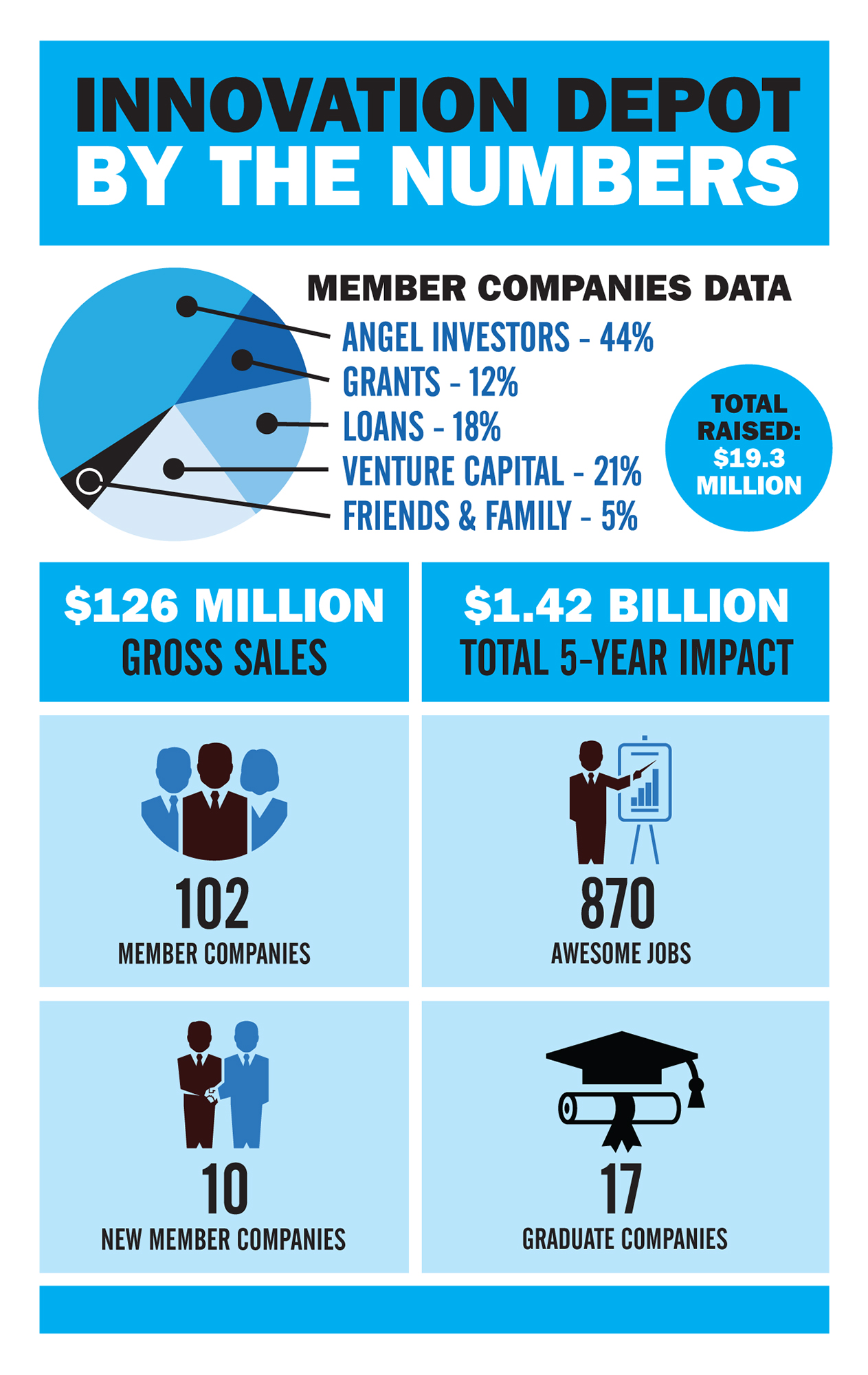 The figure that consistently trends upward is the five-year economic impact total, climbing from $1.38 billion in 2015 to $1.42 billion in 2016.
"When you combine these companies and you think about 870 jobs in one building, $1.42 billion in economic impact, over $19 million in capital raised, that's significant," Innovation Depot CEO Devon Laney said. "That's a Fortune 500-level organization. To have that kind of impact all driven by early-stage, startup companies, entrepreneurs in the technology space, I think is a real positive for our community."
Another positive sign, Laney said, is that graduates of Innovation Depot want to set up business in Birmingham – most of them in downtown.
"The great thing, too, is that so many of these companies now are wanting to stay close," he said. "They're wanting to stay in the area around Innovation Depot, which we've always known was the case, but to see it now begin to actually happen and to build that critical mass – you're really seeing the development now of a true technology district around Innovation Depot, which is part of the broader Innovate Birmingham initiative that we've been working on over the last number of months."
Innovation Depot also continued to expand beyond incubation – taking a greater role in worker training and development.
Its Depot U concept of a boot camp for coding and IT skills not only spawned a new company, Covalence, but was a key component in Birmingham being awarded a $6 million Department of Labor grant. Birmingham Regional Workforce Partnership is using those millions to train young adults for 925 high-paying technology-focused jobs.
"We really continued the evolution of our organization," Laney said. "Business incubation is always the cornerstone of what we do, but we continue to evolve and be a real catalyst in the community for entrepreneurial development, technology-based economic development."
Innovation Depot also launched the Velocity Accelerator program in 2016. More than 100 applicants from across the country and around the world applied for the 10–member inaugural class. The class was announced in December and started the 12-week program in January. It concludes with Demo Day at Iron City today.