Jason Dufner was up by five strokes after two rounds, then down by five after three, but the former Auburn golfer charged back Sunday to win the Memorial Tournament at Muirfield Village in Ohio.
It was Dufner's fifth PGA Tour victory and first since January 2016.
He shot a final round 68 and sank a 30-foot birdie on the final hole to seal the win. A fist pump and a rare smile followed.
The victory was worth $1.56 million.
Rickie Fowler and Anirban Lahiri tied for second, followed by former University of Alabama golfer Justin Thomas, Matt Kucher and third-round leader Daniel Summerhays.
The Muirfield course was designed by Jack Nicklaus, and it is traditional for the Memorial champion to visit with the Golden Bear and share a few words.
''You did some great things out there, Jason," Nicklaus said. "You deserved it."
"Thank you Mr. Nicklaus," Dufner replied.
Later in the interview room, the champion told the media, "I'm pumped to be in the winner's circle again."
After shooting 77 on Saturday, Dufner had to shoot a low round Sunday to even have a chance to win. After two rain delays, the golf course was no pushover.
"Obviously, Saturday wasn't my best day," Dufner said. "I was pretty disappointed, especially with how well I had played the first two days. I thought I was in control. But I had to get over it quick."
Sunday, he played the front nine in even par, then hit every green until the critical 18th hole when his drive landed in the rough near a tree and a bunker. He didn't get rattled, though, knocking the ball out but maybe a bit too far as it nestled in the wet rough.
From there, his caddie handed him a wedge and Dufner hit it on the green and made the 30-foot putt. A cry of "War Eagle" went up from the gallery.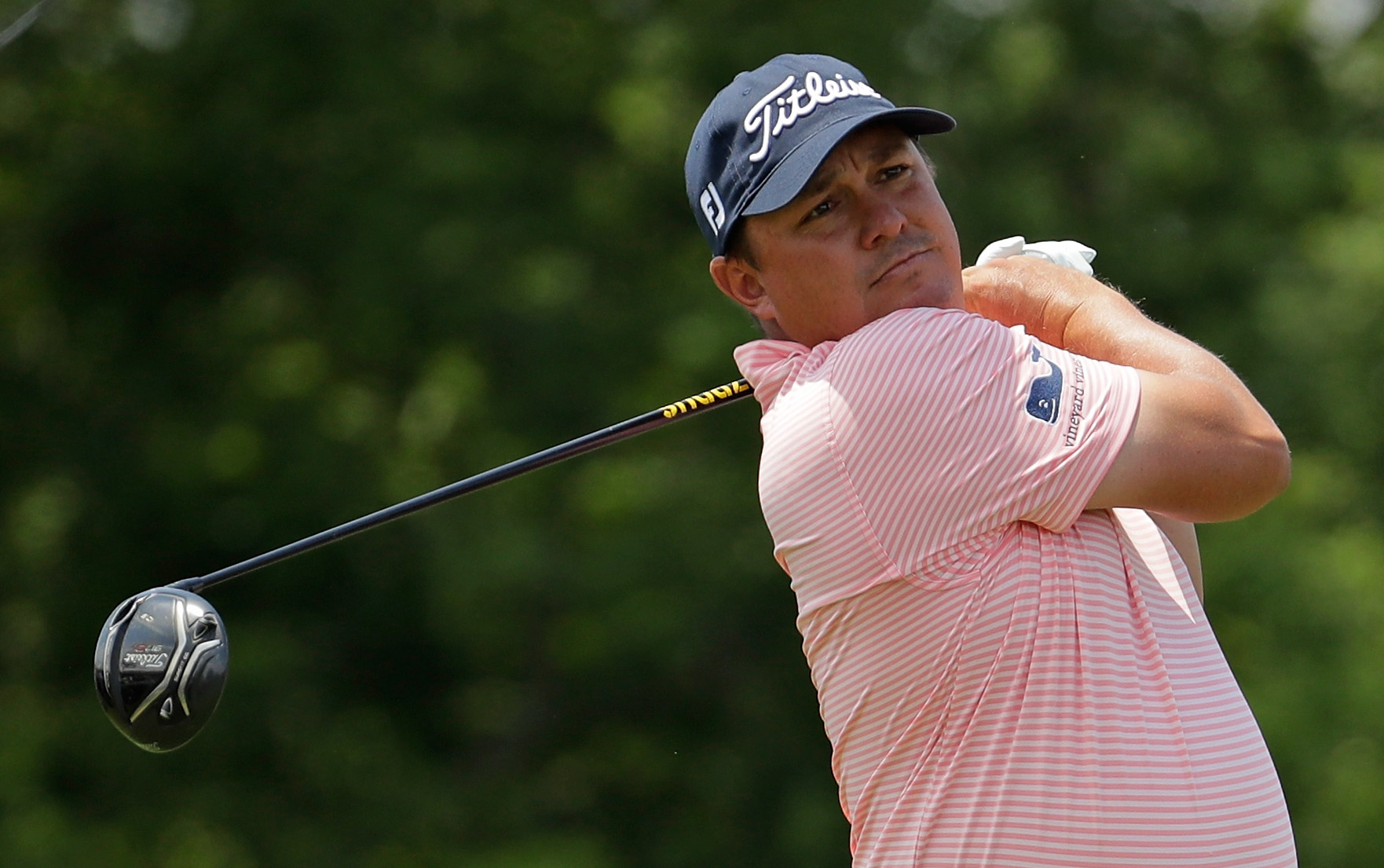 "It's a 72-hole golf tournament," Dufner said. "A lot of things can happen out there and I knew I was still in the mix. I just had to get myself together."
Dufner grew up in Ohio but his family moved to Washington, D.C., and then Ft. Lauderdale, Florida. That led to college at Auburn, where he won a spot on the golf team as a walk-on and was an honorable mention All-American.
With a degree in economics in 2000, he set out to play more golf – this time as a professional.
He won twice on the Nationwide Tour from 2001-2005, made it to the PGA Tour in 2009 and in 2013 posted his first and only major win in the PGA Championship at Oak Hill Country Club in Rochester, N.Y.
Dufner was diagnosed with two bulging discs in his neck in 2014 and sidelined for a few months.
But after Sunday, after the largest paycheck of his career, he was back.
"It will be very special for me," he said, "to look back and know that I'm part of an event that Mr. Nicklaus put out here on the PGA Tour."