That's not a crown crown on the Roots & Revelry logo. It's a pineapple crown. The pineapple is a traditional symbol of hospitality, says Brandon Cain, the restaurant's owner and executive chef. It also represents Cain's Hawaiian and Filipino roots on his late mother's side of the family.
And so we quickly get to the heart of the matter at this new restaurant in downtown Birmingham:  It's personal.
Cain spent years planning this place. He's classically trained with all kinds of real-world experience. He began his career in New Orleans working at Emeril Lagasse's NOLA Restaurant as well as Dickie Brennan's Steakhouse and Mr. B's Bistro, learning the restaurant trade from the bottom up and the inside out. He came back to Birmingham to study at Culinard. He worked for several years as chef de cuisine at Ocean alongside his mentor, George Reis. He joined Mike Wilson to open SAW's Soul Kitchen in Avondale, and then they partnered with John Hall to establish Post Office Pies right next door.
Roots & Revelry adds a personal culinary approach to downtown Birmingham from Alabama NewsCenter on Vimeo.
During all that time, Cain kept notes about what he would and wouldn't do when he got his own place. For years, he set aside the recipes that really mean something to him. "I've been saving a lot of stuff for this restaurant, or the idea of this restaurant, for a long time," he says.
He's talking about recipes like his popular pork inihaw. This tangy-sweet Filipino dish features tenderloin marinated with ginger, garlic, lemongrass and a little soy and grilled with more garlic and ginger and Serrano peppers, then served with stir-fried rice, sweet-vinegary inihaw sauce and topped with a fried egg. Inihaw is something Cain remembers eating as a young child.
"It's very, very near and dear to my heart," he says. "This dish, every time I eat it, I think of my mother."
Practical as well as sentimental, Cain staffed his kitchen with top local talent: Scott Cohen, formerly of Bottega, is the chef de cuisine; Craig Olack, from Highlands Bar and Grill, is the sous chef; and Janet Lee, previously with We Have Doughnuts, is the pastry chef. They all work together to create comfort foods with clever and unusual twists. (Cain might very well be the only chef in town who mixes buttermilk with fish sauce. Both are key ingredients in his Filipino adobo version of fried chicken and rice.)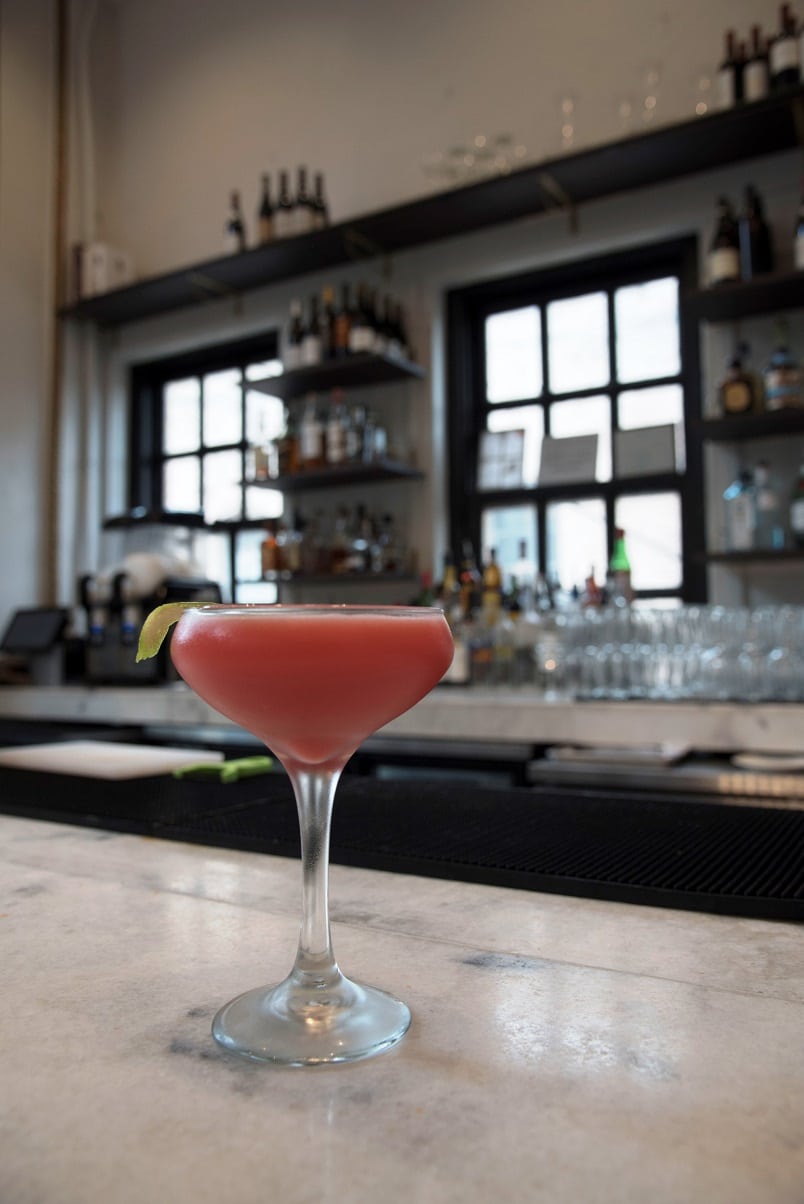 Diners talk about the restaurant's PB&J the same way they talk about SAW's wildly popular pork and greens. Cain's PB&J is an incredibly rich flavor bomb of crispy pork belly, creamy cashew butter and tart quince jam. It's served on freshly baked bread from nearby Birmingham Breadworks.
The R&R menu changes often and covers a lot of culinary territory. That's very much on purpose, Cain says. "It's American cuisine, but American cuisine's everything. There's no single thing that you can point to and say, 'That's American.'"
The menu, which Cain set at a sensible below-$30 price point, is playful in lots of ways. In the octopus dish, Cain strategically puts a bit of preserved lemon in three places on the plate. You won't taste it with every bite, but when you do you'll notice it immediately and go looking for it again.
"It's one of those little gotcha moments," Cain says. "I'm a playful soul, and I really like to translate that into the dishes."
Roots & Revelry is chic yet comfortable. "It's the 1920s meets the 2020s," Cain says. The preserved architectural details of this exquisitely restored space create an elegant, timeless backdrop for his beautifully plated, modern American dishes.
There's very little in the way of décor aside from a huge, energetic mural on one end of the long dining room. By local artist Claire Godbee, it tells a story of roots and revelry in four panels. A gleaming, handsome bar anchors the other end of the room, and the city glows at night through floor-to-ceiling windows in between. Admire the tables made of Alabama white marble salvaged from the building's renovation. Roots & Revelry also has an outside terrace (shady most of the day) with a cool view of the city to the east and a stunning (and dizzying) view straight up the side of the building.
The Thomas Jefferson building opened in 1929 as the Thomas Jefferson Hotel. (That structure on the rooftop was designed to dock Zeppelins.) Today, the 19-story Thomas Jefferson Tower houses 96 apartments. Roots & Revelry is on the second floor, and there's a parlor lounge and a lovely event space down the hall.
Asked to describe Roots & Revelry, Cain says simply, "It's a fun time with great food."
It is fun. They flavor McEwen & Sons popcorn with white truffle oil and sprinkle it with Grana Padano, and that's a great thing. "Bites" on the dinner menu are another of the great-tasting, fun things that set this restaurant apart. Bites (just a bite or two at most) change from day to day. These tastes let people try something they might not otherwise order, Cain says, but there's more to it than that.
"It's about sitting down and talking about a one- or two-bite item before even getting into your real meal," he says. "It brings conversation to the table, and it's very much meant to do that."
From a practical standpoint, Bites give servers a chance to get some food to the table quickly, especially after a wait for that table. (Diners are seated on a first-come, first-served basis. Reservations at Roots & Revelry are only accepted for parties of 15 or more.)
You might want a seat at the bar if you have to wait. The folks behind it clearly enjoy crafting cocktails like the Hall 75, R&R's take on a French 75. They work with homemade mixes like strawberry and tarragon syrup or orange- and chocolate mint-infused coconut cream or blackberry syrup made with fruit from Petals from the Past. Or you could find a comfy chair on the terrace where there's a cocktail cart set up. Wherever you sit, there's a certain energy here that goes far beyond the eclectic playlist. You'll feel it during your interaction with the staff – especially when they proudly present the dishes you've ordered, the dishes that they so eloquently and eagerly described to you a short time earlier.
"People have really responded to us in a big way. Bigger than anything we could have thought," Cain says. "I'm super humbled by it. I'm just one of many guys and girls in this town that fall in love with the city and have the opportunity to make it a better place. It's awesome to be a part of it."
Roots & Revelry

1623 Second Ave. N., Birmingham, AL 35203

Thomas Jefferson Tower – Second floor

Lunch: Tuesday-Friday, 11 a.m.-3 p.m.

Social Hour: Monday-Friday, 3 p.m.-6 p.m. (with a limited menu)

Dinner: Monday-Thursday, 5 p.m.-10 p.m.; Friday-Saturday, 5 p.m.-11 p.m.

Brunch: Saturday, 11 a.m.-2 p.m. and Sunday, 11 a.m.-3 p.m.