Hurricane season officially began June 1 and lasts through Nov. 30. But the peak months for most named storms are August, September and October.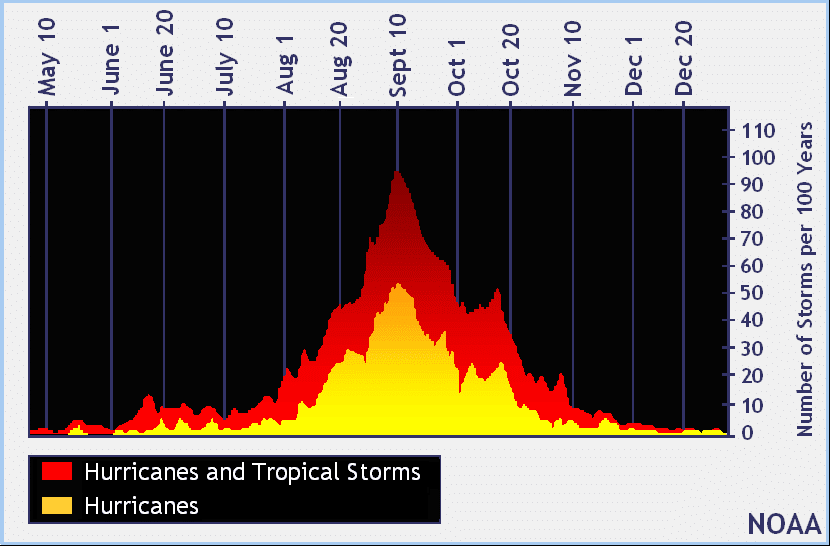 The National Oceanic and Atmospheric Administration has predicted a 70 percent chance of 11 to 17 named storms this hurricane season, five to nine hurricanes and two to four major hurricanes. That's above average.
Gulf of Mexico water temperatures are at record highs this summer, which could help provide fuel for more severe storms over the next three months.
A tropical storm has wind speeds of 39 mph or higher. The storm becomes a hurricane when winds reach 74 mph. A major hurricane, Category 3 or greater, packs winds of 111 mph or higher.
With the arrival of peak hurricane season, it is high time to be prepared and have a plan to stay safe.
Preparing for a hurricane:
Be in the know
— Learn the community hurricane evacuation routes.
— Determine where your family will meet.
— Make sure you have a way to contact your family.
— When a storm is predicted, keep cell phones and electronic devices charged.
Stow for the storm
— Stay informed. Keep a battery-operated weather radio.
— Have an emergency kit, including flashlights, batteries, a first-aid kit, cash and copies of your critical information.
— Have a three-day supply of water – a gallon per person, per day – and three days' supply of nonperishable food on hand.
Prepare your home
— If you are in coastal areas, cover windows and reinforce garage doors. Storm shutters are ideal, but you can also board up windows with plywood.
— Trim shrubs and trees close to your home to minimize damage to your home.
— Turn down the thermostat in your home. It can help keep your home cool for up to 48 hours.
— Bring in outdoor items, such as furniture, decorations, garbage cans, etc.
During a hurricane:
— Seek shelter in a sturdy building, away from windows and doors.
— Monitor your weather radio for updates and reports.
After a hurricane:
— Stay off flooded roads.
— If your power is out or you see a downed line, call Alabama Power's automated reporting system at 1-800-888-APCO (2726). Stay away from downed lines and keep pets away.
— Stay clear of damaged and fallen trees where a downed line may be hidden.
— Check for property damage. Take photos for insurance purposes.
— Check perishable foods and tap water for contamination.
You can find more information about storm safety at www.alabamapower.com, or visit the National Weather Service Hurricane Preparedness Week 2017 website.