Maddox Studios (Dothan)
The Makers: Jeannie Maddox
Jeannie Maddox loves to distort reality – and share her unique views of that world with other art lovers.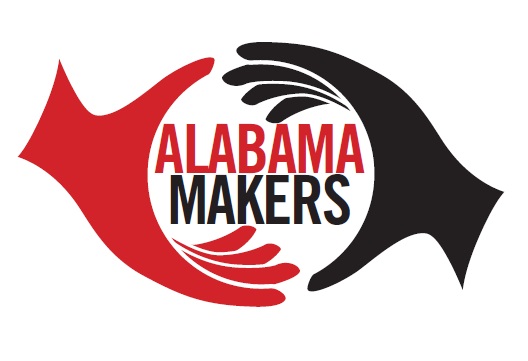 The Dothan artist first got the idea of turning photos into paintings after graduating from college in 1969, when she started using old sepia tone photographs as subject matter for her artworks.
"I was fascinated by these old images that had the subject in focus, but the background was distorted," she says. "So I created a series I entitled 'Old Photos.' After five years I decided I had done all I could with that – and I wanted to explore more youthful and colorful themes."
Now, working with her husband, Sam, who runs the business side of the studio and handcrafts the complicated frames needed to hold the huge canvases Jeannie uses for her larger-than-life works, the Dothan duo creates photorealistic pieces that are sold to businesses, galleries and individuals all over the world.
Jeannie Maddox is still making an artistic splash as an Alabama Maker from Alabama NewsCenter on Vimeo.
"We're both from Dothan, and dated in junior high until she dumped me in high school," Sam says. "But we stayed in touch, and I later convinced her to transfer from Samford University to where I was going to school – William Jewell College in Liberty, Missouri."
The couple married after college and returned to Dothan, where Sam went to work for Prudential Insurance while Jeannie taught art classes, continued to experiment with cameras and canvases, and started exhibiting her works at regional art shows.
A turning point in her artistic career came in 1976 when the couple bought a house with a swimming pool.
"I took a few photos of some of my art students in the pool," Jeannie remembers. "The photos inspired me to produce these large, almost three-dimensional oil paintings."
Sam learned how to build multilevel armatures out of birch plywood to achieve the 3-D effect – and the couple hit the art show circuit with the colorfully striking paintings.  Their hard work paid off when they attended the Disney Show of the Masters in Orlando, and Burdines of Florida bought Jeannie's entire display of paintings. The department store chain started displaying her 'Swimmer' series in their executive offices and store atriums, and by the 1980s Jeannie was one of the most recognizable artists in Florida.
The Dothan painter added another series of lifelike scenes to her repertoire during a visit to New York City, after the president of Macy's Department Stores commissioned one of her paintings. "I was standing on the sidewalk, looking at the store mannequins in the windows, and the glass distorted their figures just like the water had in my 'Swimmer' works," she says.
As usual, Jeannie had brought her camera along, and she started taking pictures of New Yorkers eating at sidewalk cafes, climbing into taxis and, of course, shots of stately, stone-faced mannequins staring from behind store windows. She returned home and created a new collection of paintings that came to be known as the "Urban Series."  "I was still doing the Swimmers, but I wanted to try something new – and the Urban Series offered that," she says. "Maybe I just got tired of so much blue."
Jeannie and Sam have been making art for nearly 45 years, and are as busy as ever, creating new works for commissions and shows.
"We're getting ready for a show in Westhampton, New York," Sam says. "It's going to be a mixture of business and pleasure – our son, Samuel, is getting a master's degree in architecture from Harvard so we'll be able to see him while we're there. He grew up in a house filled with art and went with us to many shows. I believe that gave him the ability to see things in a different way, and that's probably why he decided to be an architect."
But the couple aren't ready to settle down and sit by their now famous swimming pool any time soon. Jeannie recently noticed a neighbor's front door adorned with panes of leaded glass – and the idea for another series was born.
"I'm going to put my niece behind the door and study the way the leaded glass distorts the light on her. We're playing around with different outfits for her to wear," she says. "I always get excited when I start a new series because artists have to keep changing their subjects – you have to keep challenging yourself."
Although Jeannie's larger works can cost $16,000 or more, she also offers more affordable pieces by making "Giclee" prints (signed and numbered digital reproductions of the originals). "Sam and I want as many people as possible to have access to our works," she explains. "Because what good is your art if you can't share it with other people?"
The Product: Photorealistic oil paintings and Giclee prints of swimmers, seascapes and urban scenes.
Take Home: A Giclee print (9-by-15 inch) of an original "Sea Grove" oil painting, $85.
Maddox Studios, www.jeanniemaddox.com