Shots from cannon and muskets again echoed over Mobile Bay on Aug. 5. But 153 years to the day that Admiral David Farragut led his Union ships to victory in the Battle of Mobile Bay, those sounds were accompanied by the cheers of spectators rather than the cries of dying and wounded men.
Fort Morgan State Historic Site marked the occasion with living history demonstrations that included firing artillery pieces, infantry drills and a period medical display. The idea was to give visitors a better understanding of not only how the men who lived there fought but how they lived their everyday lives.
"I enjoy trying to educate people about how things were and about how people lived," said John Gurner, a former member of the Fort Morgan staff who dressed as an artillery sergeant for the re-enactment. "It's different when people can come up and see how things were and what things looked like and they can touch the uniform and see how it felt."
Fort Morgan roars back to life with re-enactment commemorating the Battle of Mobile Bay from Alabama NewsCenter on Vimeo.
Historian Mike Bailey, who dressed as a member of a gun crew for the fort's functioning 32-pounder cannon, said the living history commemorative event takes on a special significance when it is on the same day the battle occurred. It is intended to honor the men who fought on both sides of the pivotal Civil War battle.
"It's to remember the significance of this battle," Bailey said. "We're trying to remember the events that made this a National Historic Landmark."
In August 1864, Mobile was the last Confederate port still open on the Gulf of Mexico, making it a critical link in the Confederate supply chain. To cut the port off from blockade runners, Farragut's fleet of 18 ships had to silence the guns of Fort Morgan and Fort Gaines, which guarded the entrance to Mobile Bay, and then defeat the Confederate Navy's most powerful ship, the ironclad CSS Tennessee.
Farragut sailed past the fort on the morning of Aug. 5, losing only one ship, the Monitor-class ironclad Tecumseh, and then pounded the Tennessee into submission. His ships landed troops that then laid siege to Fort Morgan and captured it on Aug. 23. The victory was the first in a string of battlefield successes that helped ensure President Abraham Lincoln's re-election in 1864.
Dylan Tucker, a historian at the fort, said living history events give staff members an excellent way to engage the public. People want to know about the men who lived there.
"A lot of people can come to a place and it won't give them that feel of what it was like back then," Tucker said. "In a tour, we can immerse them and they understand what it was like for the men in this period."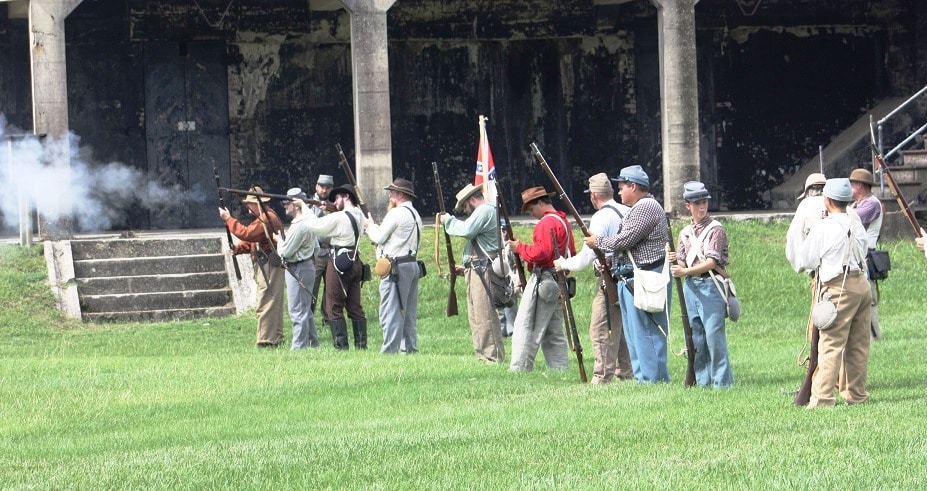 Tucker said it's particularly important to get young people interested. Fewer parents take their kids to historic sites because they believe it will be boring. And children are consumed by technology and electronics today.
But giving them a hands-on look at historic artifacts engages them.
"When I show them weaponry and shoot it off, they go crazy," Tucker said.
Karen Jones, of Port Richey, Florida, brought her grandchildren, Mykala, Trinity and Ethan, to the fort to see the living history demonstration. They arrived in time to see the crew fire the 32-pounder.
"I loved it," Mykala said.
"That was great," Jones said. "They'll be able to go back to school and say they saw a cannon fire."
Behind her, Mykala's sister, Trinity, climbed on an anchor outside the fort.
"This is so cool," Trinity said, smiling.
Jones' companion, Phil Abts, couldn't agree more. Originally from Birmingham, he first came to Fort Morgan years ago.
"I was coming here when I was their age," Abts said, pointing to Jones' grandchildren. "I always wanted to see a Civil War re-enactment. This was great. I loved it."
Richard and Nicole Hutchins, of Star, Mississippi, also came to see the living history demonstrations.
"Who wouldn't want to see a cannon go off," Nicole Hutchins said with a laugh. The couple brought their son, who is a military buff.
"He's in ROTC and he's so into this," she said.
Inside the fort, infantry soldier re-enactors marched and fired their muskets. Sentries stood guard and went through changing of the guard drills. In another corner of the fort, retired school teacher Bert Blackman, of Bay Minette, sat behind a table as he portrayed a Confederate surgeon.
"I used to re-enact as either infantry or cavalry," he said, pointing to the parade ground where the infantry was arrayed. "Frankly, I got old and decided I really didn't like running around and crawling on the ground."
To play the part of a surgeon, Blackman had to do extensive research and acquire period and reproduction medical equipment. Being a former history teacher he enjoys the research.
"I do like re-enacting and I do like teaching and this lets me do that in a more sedentary way," he said.
Living history events help visitors understand what happened there, Tucker said. And that helps people understand why the fort needs to be preserved.
"We are the voices of the soldiers we represent," said Tucker, who was dressed as a Confederate ordinance sergeant. "We represent them. The fort is the skeleton and the men are the flesh."