Excitement over the return of UAB football is at an all-time high as the Blazers announced today the program has surpassed its goal of 10,000 season ticket sales and hired Birmingham's Bruno Event Team to manage its home game-day events.
Mark Ingram, athletics director at UAB, said the football program has sold 10,134 season ticket packages as of this morning.
"We're going to have more people at our games than we've ever had before," he said. "That's been the hard work of a lot of people coming together and we don't intend to stop. We encourage the city of Birmingham to continue getting behind this team and supporting us."
Drawing those fans to Legion Field for the Sept. 2 opening game against Alabama A&M is a big step as UAB looks to resurrect its program.
"That's substantially more than UAB's ever sold in terms of season tickets," said Gene Hallman, CEO of the Bruno Event Team. "You have to put it in relative comparison to other schools in Conference USA – that would be near the top of season tickets sold for schools in Conference USA."
UAB football gets boost in ticket sales, game day experience for fans from Alabama NewsCenter on Vimeo.
With the hiring of the Bruno Event Team, Ingram said the aim first and foremost is to enhance the game-day experience for fans.
"Our partnership with Bruno Events in trying to make UAB game day the very best that it can be is all about our way of trying to say to our fans how much we appreciate you," he said.
Hallman said there will be many "product samplers" who will be trying out UAB football for the first time.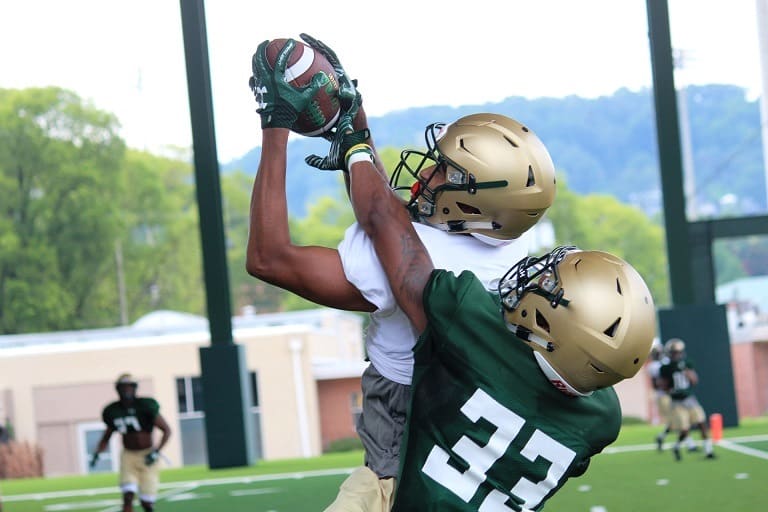 "We've got to be dead-solid perfect – and I mean perfect – on that first day because we have so many first-timers coming out to Legion Field to experience UAB football," Hallman said. "We want them to return for games two through six and subsequent seasons. We have got to get it right collectively on the first day."
To do that, the Bruno Event Team is working with the city of Birmingham, the Birmingham Police Department and the Jefferson County Sheriff's Office to monitor traffic issues from the air and then push out re-routing and other important game-day information through social media channels.
Hallman said there will be a dedicated BlazerGameday website, Twitter account, Facebook page and Instagram account to help get the word out.
Hallman said the Bruno Event Team hopes to sell out the parking spaces at Legion Field. For additional parking, UAB will have remote lots on campus with free luxury bus shuttles to take fans to the stadium.
Other game-day enhancements include:
New and improved concessions with third-party concessionaires;
A bigger Blazer Village with a kids zone inside;
Information booths staffed by the Bruno Event Team;
Student greeters in the parking lot and stadium;
Student tailgating area; and
Enhanced cellphone service on game days.
Hallman said fans can expect "a whole litany of other things, including a couple of big announcements that we're finalizing the details on relative to the game-day experience."
The Bruno Event Team will be beefing up its own staff.
"We're going to have, at the first game, no less than 12 full-time professional employees working on the game-day experience," Hallman said. "Because, let's face it, as a consumer, you have lots of options and opportunities to spend your money and time. It's our job to make that experience, when you come to a UAB football game, the best possible experience so that you'll come back."
The buzz of UAB's return has been growing and it's going to be a big national story as kickoff approaches.
Hallman said ESPN's Marty Smith has been at UAB this week interviewing coaches, players and others involved in bringing back the program.
"I think we've had every media outlet that there is that's been in here and want to cover the return," UAB coach Bill Clark said.
"The first game is so very important because of all of the hype on a national basis about the return of the program, there are going to be a lot of people coming out to Legion Field to watch UAB for the first time play football," Hallman said.
Birmingham Mayor William Bell sees all of that attention as an opportunity for the city.
"This is very important for the city economically," he said. "More importantly, it's beneficial to the image of the city. UAB and the city of Birmingham are synonymous with each other."
Bell said the return of UAB football will have an estimated $50 million economic impact on the metro area. He wants to see those who come to Birmingham for a UAB game stay in a hotel and dine in local restaurants.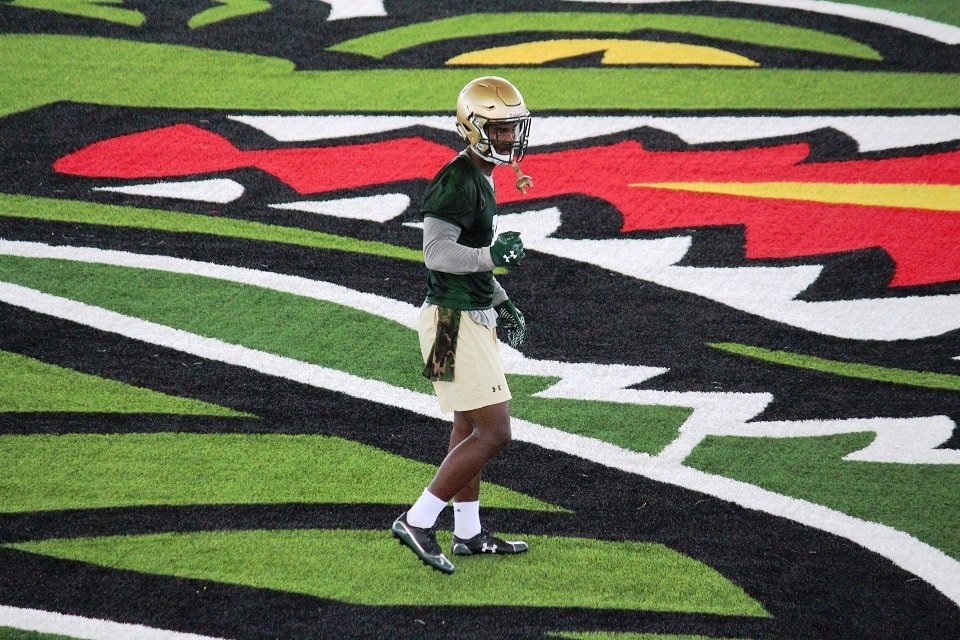 "When people come out for the football experience, they want the total package and we're working with Bruno Event Team to give them the total package," he said. "All of the restaurants and businesses, they're geared up. They're going to be green and gold and dragon country."
Hallman said so much has happened in Birmingham since UAB last had a football game. Connecting all that is going on in the city with game day will be important.
"I've lived here for 26 years and this community is on fire in a good way," he said. "The growth in so many areas – the resurgence downtown, the culinary scene, the sports scene – this game-day experience and the return of UAB football is a very important part of that. We're so excited about how this interplays with all of the other positive things going on in Birmingham and the future is very bright for our community."
That future is looking more and more like it will include a new stadium for UAB to play its games in the future.
Hallman said it's time to replace Legion Field – often called "the Old Gray Lady on Graymont" – which turns 90 this year. Hallman and Bell said a new stadium next to the Birmingham-Jefferson Convention Complex is close to being announced.
"We're only going to have a couple of more seasons for the Old Gray Lady and then we're going to put her out to pasture," Bell said. "We're working to make sure that this is just the beginning of great excitement for the next decade and decades to come for UAB Blazer football. We know we've got to put the resources in place, we've got to put the facilities in place and we're working on that as we speak. Just hold on. It's only going to get better from here."