Nice weather for Alabama as everybody watches Hurricane Irma from Alabama NewsCenter on Vimeo.
REFRESHING WEATHER FOR ALABAMA: A cold front is pushing into deep south Alabama early this morning and will bring cooler, drier air down into the state today. The sky will be partly to mostly sunny, the high will be in the mid to upper 70s and we will enjoy a fresh north breeze of 10 to 20 mph. Humidity levels will lower during the day.
By daybreak tomorrow, most places will see a low between 50 and 55 degrees, and cooler pockets have a good chance of reaching the upper 40s.
TOMORROW THROUGH THE WEEKEND: Delightful weather continues with sunny, pleasant days and clear, cool nights. The high tomorrow will be in the upper 70s, followed by low 80s over the weekend.
FOOTBALL WEATHER: A perfect night for high school football games Friday night — a clear sky with temperatures falling through the 60s.
Alabama will host Fresno State in Tuscaloosa Saturday afternoon (2:30 p.m. kickoff). The sky will be sunny with temperatures falling from near 83 degrees at kickoff to near 80 by the end of the game.
Auburn is on the road, taking on Clemson in South Carolina Saturday evening (6 p.m. Central kickoff). The sky will be clear with temperatures falling from 77 degrees at kickoff to near 70 by the final whistle. We should note the weather will be dry Sunday for those traveling back to Alabama; any impact from Hurricane Irma in South Carolina will come late Monday into Tuesday.
UAB will be in Muncie, Indiana, playing Ball State Saturday afternoon (2 p.m. kickoff). We are forecasting a clear sky with temperatures in the 68- to 71-degree range during the game.
NEXT WEEK: The overall pattern looks dry; some rain could creep into far east Alabama Tuesday, but that depends on the track of Hurricane Irma. One way or another, Alabama will be on the dry side of the circulation.
IRMA REMAINS A DANGEROUS CATEGORY FIVE HURRICANE: Irma is still packing sustained winds of 185 mph. The extremely dangerous core of Irma is moving over portions of the northern Leeward Islands this morning; it will move near or over portions of the northern Virgin Islands later today, and pass near or just north of Puerto Rico this afternoon or tonight.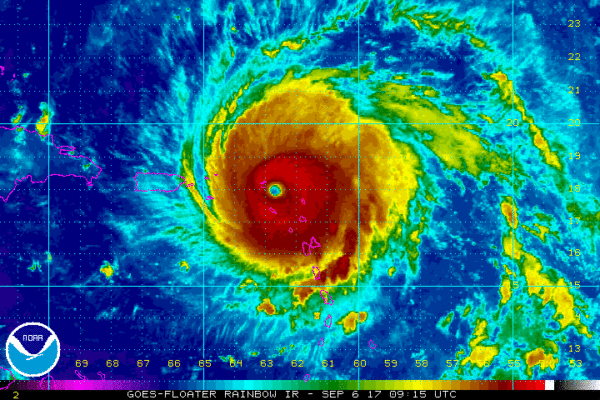 Irma is expected to take a hard right turn near the north coast of Cuba early in the weekend in response to an upper trough over the eastern half of the United States. Models continue to slowly adjust to the east, and the National Hurricane Center has adjusted its forecast track to the east as well.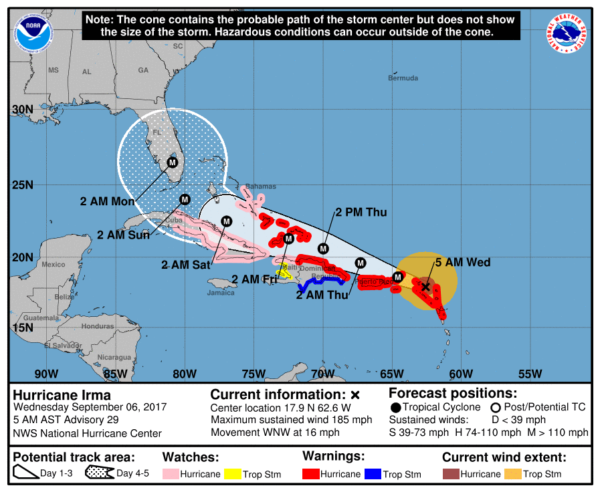 Most likely, Irma is peaking in intensity now. Potential land interaction (with Cuba) and some shear should bring Irma down to a category four hurricane by the time it nears the southern tip of Florida this weekend. Still, a very dangerous, major hurricane.
Here are important notes on Irma:
Don't focus on the exact forecast track, especially at the longer ranges, since the average NHC track errors are about 175 and 225 statute miles at days 4 and 5, respectively.
There is a chance that Irma will follow a path similar to Matthew last year, with the center staying just offshore (east of the Florida Atlantic coast). But there is also a chance the center comes right up the spine of the peninsula. One way or another, everyone in the Florida Peninsula needs to continue preparing for a major hurricane.
Both major global models (ECMWF and GFS) now suggest a landfall somewhere on the coast of South Carolina Monday or Monday night. While the most severe impact will be along and north of the point where this landfall happens, people from Jacksonville to Savannah to Charleston to Cape Fear need to be ready to prepare for hurricane conditions as a course of least regret.
It is still a little too early to give specific impacts (wind speed, rain amounts, storm surge, etc) for any given point along the potential path of Irma across the Florida Peninsula, or the coasts of Georgia or the Carolinas.
It is very unlikely that Irma enters the Gulf of Mexico. We expect no direct impact on Alabama or the central Gulf Coast (Gulf Shores, Pensacola, Navarre Beach, Destin). Panama City Beach will be breezy Sunday and could see a bit of rain, but more and more it looks like the main rain shield will be east of Panama City. No need to cancel any trip there.
Be sure you are using current information if you are in the areas potentially impacted by Irma. If you are working with a forecast more than six hours old, that is bad information. And be sure and heed any advice given by local officials.
TROPICAL STORM JOSE: The system trailing Irma in the Atlantic is expected to become a hurricane within the next 24 hours. It will gain latitude, and should be well north of Puerto Rico in five days. From there, steering currents will be very weak and it will most likely hang around for a while. It could ultimately move out to sea, or move westward again. Just too early to call the final destination. We will keep an eye on it.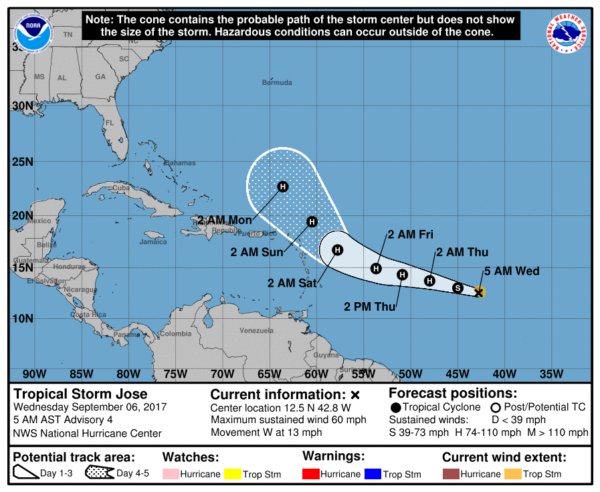 TROPICAL STORM KATIA: This is in the Bay of Campeche in the far southwest Gulf of Mexico. Katia is expected to drift into Mexico in three to five days, with no impact on the United States.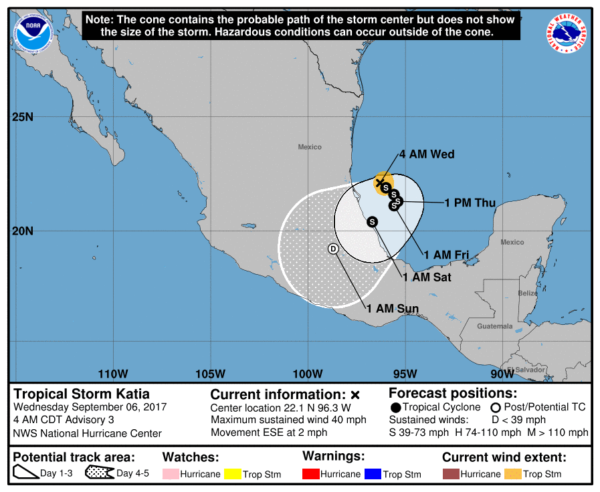 BEACH FORECAST: Click here to see the AlabamaWx Beach Forecast Center page.
WEATHER BRAINS: You can listen to our weekly 90-minute netcast anytime on the web, or on iTunes. This is the show all about weather featuring many familiar voices, including meteorologists at ABC 33/40.
CONNECT: You can find me on all of the major social networks:
Facebook
Twitter
Google Plus
Instagram
Pinterest
Snapchat: spannwx
For more weather news and information from James Spann and his weather team, visit Alabama Wx.