PLEASANT DAYS, COOL NIGHTS: Not much change in the Alabama weather situation through the weekend — sunny, pleasant days and clear, cool nights. Tomorrow's high will be in the 77- to 80-degree range, followed by low 80s Saturday and Sunday.
The weather next week will be determined by the ultimate track inland of Hurricane Irma; one way or another, we will be on the "good" dry side. If we do see rain, it would be over east or northeast Alabama, and probably nothing too heavy. More on Irma shortly.
FOOTBALL WEATHER: Looks like a perfect night for high school football games Friday night — a clear sky with temperatures falling through the 60s.
Alabama will host Fresno State in Tuscaloosa Saturday afternoon (2:30 p.m. kickoff). The sky will be sunny with temperatures falling from near 83 degrees at kickoff to near 80 by the end of the game.
Auburn is on the road, taking on Clemson in South Carolina Saturday evening (6 p.m. Central kickoff). The sky will be clear with temperatures falling from 77 degrees at kickoff to near 70 by the final whistle. The weather will be dry Sunday for those traveling back to Alabama; any impact from Hurricane Irma in South Carolina will come Monday into Tuesday.
UAB will be in Muncie, Indiana, playing Ball State Saturday afternoon (2 p.m. kickoff). We are forecasting a clear sky with temperatures in the 68- to 71-degree range during the game.
TROPICAL TRIO: Eyes are on Irma, Jose and Katia. Katia, a hurricane in the southwest Gulf of Mexico, will move into the coast of Mexico, well south of Brownsville, Texas, Friday night. No rain from this in Texas.
Hurricane Jose will skirt the far northern Leeward Islands before gaining latitude and becoming nearly stationary in five to seven days as steering currents collapse. It remains to be seen if Jose will be swept out to sea or try and bend back to the west. It's just too early to know for sure, although the 12Z Global Forecast System ensemble output suggests it will head northeast over the open water.
IRMA REMAINS A VERY DANGEROUS HURRICANE: On the forecast track, the eye of Irma should continue to move between Hispaniola and the Turks and Caicos this afternoon. The hurricane will then move across the
southeastern Bahamas by this evening, and then be near the central Bahamas by Friday.
Maximum sustained winds remain near 175 mph with higher gusts. Irma is a category 5 hurricane on the Saffir-Simpson Hurricane Wind Scale. Some fluctuations in intensity are likely during the next day or two, but Irma is forecast to remain a powerful category 4 or 5 hurricane during the next couple of days.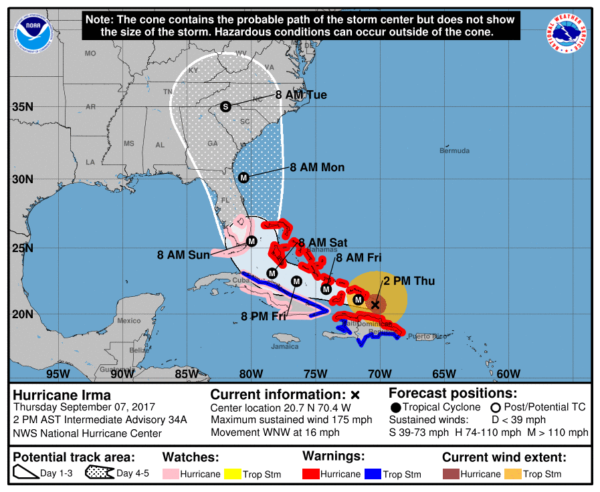 STORM SURGE: The combination of a dangerous storm surge and the tide will cause normally dry areas near the coast to be flooded by rising waters moving inland from the shoreline. If the peak surge occurs at the time of high tide, the water is expected to reach 5 to 10 feet above ground from Jupiter Inlet to Bonita Beach, including the Florida Keys.
The deepest water will occur along the immediate coast in areas of onshore winds, where the surge will be accompanied by large and destructive waves. Surge-related flooding depends on the relative timing of the surge and the tidal cycle, and can vary greatly over short distances.
IMPORTANT NOTES ON IRMA:
The vast amount of information you see on social media can be overwhelming. The best thing to do is stick with the official National Hurricane Center forecast. Computer models will do the hokey pokey, but their track will be very consistent.
The threat of dangerous major hurricane impacts in the Florida Peninsula continues to increase (not the Panhandle). A hurricane watch and storm surge watch has been issued for south Florida, the Florida Keys, Lake Okeechobee and Florida Bay. This watch will likely be expanded northward later today. Residents in these areas should heed any advice given by local officials.
Heed evacuation orders. Many have been issued for the Florida Keys and some coastal areas across southeast Florida. In Georgia, we now have a mandatory evacuation order for everyone east of I-95, including the city of Savannah. Stay in touch with local authorities and listen closely to their directions.
The timing of the north turn will determine the ultimate impact on the Florida Peninsula Sunday. The highest impact, most likely, will be along the Atlantic coast because of storm surge and wind damage — cities like Miami, Fort Lauderdale, West Palm Beach, Daytona Beach and Jacksonville. People there need to be ready for a high-impact hurricane.
Orlando will have lots of wind and rain Sunday. Gusts could reach hurricane force easily, and tree and power-line damage is likely. Some flooding is possible as well. The weather will greatly improve Monday and through next week if you have a Disney World trip planned. But I personally would not want to be there Sunday.
On the Florida West Coast, places like Naples, Fort Myers, Sarasota, St. Petersburg and Tampa will also have lots of wind and rain. Most likely, the highest impact and damage potential will remain east of there, but some tree and power line damage is very possible along with some flooding. The highest risk of storm surge damage on Florida's West Coast will be south of Sarasota.
A direct hit from Irma is a possibility on the Georgia or lower South Carolina coast. Again, follow evacuation instructions. It is impossible to forecast the intensity of the hurricane at this point so far in advance, but it still could be a major category 3 storm.
Concerning the inland impact across Georgia and the Carolinas, it is a little too early to be specific. A decent part of Georgia and the Carolinas will see some wind and rain, but just how much remains to be seen. The worst impact will be along and to the east of the circulation center.
We expect no direct impact on the central Gulf Coast — places like Gulf Shores, Pensacola, Navarre Beach, Destin and Panama City — although it will be windy at times at these places Sunday. It will be a dry, northerly, offshore wind.
No direct impact on Alabama through the weekend, but some rain is possible over some northern and eastern counties by Monday night or Tuesday. One way or another, we will be on the "good" dry side.
Remember to work with current information on Hurricane Irma. If you are using information that is six hours old, it is bad information.
BEACH FORECAST: Click here to see the AlabamaWx Beach Forecast Center page.
WEATHER BRAINS: You can listen to our weekly 90-minute netcast anytime on the web, or on iTunes. This is the show all about weather featuring many familiar voices, including meteorologists at ABC 33/40.
CONNECT: You can find me on all of the major social networks:
Facebook
Twitter
Google Plus
Instagram
Pinterest
Snapchat: spannwx
For more weather news and information from James Spann and his weather team, visit Alabama Wx.